Loose fasteners can derail entire trains
12 October 2023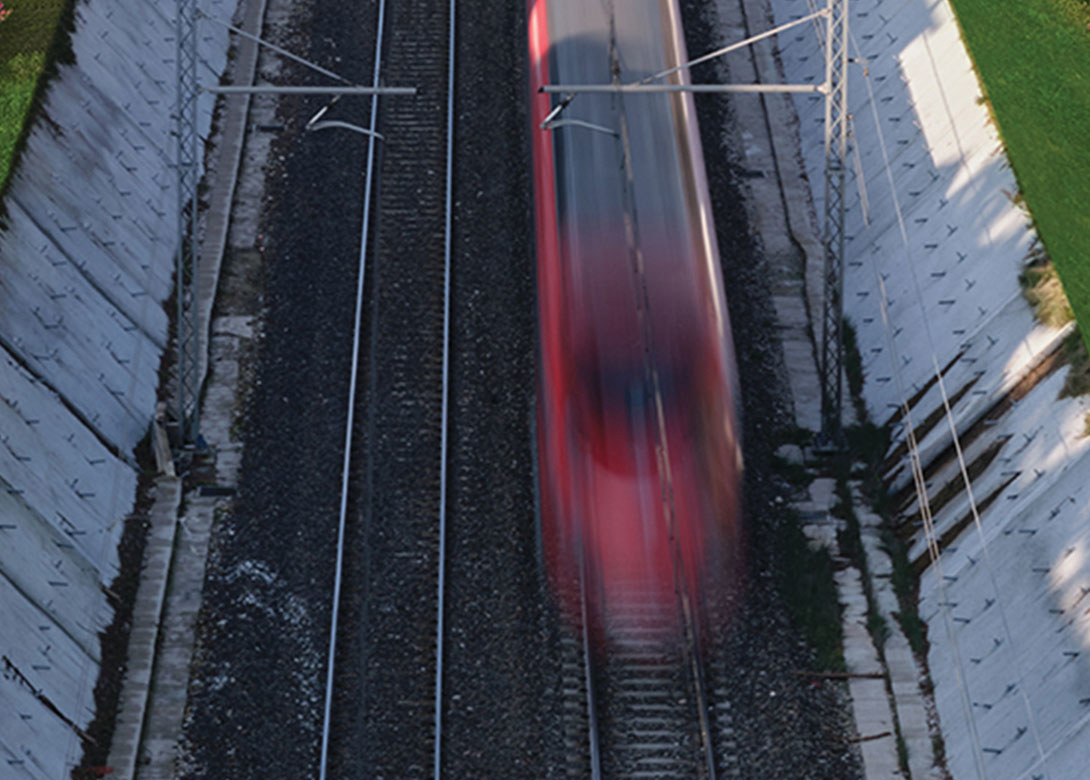 Vibrations, dynamic transverse forces, and high-speeds, require the highest safety standards in rail transport, which is why Dinghan SMART Railway Technology relies on fastening expert Böllhoff Group and Nord-Lock wedge-locking washers to fasten auxiliary power converters.
Dinghan SMART Railway Technology is a global supplier of onboard converters for rail transport. The company's site in Kassel, Germany, supplies the world market with devices such as air conditioning converters and onboard converters for a wide variety of train types. 
In fact, its SMARTconverters can transform the voltage of the traction current to suit auxiliary applications, such as air conditioning systems or onboard lighting – finding use throughout the entire field of rail transport, from long high-speed trains to metros, urban railways, and commuter trains that run continuously in metropolitan areas. 
Dinghan SMART's onboard converters have also been trimmed for light weight while maintaining high efficiency. They meet all European safety standards, but their modular design means they are also adaptable to the special needs of fast growing markets outside of Europe. Moreover, there are practically no limits to the placement and mounting of the systems, which weigh up to 700kg – meaning they can be supplied as roof mounted, underfloor or 'open-frame'.
Junkers test sealed the deal 
For the third generation of SMARTconverters, Böllhoff Group has developed a solution that focuses on reliability and absolute safety. Various securing methods were discussed with Dinghan SMART in advance, and on-site tests were carried out with a mobile Junkers vibration test stand. For example, under head bolts were tested meticulously, with the results unambiguous. 
"The tests confirmed what we have known for a long time. Nord-Lock's wedge-locking washers are the safest and most universal locking method for such safety critical projects," says Christian Haase, a certified fastener engineer DSV® for the ECOTECH application technology at Böllhoff Group. 
The decisive factor in this case was that the bolt connections that should be secured in the SMARTconverter are made of stainless steel, with hardly any solutions in this area that ensure sufficient anti-loosening under dynamic load.
"For example, under head toothed bolts made of stainless steel would be too soft to guarantee a durable tight fit,"
explains Christian. "That is why we chose Nord-Lock's stainless steel wedge-locking washers for Dinghan SMART's auxiliary power converters."   
Loose bolts pose a severe hazard 
In rail transport, the challenges are particularly significant. High loads caused by vibrations and dynamic lateral forces must be mastered, and absolute safety must be guaranteed. After all, many people are transported around the clock and heavy goods are driven through sometimes densely populated areas. Failures due to material fatigue or loose connections can be disastrous. 
"In the worst case, there is a danger to human life," warns Christian. "For example, if components such as the winding material of the auxiliary converter come loose due to loosened fastenings, and fall onto the rails, there is a risk that the train will derail. Therefore, you should never underestimate the importance of the inverter fastenings." 
The danger is not just theoretical; it has been shown in real life. For example, in 2010 a door came loose on a Deutsche Bahn
high-speed train. It happened during the passage through a tunnel when the fasteners could not withstand the negative pressure. As a result, the door was torn loose and crashed into an oncoming ICE (Intercity Express) train. 
Safety requirements have always been high at Deutsche Bahn but have since been tightened even further. As one of the world's leading rolling stock manufacturers for rail transport, they now only use Nord-Lock safety devices in Germany for connections of size M10 and larger – with the corresponding safety class according to DIN 25201-4 in outdoor applications.   
When safety is decisive 
Dinghan SMART Railway Technology, a long-standing Böllhoff customer, focuses exclusively on international rail transport. For example, SMARTconverters are used in Alstom's Metropolis trains in Barcelona, Spain, Deutsche Bahn's double-decker trains,
Dutch ICM trains and the Naples metro in Italy. 
"When secure bolted connections are required, the company consistently relies on Nord-Lock washers, even when there are lower-priced fasteners available on the market. Because at the end of the day, what counts most is safety and durability under heavy loads," states Christian. 
In particular, this goes for the third generation of SMART converters, which are primarily used in public transport, whether for long or short distances.   
"Safety was the decisive reason for choosing the wedge-locking safety washers from Nord-Lock," emphasises Christoph Engemann, group manager mechanical engineering at Dinghan SMART. "As a supplier of onboard power converters, Dinghan SMART is also concerned with customer satisfaction."