Joint quality and inspection assure rail safety
21 September 2023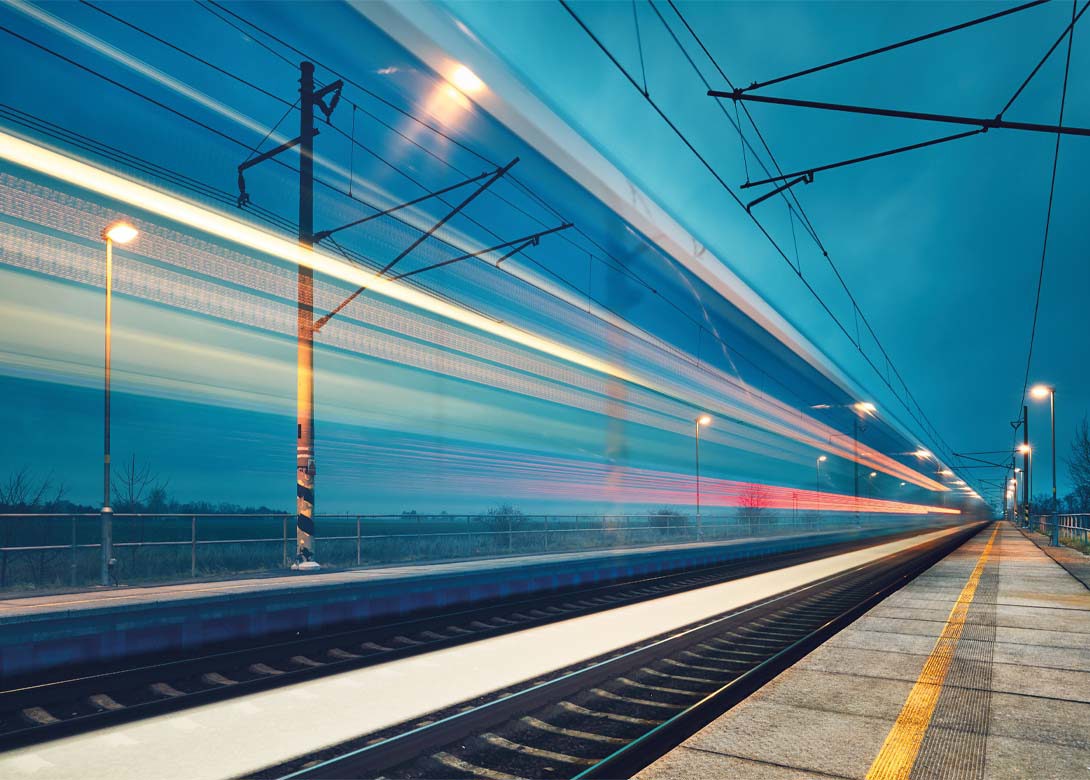 By Ian Parker, freelancer, ianparkerwriter@aol.com
Safety is a major issue when choosing a mode of transport. Most people think that flying is the safest, but actually it's rail. Rail safety doesn't happen by accident and the quality and integrity of the rail joints and fasteners are vital to it. 
The UK went through a bad period in the early 2000s with privatisation and rail joint inspection and maintenance falling well below par. On 10th May 2002, a northbound train derailed at high speed when passing over points just south of Potters Bar station, killing seven and injuring 76. Part of the train ended up wedged between the station platforms and buildings.
The UK Health and Safety Executive (HSE) report released in May 2003 found that the points were poorly maintained and that this was the principal cause of the accident. The bolts that held the stretcher bars that maintain the distance between the two point blades had come loose or were missing, causing the point blades to move apart when the train passed over them. The points had been 'fully inspected' on 1st May by a team working for the private railway maintenance firm Jarvis plc and there had been a further visual inspection on 9th May, the day before the crash, with no problems reported.
However, that evening, a station announcer was travelling on the northbound fast line and reported a 'rough ride' at Potters Bar whilst going over points 2182A. A Railtrack engineering supervisor was sent to make an inspection, but due to an apparent misunderstanding by the Kings Cross signal box staff, he was sent to the southbound fast line and so did not find the fastener problem that subsequently led to the accident.
Train accidents as serious as this are very, very rare in developed countries, but when things do go wrong, it can be catastrophic. That is why rail joints must be made well and inspected well. 
Automation of inspection
Human inspection of rail joints is slow, expensive and dangerous. Poor observation can occur and inspectors have been killed by trains due to poor lookout and misunderstanding of which lines were active. Praneeth 
Chandran of Luleå University of Technology in Sweden has published a paper on the automation of inspection using cameras and eddy current technology on normal trains rather than specific testing rolling stock – so the inspections do not disrupt normal train operations at all. 
Firstly, a study was carried out to determine the effectiveness of automated visual-based solutions for fastener state detection. An anomaly detection model combining image processing techniques and deep learning algorithms was developed to detect the fastener state from rail images captured by a camera system. The model showed a high capability of detecting the fastener state from the rail images. However, it had difficulties detecting the fasteners when they were covered in snow or ballast stones and when the image brightness was low. In Sweden, particularly in the north, the fasteners are covered with snow for up to six months and this can inhibit regular fastener inspections that rely on such automated visual inspection methods. 
To overcome the challenges associated with automated visual inspection systems for fastener state detection, an alternative inspection method using a differential eddy current measurement system was investigated. Controlled field measurements were carried out along a heavy haul railway line in the north of Sweden to determine the effectiveness of the proposed measurement system. 
An anomaly detection model, based on a supervised machine learning algorithm, was developed to detect the fastener state from the controlled eddy current measurements. Further, to test the effectiveness of the eddy current sensor during 'real time' measurements, the proposed sensor system was mounted on an in-service freight train and measurements were carried out along the iron ore line of Sweden. An anomaly detection model using unsupervised machine learning algorithms was developed to facilitate fastener state detection and detect other anomalies from the 'real time' measurement data.
Rail fastener types
Rail fasteners fix rails to sleepers or each other. Generally, a rail fastening system consists of rail anchors, rail tie plates, chairs, fasteners, spikes, screws and bolts. There are strict criteria for producing rail fastening systems because safety must not be compromised. Chinese company Agico lists the following factors:
Rail clamping force: Clamping forces may change according to different kinds of fastening system and customer requirements. Generally, most fastening systems offer a clamping force between 7.5kN to 12.5kN with deflections of the clips toe between 10mm and 15mm. According to European standards, for most main line tracks, the minimum force to push the rail through the fastening system is 7kN and 9kN for high speed rail and heavy freight lines.

Anchor/shoulder: The anchor/shoulder is quite important in the fastening system. It has to withstand loads and vibrations transmitted to the sleeper to protect it from breaking or coming loose. Based on the European standard, all the parts of the fastening should be able to withstand a 60kN pullout force without breaking the sleeper.

Insulators: To stop the wearing of other fastening components, insulators are necessary, to work as cushions. This means the materials used must be resistant to wear, attack form chemicals and degradation from ultraviolet light.

Rail pads: Bad joints, track irregularities and faults in rolling stock can increase loads. Rail pads come into play here. Usually the rail pad is made of rubber, some 10mm thick, with a plastic such as EVA between 5mm and 10mm thick. The typical stiffness of the pad is in the range 40kN/mm – 450kN/mm and the 5mm plastic pad can offer stiffness as high as 6,000kN/mm.
Different methods of rail welding
Rails have traditionally been joined by fish plates, but for a smother ride and greater safety, rail welding is becoming more common. There are four methods of rail welding – flash butt, gas pressure, thermite and electric arc welding.
In flash butt rail welding, the first step is to place the two rail heads together. A large current produces resistance heat (to produce a flash), so that the end faces are melted together. At a predetermined temperature the forging force completes the rail welding.
Flash butt rail welding has high automation, stable processes and excellent welding quality. The welded joint is a compact forged structure, the joint toughness is good, the mechanical properties are close to the steel base metal and the production efficiency is high. It is mainly used for factory rail welding or base rail welding, and sometimes for unit steel rail welding.
However, the flash butt rail welding machine is expensive, the one-time investment is large, the equipment is complicated, and it needs to be equipped with a high power supply and diesel generator set. The welding process parameters are stringent and the adjustment is cumbersome. Also, rail is consumed, so up to 50mm of rail is lost at each joint.
Gas pressure welding rail uses the heat energy generated by the gaseous fuel to heat the end of the rail to a molten or plastic state, and then a high pressure completes the rail welding. The one-time investment is lower for gas pressure welding, the welding time is shorter, the weld quality it is better and the welded joints are also compact forged structures. It is mainly used for on-site joint welding. The steel rail loss is reduced, about 30mm less on average. However, the gas pressure welding requirements are very strict. The welding process is affected by many human factors and the joint quality fluctuates greatly, and is difficult to control.
The other option is thermite rail welding, which uses aluminium and iron oxide (including additives) to produce a redox reaction at a certain temperature. The high temperature liquid metal forms and is sent into a special mould, melting the rail ends together.
Thermite welding has simple equipment, convenient operation, low production costs, no difficult processes, good appearance of joints and short joining time. It is also especially suitable for broken steel rail repair. However, thermite welding has lower strength, lower quality, a higher breakage rate and poorer overall performance. The weld is the weakest link in seamless lines.
Finally, electric arc welding produces excellent joints and sometimes the tensile strength and wear resistance exceeds the steel base metal. It's less widely used because the welding process and technical requirements are strict.
Worldwide rail projects
There are several examples of rail developments around the globe, which underline that the market for rail fastening and joining techniques is expanding strongly and so is the market for the inspection and maintenance of those attachment techniques. 
For instance, last January the European Commission announced it will support ten pilot projects to establish new rail services or improve existing ones. Together, they will improve cross-border rail connections across the EU, making them faster, more frequent and more affordable.
European Commissioner for Transport Adina Vălean said: "While demand for green mobility is growing, we need the rail market to respond much better and much faster, especially for long and cross-border journeys. This is why the European Commission now wants to help rail companies create new international train connections – by day and by night – by breaking down the many barriers to cross-border rail. I'm looking forward to working with the rail sector to make these ten pilots a success and to inspire many more to join!"
After careful evaluation, the European Commission has selected the following proposals for cross-border pilot services, in order of planned starting date:
Hungarian Ministry of Transport: New services connecting Hungary, Austria and western Romania.

 

Connection Germany – Denmark – Sweden: With the participation of SJ (new night train service Stockholm – Copenhagen – Berlin and day train Hamburg – Gothenburg (and potentially Oslo, in co-operation with DSB and DB), Snälltaget (enhanced night train service Stockholm – Copenhagen – Berlin), České dráhy (new service Prague – Berlin – Copenhagen, in co-operation with DB and DSB) and Flixtrain (new service Leipzig – Berlin – Copenhagen– Stockholm).

Midnight Trains: New night train service Paris – Milan – Venice.

Flixtrain: New service Munich – Zurich.

WESTbahn: New service Munich – Vienna – Budapest, extension of existing service.

Nederlandse Spoorwegen: Enhancement of the existing Amsterdam – London service, in cooperation with Eurostar.

European Sleeper: New night train service
Amsterdam – Barcelona.

Ferrovie dello Stato Italiane/Deutsche Bahn: New services Rome – Munich and Milan – Munich, with a possible extension to Berlin.

ILSA: New services Lisbon – A Coruña and Lisbon – Madrid.

Ferrocarrils de la Generalitat de Catalunya: New services connecting Catalonia and the south of France.
The proposals were submitted by the rail sector and relevant authorities in response to the Commission's plan to boost long-distance and cross-border rail, adopted in December 2021. The Action Plan identified obstacles hindering the uptake and operation of cross-border passenger rail services, and measures to address them. One of these measures is the pilot services, which will help railway operators and authorities to break down remaining barriers in practice, with the support of the Commission.
Pandrol praised
Global engineering company Pandrol has also been central to the completion of a major 103km rail project in the Australian territory of New South Wales. The first section of the Inland Rail, which saw 98km of existing line between Parkes and Narromine upgraded and 5.3km of new track laid, cost A$110 million (€64.7 million) and took nine months to complete. A total of 365,000 rail clips from Pandrol's Blacktown engineering hub in New South Wales were used to secure the tracks to 200,000 concrete sleepers.
At a ceremony attended by Australian Deputy Prime Minister Michael McCormack, the Pandrol team fitted a special gold clip, to mark the project's completion. Pandrol is said to be one of the best known names in the rail industry. It has created rail infrastructure in more than 100 countries and its products, and services, extend to designing, developing and manufacturing equipment to make constructing and maintaining railways more efficient.
Michael McCormack commented: "History has been made with the completion of the Parkes-Narromine section of Inland Rail. 1,800 jobs have been supported and A$110 million invested with local businesses – a great example of the government's record infrastructure spend, delivering for our regions – now and into the future."
Eran Gartner, CEO at Pandrol, added: "Pandrol and the team, led by Pierre Barthram, were proud to attend and to provide the golden clip for this ceremony. It is a proud symbol of 'Made in Australia' from our Blacktown facility near Sydney, using Australian steel, securing long-term high-quality jobs and exporting successfully throughout the Asia Pacific region."
The Parkes-Narromine section is the first of 13 projects which, when complete, will see a 1,700km rail line linking Victoria, New South Wales and Queensland.
HS2 proceeds
Another example of a major rail project is in the UK, with HS2 pushing on despite controversy. It has completed a 'marathon' construction operation at Streethay near Lichfield as part of an innovative project to pave the way for Britain's new high-speed line. The operation, which utilised the latest low carbon design, involved excavating 14,000 tonnes of earth, building a 140 metre retaining wall and moving a 2,600 tonne bridge deck 130 metres into place under the South Staffordshire freight railway.
The work was carried out during a 10 week blockade. It was completed by HS2's contractors in the West Midlands, Balfour Beatty VINCI and designers Mott MacDonald as part of a Design Joint Venture with SYSTRA, together with teams from 18 specialist supply chain companies.
At the end of July, the 2,600 tonne bridge deck, which had been cast on land adjacent to the railway was moved 130 metres into position using self-propelled modular transporters. Each side of the bridge was backfilled, the rail tracks were reinstated, with the railway line successfully handed back to Network Rail on Wednesday 16th August and now reopened.
The 25 metre long and 18 metre wide Streethay overbridge sits within HS2's Streethay cutting and will enable HS2 trains to travel under the existing railway between Birmingham and Crewe. Through design development, Mott MacDonald engineers were able to reduce the total length of wall structures for the railway at Streethay from 1.6km to 420 metres, meaning 80% less concrete was needed – saving around 420,000 tonnes of carbon and supporting HS2's ambition to cut carbon on the project.
Caroline Warrington, senior project manager at HS2 Ltd, said: "This is a fantastic example of a project within a project at HS2, pulling together teams from 18 specialist supply chain companies from the West Midlands, as well as other regions, to deliver a complex construction operation. These are some of the many companies that are helping to build Britain's new zero carbon railway, supporting thousands of jobs right across the country."
These are just a few examples of rail developments around the globe, so the market for rail fastening and joining techniques is expanding strongly and so is the market for the inspection and maintenance of those attachment techniques.