Fast, competent, Schriever
31 March 2016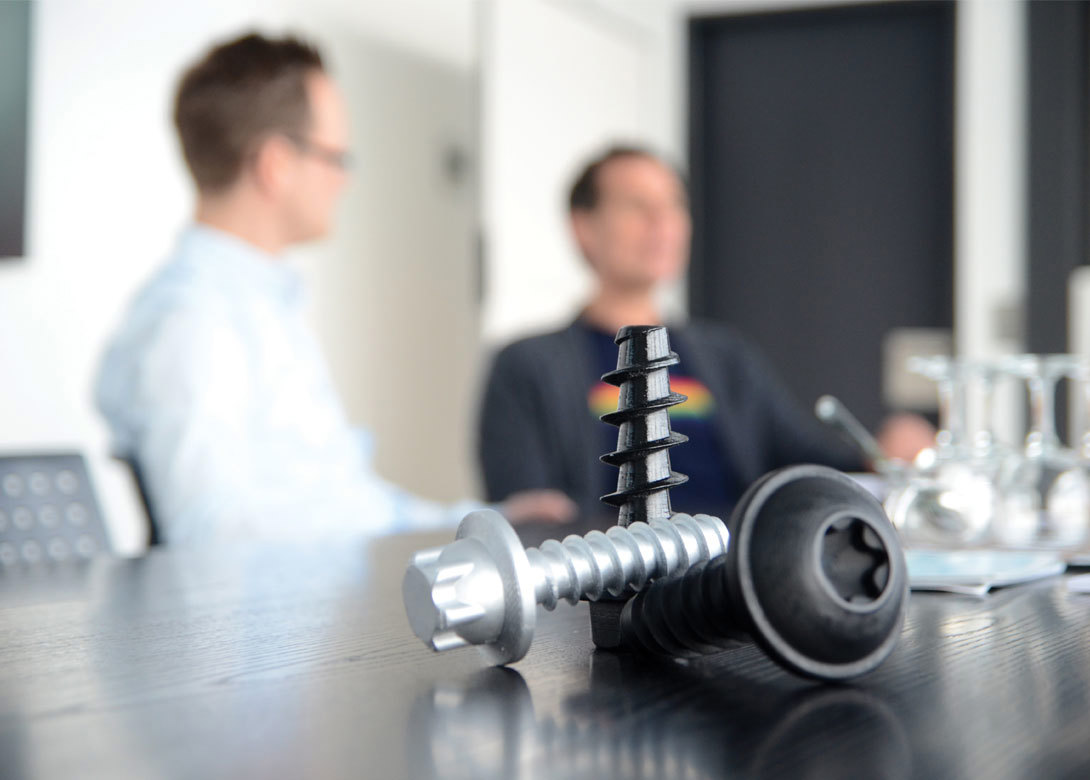 Based in Lüdenscheid, Germany, Hans Schriever GmbH & Co KG states that its screwed connections make all the difference to customers and thanks to its sophisticated, precision technology – combined with quick and efficient teamwork – it can supply a first-class service.
Jan Schriever, managing director at Hans Schriever GmbH & Co KG, comments: "Our customers can be secure in the knowledge that, as specialists in the screws sector, we aim to ensure professional connections that are of the very highest quality." Schriever works to three key priorities: Practical applications, far-reaching rewards and the continued development of Schriever screws. Nowhere is this more apparent than the company's range of screws for plastics.

The challenge of plastic
Working with plastics can be difficult, especially when connecting thermoplastic materials – due to their intrinsic properties, which can lead to serious problems in terms of construction, assembly and load-bearing capacity. However, the experts at Schriever thrive of these challenges. "We set ourselves the task of finding a solution to such difficulties and have achieved optimum results in professional applications," explains Jan Schriever.
An example of Schriever's success is the STS® screw range, which provides a perfect join for thermoplastic materials – generating only minimal radial tensions and forming extremely resistant connections. "This screw range also has outstandingly low thread forming values, eliminating the risk of relaxation," explains Michael Ricker, head of STS sales. "The 8° thread pitch optimises the self-locking effect and the STS screw causes no damage to the base material and is relatively inexpensive."

The STS screw also generates very low radial forces. "Our 30° flank angle is lower than that of conventional thread flanks at 60°, which is the case with self-tapping screws," adds Michael Ricker. "The radial tension of the patented conical core of the STS also allows the plastic sufficient space in which to flow – preventing dangerous stress whitening."

However, Schriever would not be Schriever without its constant customer focus. "Thermoplastic materials have special intrinsic properties that we have been studying for years," mentions Jan Schriever. "That is why we have expanded our product range to include the STS® plus."

The STS plus is a development of the tried and trusted STS screw, which combines Schriever's accustomed quality with the opportunity for the user to benefit from huge savings compared to conventional thermoplastic screws. The STS plus offers increased torsional and tensile strengths. Also, the geometry of the STS plus, in addition to the familiar properties of the STS screw, contributes further benefits.
For instance, the STS plus extends the life of the screwed connection under static and dynamic load. Moreover, it locks itself in the thermoplastic material – due to its improved thread geometry. Plus, the pre-tensioning force is higher due to greater flank coverage on the load-bearing side. This means that the user is able to use shorter screws and/or smaller diameters with the same joint load. This can result in enormous savings for the customer.
"Due to the optimised pitch, we achieve high flank coverage with the STS plus, even with shallow screw-in depths," points out Guido Geyer, Schriever's technical manager. "This results in a high pre-tensioning force with low surface pressure, which means that the screw-in depths can be significantly smaller." 

Due to the smaller pitch of the STS plus, it is possible to use a smaller or shorter screw with the same flank coverage. For example, a STS 50 with the same screw-in depth can be replaced by a STS plus 40. Similarly, with the same screw diameter, the screw-in depth can even be reduced if a STS plus is used.

Minimal loss of pre-tensioning force

Thermoplastic materials tend to suffer creep fatigue under the influence of forces, and thereby lose tension. This tendency is referred to as relaxation. Due to the low level of surface pressure of the STS plus thread, pre-tension force loss is minimised and excellent long-term behaviour of the screwed connection is achieved.
The tensile and torsional strength of the STS plus is greater due to the extended core cross-sectional area. "This also favours its use in ultra-reinforced thermoplastics," states Guido Geyer. "Under dynamic stresses it is apparent that, due to the smaller pitch, there is a high-level of vibration resistance throughout the connection."
The STS plus is also suitable for repeat installation. The repeated fastening of threaded screws is necessary for reasons of repairs and servicing and is dependent upon the connection being tested to ensure it is safe for this purpose. That is why the STS plus has been subjected to tests during its development – to ensure that it responds to the requirements of VDE 0700 or DIN 57700. Its advantages and features are impressive, but the STS plus has one further special characteristic – PiP (Production-in-Production). Jan Schriever explains: "As a specialist in joining plastic materials, we have created our own manufacturing cell especially for the STS plus – where all the relevant work processes are optimised and concentrated. What does that mean for our customers? It's quite simple. We can adapt our delivery times for our tried and trusted STS plus to individual customer needs."
Expertise in matters of screwed fixings is not the only thing available from Schriever. Each Schriever branded screw is part of the S-connection supply concept. "We can produce customised screws," explains Michael Ricker. "We optimise our screws according to requirements and the field of application, so there is a wide ranging choice of screw heads, drive designs and threads available."
These branded screws are also available from a minimum quantity of 10,000 units and can be supplied with a lead time upwards of four weeks. "We also offer every customer the opportunity to test our screws – without obligation," mentions Michael Ricker. "To take advantage of our offer, customers just need to get in touch and order some sample screws and expect to be impressed."
One further service that rounds off the range of benefits Hans Schriever can supply is its personalised advice. To ensure that Schriever screws are used to the best of their capabilites in special applications – production, laboratory and sales experts are on hand to offer the client advice and support. "For example, applications are optimised in our laboratory to ensure the best possible screwed connection, and construction recommendations are developed," says Guido Geyer. "Our clients can ask for advice at any time, but they also automatically receive a study report free of charge."
Manufacturing screws is one thing. However, the expertise to constantly develop screws to meet customers' requirements is another. Thanks to its outstanding commitment to service, laboratory-based quality, sophisticated precision, and high-speed results, Hans Schriever combines all the attributes to set it apart.
Text and photographs © kerzel@hrcMS