An unshakeable commitment to innovation
23 April 2014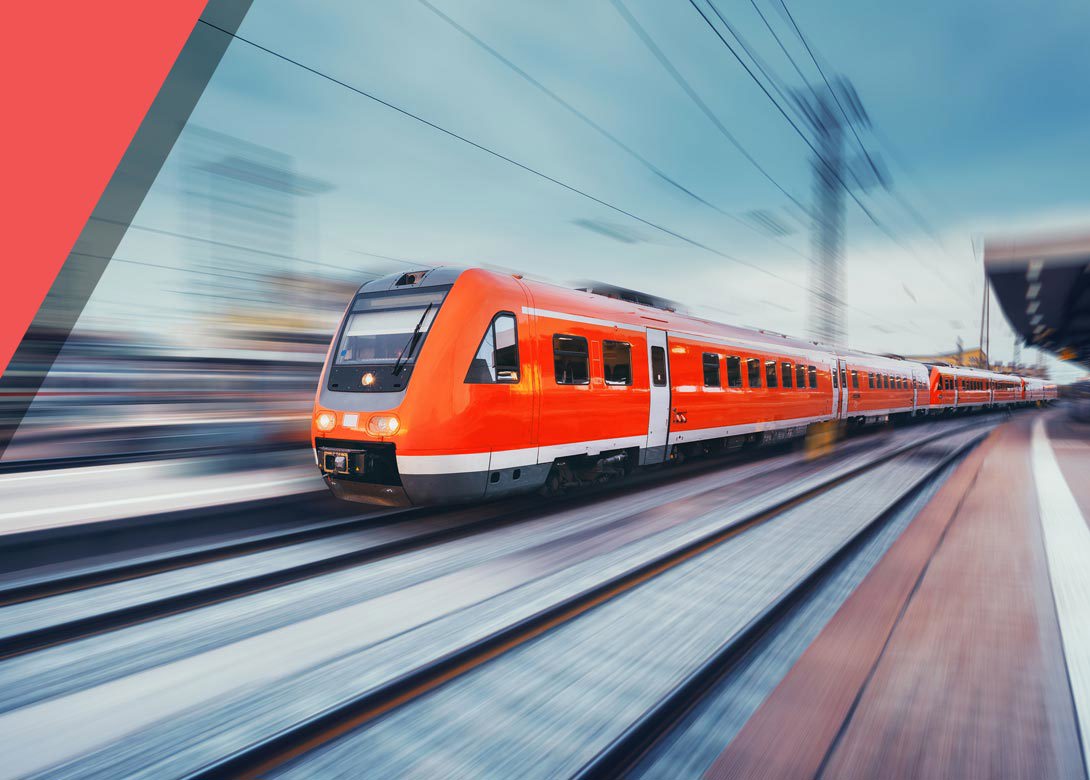 'Innovation' can be a rather liberally, and sometimes inappropriately, used expression. From Louis C. Huck's first sketch of the HuckBolt® fastener concept in 1944 through to the latest step in its evolution, the BobTail® fastener, Alcoa Fastening Systems (AFS) has consistently justified its claim to leadership in fastening technology innovation. What we wanted to know was; what it really takes to maintain that unshakeable commitment?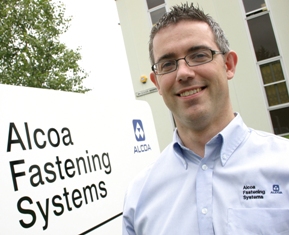 How better than to get two key managers, at the interface of customer relationships and production operations, to debate precisely that issue? Didier Lorch is sales and marketing director for the industrial products division of Alcoa Fastening Systems in Europe. Jonathan Craven (pictured left) is operations director for Alcoa Fastening Systems' Telford industrial operations in the UK.

AFS has been part of Alcoa Inc since 2002 and encompasses six fastening technology brands, amongst which Huck® is focused on confronting the perennial problems of stress and vibration in often safety critical joining applications. Its solution is a 70 year evolutionary line of fasteners that will not loosen under extreme vibration, providing maintenance free joints that do not require torque or re-torque and are also tamperproof. The result is lower lifetime cost of the joint, and increased fatigue life of the assembly due to high shear and tensile strengths.

Equally crucial to Huck customers are installation systems that provide speed and efficiency that can dramatically cut production time and cost. Huck products also offer a clean and safe alternative to welding, and clear ergonomic benefits to operators in the form of reduced noise and vibration, and lighter weight tooling. The Huck BobTail® fastener, the latest in the evolutionary line, epitomises those benefits as well as improves material usage efficiency through the elimination of pintails.

Not without good reason, Huck is seen as one of the most secure fastening systems in the world. The company's strength originated in the heavy-duty transportation sector, initially rail and then truck, trailer and quarrying machinery – all markets in which it maintains a strong technology lead. That pedigree, and market penetration in these sectors in the 'old world', plays a major role in Huck's development globally. 

Demand for improved environmental performance means truck designs in China and India, for example, are moving towards European and US standards – a natural migration route for established Huck fastening solutions. Environmental concern also opened up two very successful markets for AFS in recent years – power generation from wind and solar energy, for which demands for vibration proof, reliable and secure joints have made Huck fasteners natural choices.

AFS' industrial operation in Telford
AFS is committed to continued development of applications for various market segments and new regions. Rail track safety requirements have led to Huck developing new, market leading products. Applications within the transportation and automotive sectors continue to expand, with lightweighting and the consequent introduction of new construction materials adding to vibration resistance and longevity as key drivers in car as well as truck, rail and agricultural machinery. In construction, the growth in massive automated warehousing systems, effectively integrated to the physical structure of the building, presents new vibration resistance and security challenges.
At the core of AFS' capabilities and its continued development is that unshakeable commitment to innovation. How is it achieved?
To start, what stimulates the innovation? Location is a significant consideration. "Europe often drives the market ahead of other parts of the world, for example in corrosion performance, mechanical performance and environmental requirements," explains Jonathan Craven. That is clearly reflected in the standards to which the Telford operation manufactures. "Some of the dimensional tolerances we achieve here are really grinding tolerances, except we are cold forming the parts. For us, those tolerances become the norm and set the bar for other territories to adopt similar standards."
Responding effectively to a specific customer or application need is, of course, essential. As the discussion develops between Jonathan and Didier, though, it is increasingly apparent that there is also a far more speculative instinct.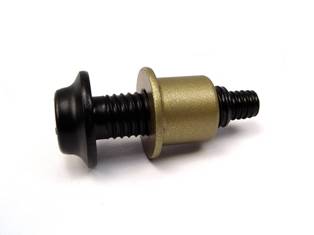 "The other aspect," explains Jonathan, "is creating a need without anyone realising there was one."
"If you develop a concept, are active and value what you have created, you hold the keys to that technology. We've now evolved to the point where we have pintail-less HuckBolt® fasteners." (pictured, left)
"These developments are driven, not because anyone is tapping us on the shoulders saying 'look what they are doing', but because we are imagining what the market might need and creating products that go far beyond current expectations."
"It is a process," confirms Didier, "that runs parallel with our response to immediate customer needs. In markets we are looking to develop more strongly, there are opportunities to anticipate future needs and develop solutions ready for them."
"If a standard nut and bolt will do the job, of course, you are not going to come to us. We are looking for applications where our fastener will be used at 100% of its performance capability, delivering genuine added value, now and in future."
Complexity is also a key issue. "Europe itself is complex, in its mix of economies, languages, traditions and cultures. The beauty of fasteners at one level is they are everywhere but that also means complexity, multiplied by the diverse needs of all the different applications involved."
"To serve the fastener market in Europe effectively we have to be adept at managing complexity. Here in Europe and globally, we are not conventional. We carry a high level of engineering skills and knowledge; we make a diverse range of products; and we're not solely focused on high volume. That's because we are addressing the complex needs of different markets."
"So we must also be focused and have a clear vision of where we are going. We work intensively to understand the current situation. We try to visualise future market expectations and needs. From all of that we come to understand the implications at the fastener level. We define the gap and we develop ideas and solutions."
"Just because you assemble a group of people in a meeting room that is not to say it will always work. For us it generally does. Why? Because we are used to it: It is now part of our business culture."
"Draw a historic chart and you would see ten years ago we launched one product at a time; more recently perhaps two or three." Didier Lorch turns to his operational colleague, "today, if I list the new products we are in the process of developing and launching it is actually at least ten." Jonathan Craven is quick to nod his affirmation. "Ten years ago we simply could not have done it. The culture was not strongly activated."
"Now," says Didier, "we need to do it to respond to both the complexity in the markets and the speed of change. More importantly, we are able to do it because our senior management has been very clear, not just in saying 'this is the way we will do it' but in ensuring everyone sees it as being the right way."
"It was bought by the team, it's fun and we like it, not least because we are a company of technical people operating in a technical culture."
Interfacing with the 'intelligence' gathered by a technically astute sales team, is a reservoir of operational knowledge and experience. "When you have been in the fastener industry for quite a time, one of the things you come to terms with is that the people developing the materials are generally five years ahead of the people that have to work out how to join or integrate them," says Jonathan Craven with a smile.
"From our position we can often see those patterns in particular industries. We have a thorough understanding of our own product and how to manufacture it. The skill is in taking the primary features of our product and applying those characteristics to new applications. Often the design process involves a combination of features that we already have in the 'tool box'. Those abilities are particularly important where we need to use new materials to make the fastener or we are using existing fastener technology to join new materials."
"Lightweighting and the increased use of exotic materials, is currently central in the automotive sector. The work we've done in the construction industry has focused more on friction and the characteristics of applying friction – not the most exciting subject, perhaps, but one of the most necessary ones in fasteners. It means we can provide the customer with minimum clamp load. So when we can control the friction and the bearing area, it becomes possible to make predictive calculations about structures that would otherwise have to be welded."
"We bring a lot to the party. Often what we need is to get into the room with the right people at the right stage of the design process."
It's a crucial point. AFS' own operational cycle has consciously accelerated. "Our ability to develop a concept, present prototypes and be ready to start production," says Jonathan Craven, "is reducing to an ever shorter time. That's about flexibility, it's about manufacturing most of what we supply here, and having so much more of the process within our control – the tooling, product and tolerances. It's also about constantly investing in the technologies to support us in honing that response."
Nevertheless, early engagement in the development process is always better. "We constantly seek to get involved much earlier in the development process. Installation access is often one of the trickiest parts of coming up with an efficient fastening solution for an application – the later we are involved the trickier that can prove, often with significant cost and efficiency implications for the customer."
A significant tool in that outreach in recent years has been Alcoa Fastening Systems' use of the Internet, investing in the afshuck.net website to present not just a library of information but a clear explanation of what Huck offers the market. "A lot of people come to our website now to see how our fasteners work," explains Didier Lorch. "Describing verbally to someone outside of the fastener industry how a HuckBolt® fastener works is a real challenge. Now with web videos they can see exactly how the product functions, and what it can do for them. It is another form of engagement, helping us to connect with engineers who, now or in the future, need the security of an Alcoa Fastening Systems Huck solution."
www.alcoafasteningsystems.com