Striving for supply chain sustainability
22 June 2023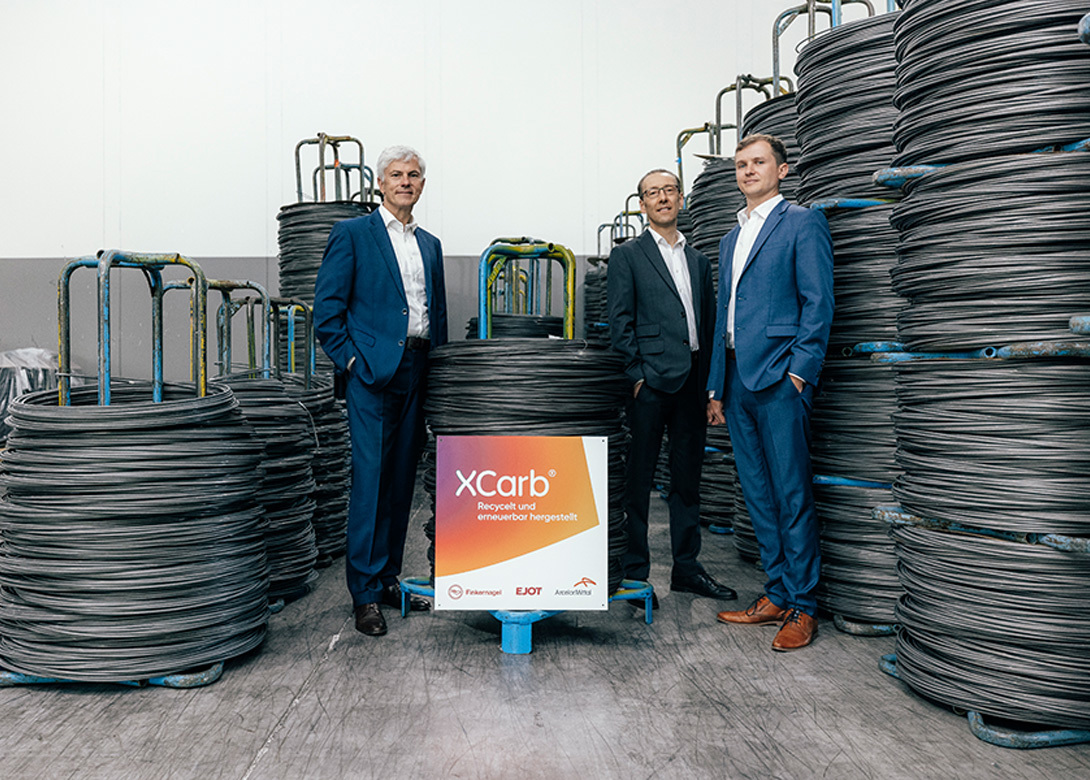 In an attempt to collectively achieve climate targets, ArcelorMittal, Finkernagel and EJOT have joined forces to form a sustainable supply chain for their products. The collaboration between the three companies is both a good example and a premiere for cooperation between manufacturer, processor and end-product producer to reduce environmental impact. At Finkernagel's headquarters in Altena, North Rhine-Westphalia, the three companies have now made the cooperation public.
ArcelorMittal Hamburg produces XCarb® – a recycled and renewably produced steel which has a CO₂ footprint significantly lower than conventionally produced steel. This is then processed further by the wire-drawing company Finkernagel; and EJOT, in turn, produces screws from the drawn wire in cold forming, which are then used for solar panel structures and for batteries in electric cars. By using XCarb®, the CO₂ savings total 80% when compared with conventionally produced steel, and the low-carbon emissions steel ultimately benefits energy transition thanks to its use in solar modules and electric cars.
Since 2021, the leading steel producer ArcelorMittal has been striving towards climate-neutral steel production with the umbrella brand XCarb®; by investing in technologies and start-ups, awarding certificates for CO₂ savings in steel production and by manufacturing low-carbon variants. The XCarb® steel made from recycled and renewable material is produced in an electric arc furnace using 100% renewable electricity and up to 100% scrap, depending on the steel grade. For these steel products, emissions can be as low as 333kg of CO₂ equivalents per tonne of end product.
The XCarb® used by Finkernagel and EJOT respectively significantly reduces the Scope 3 emissions of both companies. The EJOT Group aims to reduce its CO₂ emissions from the current level of approximately 190,000 tonnes per year to zero by 2035. In addition to a variety of its own measures to reduce Scope 1 and Scope 2 emissions, Finkernagel is primarily focusing on the use of a low-CO₂ steel input material. According to its decarbonisation strategy, ArcelorMittal aims to achieve net zero emissions worldwide by 2050.
"Thanks to this cooperation, we are creating a special value chain that contributes to the climate goals of the companies involved. Once again, we see that low carbon-emissions steel is vital for building the infrastructure we need for the transition to carbon neutrality. After all, solar modules, efficient electric cars or wind turbines cannot be made without steel. We already produce very low-carbon steel and, in a few years, will produce climate-neutral steel. For us, it's about doing our homework and continuously working on such promising projects in cooperation with our customers," says Dr. Uwe Braun, CEO of ArcelorMittal Hamburg.
"Through our trials, we know that the XCarb® recycled and renewably produced steel can be processed excellently and has no quality disadvantages compared to conventional steel. The fact that the material properties are also identical in a direct comparison is particularly pleasing. We are proud to be able to offer XCarb® recycled and renewably produced to our customers and are confident that it will be well received in the market," states Timo Finkernagel, managing director of Finkernagel.
"The entry into the processing of CO₂-reduced steel marks an important step for the EJOT Group on the way to climate neutrality, especially since the largest part of the CO₂ emissions is in our preliminary products. We will successively expand the use of CO₂-reduced steel," concludes Markus Rathmann, chief supply chain officer of the EJOT Group.