Henkel launches Loctite Pulse
03 November 2021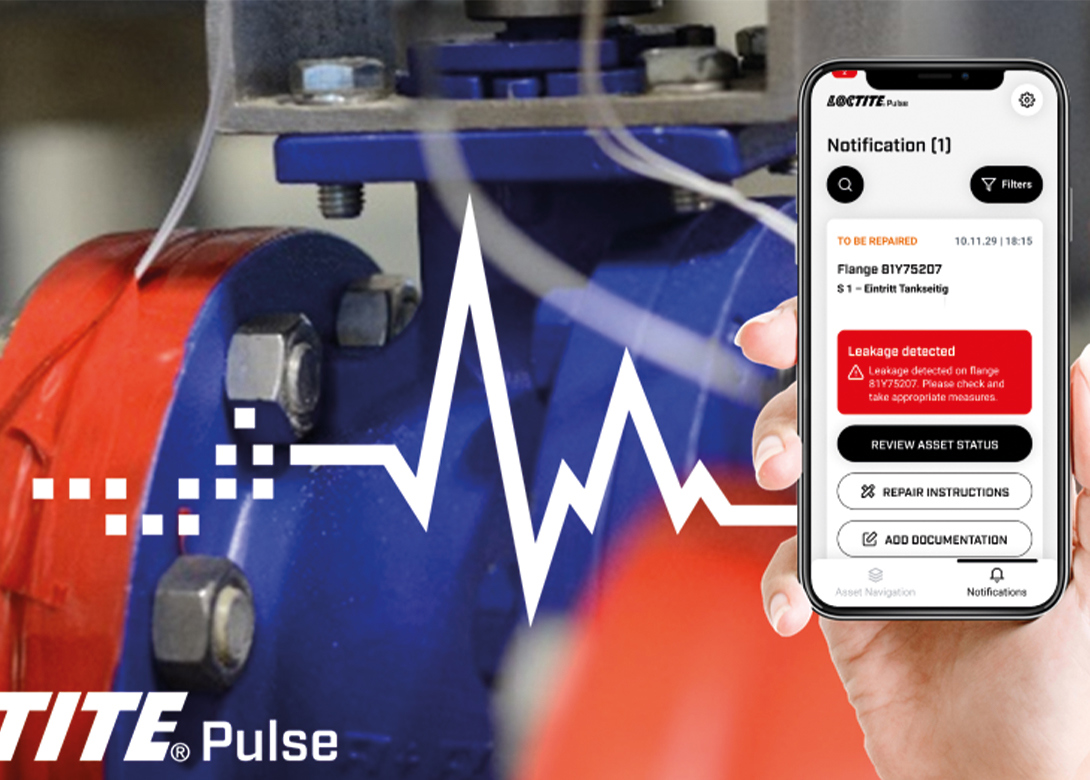 Henkel Adhesive Technologies has launched Loctite Pulse, a novel portfolio of Industrial Internet of Things (IIOT) solutions designed to minimise downtime, save maintenance costs and underpin safety as well as sustainability. First to market is the Loctite Pulse Smart Leak Detection System, primarily aimed at the oil and gas industries and pipeline operators.
Based on novel sensor technology embedded in a seal, the Loctite Pulse Smart Leak Detection System continuously monitors the tightness of critical flanges and accurately predicts hydrocarbon leaks before they reach the environment. This solution addresses an often-underestimated problem that results in considerable downtime and maintenance costs every year.
The value added by this new data enabled service for leak prediction can add up to more than one million Euro per year for a small to medium sized refinery – but the benefit is not just economic. The Loctite Pulse Smart Leak Detection System also contributes to environmental protection, enhanced workplace safety and sustainability, helping operators to cut their carbon footprint and optimise resource consumption.
This Smart Leak Detection System provides an insight into how Loctite Pulse solutions will distinguish themselves from existing maintenance solutions. This particular solution can replace a mainly manual process with efficient, continuous monitoring and prediction. Thus, the Loctite Pulse Smart Leak Detection System brings a real innovation to the market which will be an inherent feature of all products of the brand in the future.
Loctite Pulse data enabled maintenance solutions are built on Henkel Adhesive Technologies' decades of experience and combined with the latest in sensing technology, smart materials and data analytics to help customers bring their maintenance programs into the digital era.
With its introduction of the Loctite Pulse brand, Henkel Adhesives Technologies commits to addressing the needs of the broadest range of users, from key industries such as oil, gas and chemical processing to small and medium sized enterprises and companies with limited expertise in predictive maintenance. These as a service solutions present an attractive and transparent business case, especially as they are equipment/asset OEM independent and retrofittable into existing installed bases.
Dr. Kourosh Bahrami, corporate vice-president, general manufacturing and maintenance, Henkel Adhesive Technologies concludes: "As a global leader in adhesives, sealants and functional coatings solutions, we already empower our customers to minimise downtime, increase efficiency and extend equipment life. With Loctite Pulse, we are taking the next logical step by offering our customers this digital and data enabled portfolio of predictive and prescriptive maintenance solutions that will elevate operational efficiency to the next level."