Berdan Civata, from local to global
21 February 2018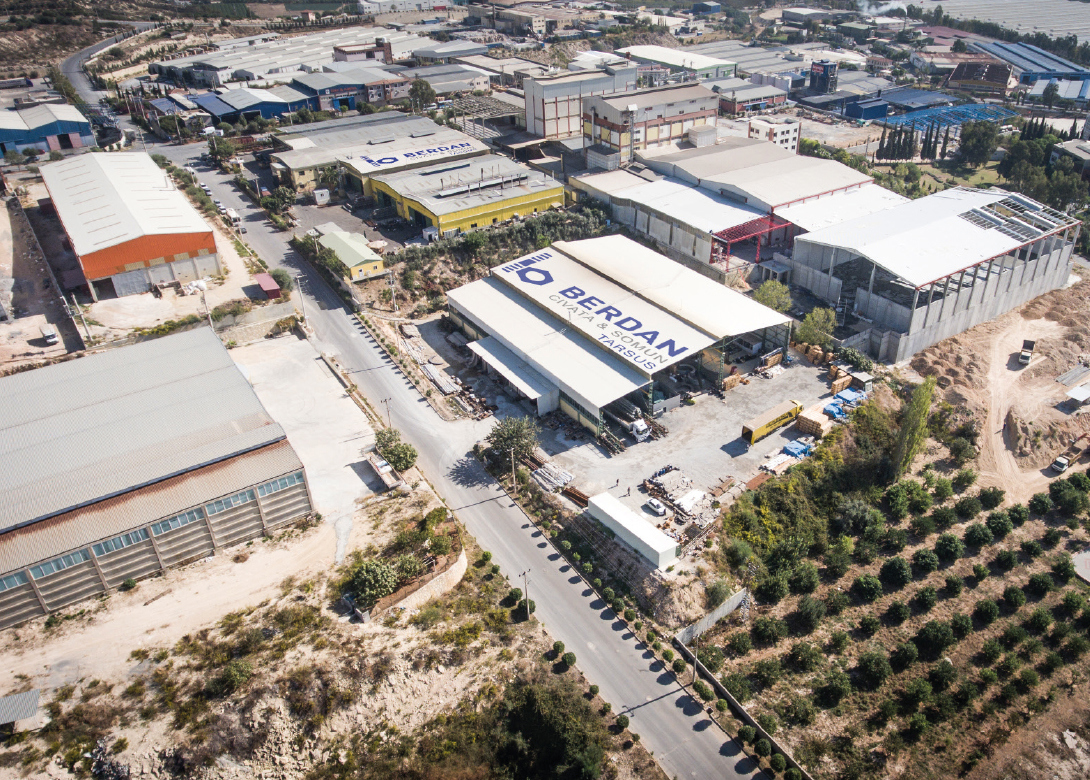 As a long-standing exhibitor at Fastener Fair Stuttgart, there is little need to introduce Berdan Civata's expertise in fasteners for large-scale, not to say in some cases massive, construction and infrastructure projects. It takes, however, a trip to the historic Turkish city of Tarsus to really take measure of Berdan's commitment to excellence in its field.
A city with a 6,000 year history, once the meeting place of Cleopatra and Mark Anthony, as well as the birth place of St Paul, Tarsus is nearly 1,000km south east of Istanbul – between the Mediterranean coast and mountains in the Adana-Mersin metropolitan area, the fourth largest metropolitan area in Turkey. 
Tarsus is the family home of Mr Hasan Şemsi, a senior mechanical engineer graduate of the Yildiz Technical University, who already had twelve years' experience in fastener making when, in 1979, he and his brother, Yunus, set up a 200m2 fastener workshop with just five personnel. In 2000 Berdan moved to the first of its new factories in the Tarsus Industrial Zone. 
The really significant development period for Berdan Civata has, however, been since 2008. Having just obtained the first CE certification for structural steel fasteners in Turkey, the company attended the HUSUM Wind Energy event in Germany. Remarkably, this small Turkish manufacturer came away with a massive order from a leading wind turbine manufacturer that can only be described as transformational, more than doubling its existing turnover and launching it into a growth curve that it has sustained ever since. In a year of rapid expansion Berdan Civata purchased adjoining land to increase capacity, further increasing its land area again in 2012. Most significantly, by unerringly fulfilling the contract Berdan demonstrated not just the quality of its products but also its commitment to service and reliability. 
From 2013, Berdan experienced two extraordinary years, in which revenue increased by more than 90%, followed since by solid annual growth. By 2016 the company had achieved annual sales ten times higher than 2008 – and global recognition as a key fastener supplier to prestigious mega-projects as well as to the world's leading wind energy constructors. Projects included selection by IHI of Japan to supply 362 sets of M110 x 10,100mm Class 10.9 anchor bolts for Europe's second longest suspension bridge, spanning 2,682 metres across the Izmit Gulf. Others include manufacturing special flange bolts, with 6,500 hours salt spray resistance, for the 280m deep water pipeline from Turkey to Northern Cyprus; foundation anchor and flange bolts for the TANAP Trans Anatolian natural gas pipeline, stretching from Azerbaijan to Europe; and a range of anchor and construction fasteners for the Mecca-Medinah high-speed rail system. Amongst its wind energy clients Berdan Civata now numbers almost all of the top ten global manufacturers including Alstom, Gamesa, Nordex, Siemens and Vestas. 

Today, Berdan Civata exports to sixty-five countries, from a series of production and assembly sites totalling 33,000m2, in which it employs more than 265 people – 33 of whom are qualified engineers. That makes Berdan one of the five largest fastener manufacturers in Turkey, with a string of recognitions 
and awards for entrepreneurship, innovation, growth and social responsibility. 
Production is primarily induction-heated hot forging, on presses ranging from 100 to 400 tonnes, although Berdan also has two multi-die cold-formers producing M16 to M30 diameter bolts. Modern CNC machinery, together with a range of manual lathes, cutting machines and grinders, are used for secondary operations and tooling, including production of circular thread rolling dies. Nut production is on automatic hot forging lines, one of which notched up another first in Turkey when it was installed in 2013. 
In the same year Berdan Civata installed a fully-automatic continuous heat treatment line for the smaller components in its range. Opposite it is a bank of batch furnaces and quench oil tanks, culminating in certainly the most dramatic to see operated. This is a three-metre deep underground furnace with a similar depth quench tank alongside, in which studs and long bolts are heat treated in jigs to prevent distortion. 
A separate but close-by plant is dedicated to coatings. Berdan has its own trivalent zinc electroplating line, a zinc lamella coating line using Magni technologies, and a recently introduced phosphating line. The main volume, however, flows through Berdan's hot dip galvanising line, which apart from producing an unusually fine finish has been specifically designed to reduce the risk of hydrogen embrittlement failure. Mr Hasan Şemsi explains: "In order to eliminate the hydrogen embrittlement risk, Berdan Civata has introduced special and patented processes. In order to ensure cleanliness but also ensure hydrogen is not introduced during the coating process, no acid or chemical process that might emit hydrogen are used. Cleaning is performed mechanically using a grit-blasting method developed by Berdan, which also ensures there is no damage to the threaded sections of the product." After cleaning the parts are dipped in an alkaline solution and then a flux solution to help accelerate the bonding of the galvanising coat. The parts are hot dipped in zinc and then centrifuged to remove excess coating before cooling and entering a drying oven. 
Berdan Civata has one further site, dedicated to final assembly, heavy plate fabrication, packaging and despatch. Throughout Berdan's operations Mr Şemsi's unwavering commitment to the quality and reliability of the company's products is evident. The pearl, of which he is unquestionably proudest and which singles Berdan out, is the first ISO EN 17025 accredited fastener laboratory in Turkey. It also holds AD 2000 W certification for pressure vessels. The laboratory is thoroughly equipped with all the normal hardness and metallurgical testing equipment and dimensional analysers. It has a spectrometer for materials analysis and a salt spray cabinet, in addition to coating thickness and surface inspection equipment. A Charpy impact tester is already used down to minus 90ºC and is capable of testing at minus 150ºC. A six year old TEST friction coefficient analyser has recently been supplemented with a new model. The laboratory also has an ultrasonic crack testing bay, screened off and bathed in ultraviolet light. An experienced engineer leads a highly qualified laboratory team. However, the star of the show, and a long-time ambition of Mr Sensi, is a 500 tonne tensile tester, designed and constructed by Berdan Civata, and capable of testing up to 100mm diameter parts. 
The laboratory has two conventional, lower capacity, tensile testers. Were the new one of a similar design it would necessarily tower way beyond the laboratory ceiling. In fact, this machine stands less than head height, innovatively using downward rather than upward force, via three solid rods, which surround the bolt under test and transmit the force onto a circular plate, secured by a nut at the lower end of the bolt. It's another dramatic process to witness – and unquestionably one for which high grade ear defenders are an absolute necessity. 
Hasan Şemsi is 80 years old this year but his passion for the business he has steered for nearly half of his life, appears undimmed – not least in demanding the highest standards in quality assurance and customer service. He is equally passionate about the heritage, and also the future, of the city in which he was born. That social responsibility manifests itself in a long-term commitment to sponsoring thirty-five children from poor families through their complete education – and more recently by the construction and equipping of a new kindergarten in Tarsus. 
Perhaps significantly in both the social and industrial context, Mr Şemsi says: "Even when you feel you have complete control of what you are doing, you must maintain the enthusiasm to learn more. We have been successfully audited by many of the leading companies in the world but each time we have realised there are still ways to improve parts of our business that we might have felt were operating in an ideal way. Our research and development department constantly brainstorms to find ways to improve our processes and methodology and we actively recruit new young brains to challenge, as well as support us in ensuring we continue to improve."
Little wonder so many of the world's leading contractors, operating in the most critical applications and environments, have invested their trust in Berdan Civata.