STAFA – more than just a supplier
27 September 2023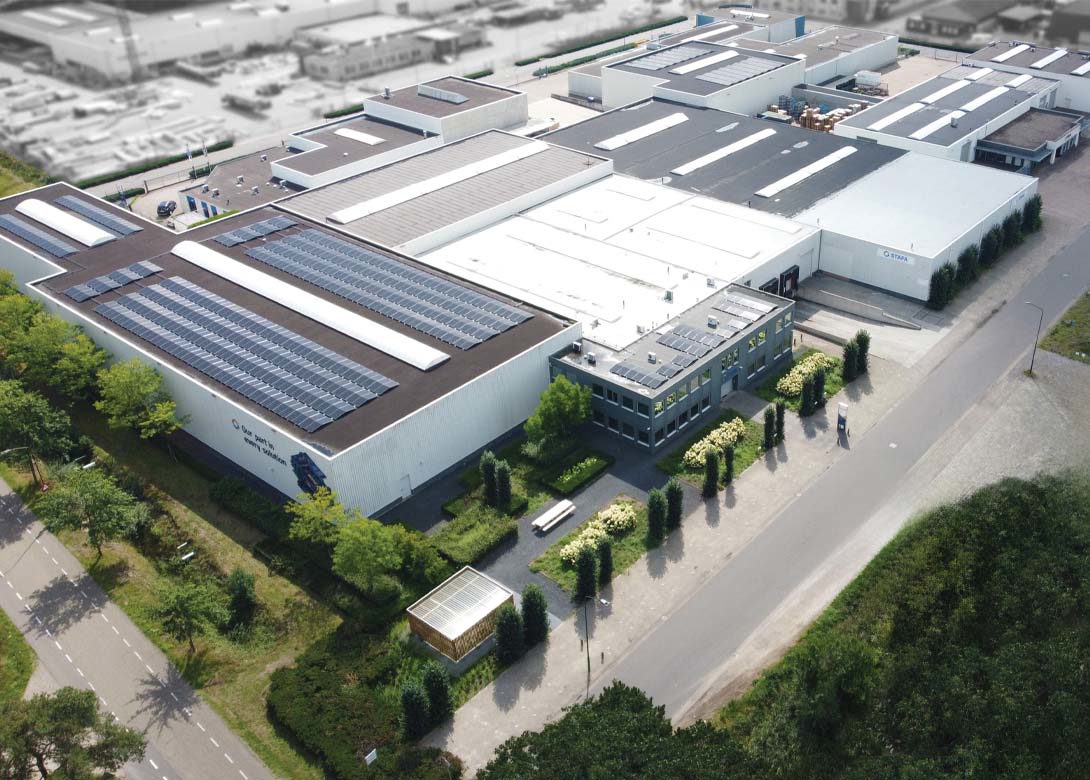 Dutch-based STAFA Group has looked to invest in both physical and digital logistic solutions in order to continue to build for the future and meet customers' ongoing needs and requirements. 
Offering over 75,000 fastener items, including one of Europe's widest range of hot dip galvanised products and structural bolts (HV bolts EN 14399 and SB bolts EN 15048), STAFA Group is able to offer a complete product portfolio and numerous value-added services that have enabled it to become a key player within the fastener market.
"Preparing for the future is an important condition for continuity for STAFA and its customers, which is why we strive for maximum optimisation and efficiency," states Joep van Gool, operations director at STAFA Group. "Therefore, when we invest in the business it must offer clear added value to our business operations."
A prime example is the recent warehouse expansion, which has given STAFA more space to stock all the necessary products requested by its customers. In addition, the company has installed four Kardex lifts to increase the picking speed of the smaller order lines. From a digital point of view, STAFA has also invested in the implementation of new ERP and WMS systems. "A lot of attention has been paid to 'business intelligence' and other forms of automation," points out Pim van Leeuwen, commercial director at STAFA. "This brings a lot of new insights and has enabled us to make great strides through this data-driven approach. The processing of digital files such as orders, invoices, etc, has also improved significantly – thanks to a streamlined data flow throughout the business."
The market challenges faced by every business in recent years has not only brought STAFA closer together as a business, it has highlighted not only challenges, but also opportunities. "In retrospect, we can certainly conclude that we have become much stronger from the experience," states Pim. "We have a great team of people who work on progress and satisfying customers and, thanks to the investments we have made, we have been able to further develop our products, services and capabilities."
STAFA Group's focus towards the market is also shifting, with it concentrating more on industrial customers in the manufacturing industry. "That certainly does not mean we are no longer paying attention to our trading customers," points out Pim. "On the contrary, they also indirectly benefit from the knowledge and skills we acquire from industrial customers. We then put our understanding of products, markets, and applications, to good use in the trading sector, which is appreciated by our trading customers. This means we can work with both markets and respond to each with tailored solutions."
Joep continues: "We have also recognised that customers are consciously and rightly becoming more demanding and STAFA must deal with this in a sensible way. Many of our customers rely on our expertise and knowledge of applications, and solutions, to match their wishes and needs. Understanding the processes and products is becoming increasingly important and as a business we are now a key function of our customers' businesses. We can make a real difference to our customers, which is why we will continue to innovate and invest in people, resources, systems and sustainable solutions."
To further meet the needs of both sectors, STAFA has looked to expand its product range, with more threaded rods in multiple fixed lengths – directly from stock, as well as a wider range of hook anchors. To add to this, the company has also expanded its range of hot dip galvanised DIN and SB bolts, especially larger diameters and longer lengths.
"Our strategy is to continue to develop and invest in providing distinctive products and services of impeccable quality – with the highest possible customer satisfaction," underlines Joep. "We believe it is important to streamline our business operations as efficiently as possible and to focus more on innovative automation and 'business intelligence', so we can continue to improve our performance towards our customers and the market. It is about exceeding the expectations of our stakeholders, partly through a unique approach and identity, with the aim of a profitable and sustainable future."
Thanks to this strategy, STAFA has established a growing customer base around the world. "We do not want to be dependent on a certain sector, a few customers or countries. It is precisely this industry and geographic diversification that has always worked to our advantage and will continue to work in the future," explains Pim. "Our main markets are the Benelux, France, the DACH region, the Nordics, as well as eastern and southern Europe. These markets remain steady, but we have noticed currently there is a lot of price pressure because of high stocks in warehouses – across Europe."
Another topic at the forefront of the market currently is sustainability and what steps are being taken to meet the upcoming regulations and requirements. "At STAFA we are well aware of our place and responsibility in the world and we have already made several investments and set up activities to take on our responsibility," points out Joep. "We have also visibly noticed our customers, and the market, are more actively involved in this and making demands on everyone in the logistics and industrial supply chain."
Steps STAFA has already taken include the installation of 600 solar panels to its warehouse roof, which provides 265,000Wp and ensures the business is completely self-sufficient when it comes to energy supply. The company has also replaced all the lighting within its warehouse to LED and is working with suppliers on how it can also improve its carbon footprint. 
"We think it is and will be vital to improve sustainability together in every way possible. Not only STAFA itself, but also our personnel, partners, customers, and suppliers, as together we can make a difference," mentions Joep. "Customers are asking more and more about what we as a business are doing to decrease our carbon footprint and it is becoming a bigger factor in creating a successful partnership. For instance, the demands for environmental friendly packaging is increasing, which is why we invested in a new and revolutionary way of kitting in paper packaging instead of the more common LDPE kits. We are one of the first to provide this type of packaging and by doing so we are helping our customers decrease the carbon footprint of their products."
Through its innovative strength, distinctive character, ongoing investments, growing product range, value-added services, and focus on a sustainable future, STAFA Group can further develop and better serve its customers and the market. "There are always challenges, opportunities and threats as a business. However, the last few years, and the aftermath of Covid-19, have made us stronger. We have taken many challenges as opportunities and further developed STAFA in the broadest sense," concludes Joep. "STAFA is a respected player in the market and we are financially a very strong, independent business. We invest in people and opportunities, which is why we face the future with full courage and 100% confidence."