Sealing for safe drinking water
31 August 2023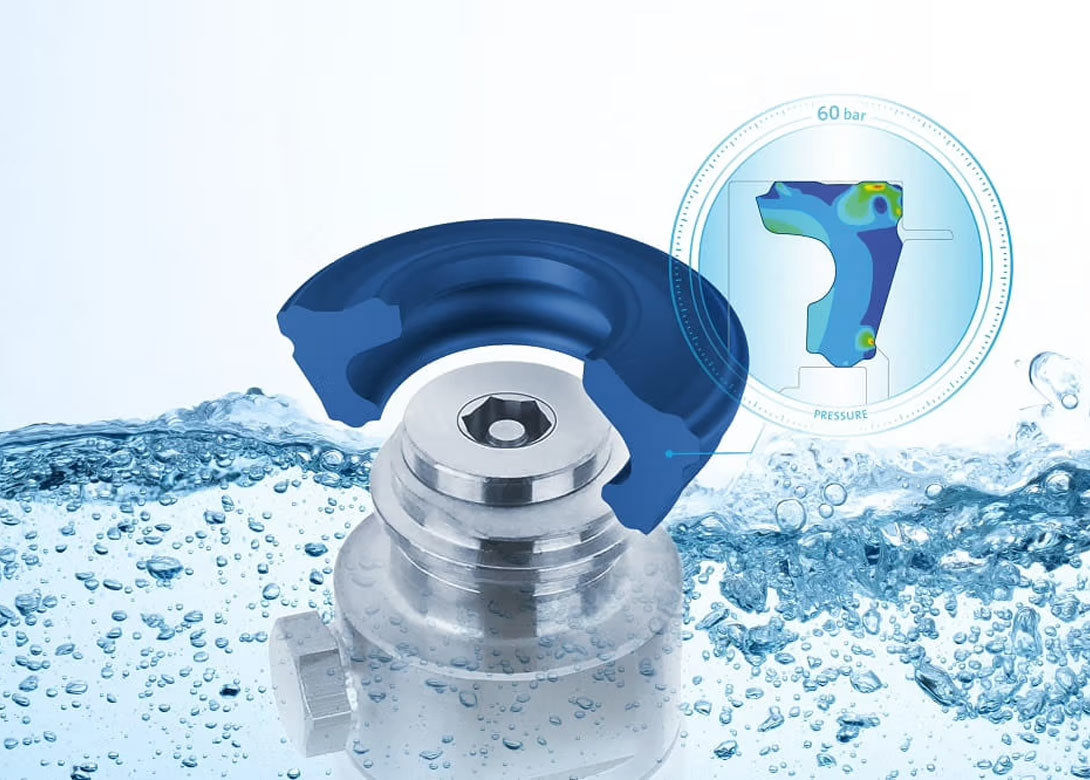 In appliances used for water purification and carbonated water, the valve of a carbon dioxide cartridge and the pressure-reducing valve on the device itself must be joined with a secure seal. Now, Freudenberg Sealing Technologies has developed a high-performance polyurethane seal for a customer – with a specific geometry that accommodates different valve dimensions on the various gas cartridges.
Drinking water is heavily contaminated in many countries around the world. Pollutants such as microplastics, bacteria, viruses and pesticides can negatively impact the quality of the water. Freudenberg Sealing Technologies states it "has developed an innovative sealing solution for a water treatment device that not only filters tap water but also enriches it with minerals, trace elements and, if desired, carbonic acid".
When the device was first developed, the customer faced a technical challenge – the valves of conventional carbon dioxide cartridges are not fully standardised and have many different dimensions that connect at varying heights. Ensuring that all valve variants fit together with the appliance requires a seal that provides reliable sealing regardless of this high tolerance range.
"After the customer contacted us, we began an analysis of the special conditions that such a seal has to meet," said Ulrich Wüstenhagen, pneumatics product development at Freudenberg Sealing Technologies. "It quickly became clear that this project required our materials expertise as well as our development know-how and our experience in manufacturing such products."
Sealing performance
The valves of carbon dioxide cartridges are screwed into water purifiers with a standardized trapezoidal thread. Then the cartridge and appliance are firmly connected to each other. Next, a pressure reducer on the appliance lowers the cartridge pressure from 60 bar to a permanent working pressure of around 3 bar. When the water purifier is used, the pressure quickly decreases, and the gas abruptly expands. During this rapid decompression, the gas in the material escapes back out of the material – a process which the seal in the gap between the pressure reducer on the appliance and the valve of the gas cartridge must withstand. During this rapid decompression, the gas in the material escapes back out of the material, so the right material must be used.
Optimal design and material
"The customer was working on a tight deadline that did not offer much time for extensive testing. By relying on its existing material expertise and manufacturing know-how, Freudenberg Sealing Technologies began working in close cooperation with the appliance manufacturer, and the optimal sealing solution and perfect material were identified," explains Freudenberg. The company's high-performance polyurethane, 93 AU V167, is resilient and has good tensile strength in addition to high elongation at break. The sealant has been approved for food contact pursuant to European Union Regulation 10/2011. It also complies with FDA requirements and 3-A sanitary standards.
"Thanks to a very pragmatic approach, we arrived at a tailor-made solution with our customer in a short time – a solution we have now patented," Wüstenhagen concludes. "This seal ensures that, in the future, tap water can be enjoyed confidently anywhere in the world."