Seal stuff in and seal stuff out
01 March 2023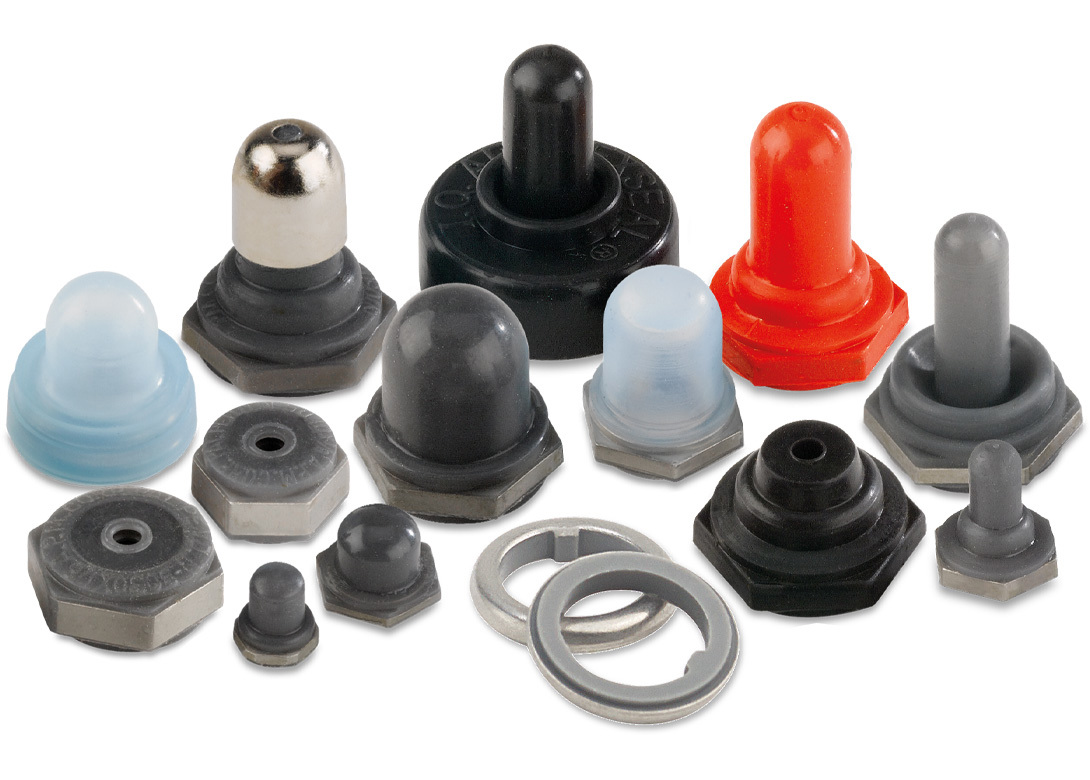 By Jackie Hackett, director of global sales & marketing, APM Hexseal
Industrial electronic and mechanical equipment must reliably perform essential tasks, even while operating in challenging conditions. The slightest error or malfunction can lead to time-consuming and costly maintenance or repairs.
A lack of appropriate or complete sealing can cause failure in critical and expensive machinery, so using appropriate sealing solutions, and checking them regularly during maintenance operations, can help to avoid unexpected downtime.
Improper sealing of critical elements, such as switches, circuit breakers, and control panels, can leave them vulnerable to adverse environmental conditions. Corrosion, contamination build-up, as well as electrical malfunction, can arise from unwanted indoor or outdoor environmental exposure.
Sealing boots and bushings are employed by numerous industries to preserve the reliability and longevity of various tools, equipment and their components. These elements act as barriers to protect sensitive components by sealing them from the external environment. Sealing boots are elastomer-based, specially moulded covers that are placed over various types of switch configurations, while bushings are specially designed to protect the mounting holes. They are available in a wide array of elastomers, and configurations, depending on the application and the types of contaminants needed to guard against.
Eliminating the risk of contamination
Sealing products can be used in a broad range of industrial applications to form an impenetrable seal that either keeps contaminants in or locks them out. Boots and bushings are typically used to protect equipment against numerous indoor and outdoor contaminants including:
Extreme temperatures: Extremely high, or low, temperatures can damage sensitive electrical components in switches and cause a system malfunction.

Oil and chemicals: These can travel down mounting holes and negatively affect internal circuitry. Sealing solutions, such as boots and bushings, are designed to form a 360° airtight seal around the switch, base, and mounting hole, to prevent the intrusion of unwanted fluids. This form of protection also applies to spilled food and beverage items.

Environmental contaminants: Contamination from the environment occurs as a result of both indoor and outdoor exposure. Rain, snow, dust and sand are just some of the environmental elements that can seep into the vulnerable areas of electrical equipment and cause a multitude of problems. The presence of salt in the environment can also be especially damaging to various mechanical equipment and components.
Common industrial applications 
As technology continues to advance, so does the reliance on electronic and automated mechanisms. These sophisticated systems, however, are highly sensitive to adverse external conditions and prone to frequent malfunction and failure.
Some electrical components also have interdependent systems where the malfunction of one element can impact the entire system. Sealing boots and bushings may be used to protect numerous interdependent mechanical and electrical systems including HVAC systems, security systems, circuit breakers, communication switches, vehicular components, instrumentation panels, aircraft control panels, emergency systems – fire, ambulance and EMS, utility systems – electricity, gas and water, as well as drilling systems and drilling monitoring systems.
Types of sealing boots
APM Hexseal offers a broad range of sealing products to help protect almost any mechanical or electrical device. The boots are specially designed to extend the life of a wide array of switch configurations in the most demanding environmental conditions. Some of the sealing solutions offered by APM Hexseal include:
Toggle boots: These seals are ideal for switches that are actuated in a back and forth motion.

Pushbutton boots: Our pushbutton boots are engineered to protect switches that are operated by a push or press motion.

Rotary boots: These boots are designed to accommodate the rotational motion of rotary switches and can also withstand friction without impeding actuation movement.

Circuit breaker boots: Circuit breaker boots help to seal and protect breaker switches, preventing short circuits and potential fire hazards.

Rocker boots: These seals protect rocker switch panels while accommodating their unique actuating movements.

Bushing seals: Bushing seals complement sealing boots by protecting vulnerable mounting holes.
Sealing hardware
Conventional fasteners, such as nuts, bolts, rivets, and screws, are relatively efficient at mounting a broad range of items to surfaces, or surfaces to each other. However, in some industrial applications, regular fastening is insufficient to prevent the unintentional and unwanted flow of potentially damaging liquids and gases.
Fasteners integrated with embedded O-rings compress when torqued. This compression causes the elastomeric (typically silicone rubber) O-ring material to distort and form an effective seal between the mating surfaces.
Why use sealing hardware
In fasteners subjected to internal or external pressures and excessive vibrations, the thread and bearing faces can act as ideal pathways for the seepage of fluids. Selecting the right sealing hardware is, therefore, essential to ensure that electronic, hydraulic and pneumatic systems operate at maximum efficiency.
Improper sealing can result in unwanted leaks and loss of pressure in some applications. This can lead to equipment damage, inefficient processes, and cross-contamination, which can ultimately lead to reduced productivity, operational downtime and expensive maintenance or repair operations.
Chemical processing industries, in particular, rely on sealing hardware to prevent the leakage of potentially hazardous gases and liquids. Other sectors, such as the petrochemical industry, require reliable sealing fasteners to contain flammable substances and mitigate the risk of ignition or explosion.
Sealing hardware technology is used in a variety of machinery applications, particularly in harsh or hazardous environments. Depending on the application, and the types of substances encountered, APM Hexseal offers a variety of O-ring materials that will provide an effective and long-lasting seal. This self-sealing hardware ensures that a proper 360° seal is achieved around the base of the fastener through the compression of the O-ring.
Benefits of using sealing hardware
A major advantage of sealing hardware compared to traditional sealants (such as deformable washers and liquid thread sealers) is its reusability. This means that sealing hardware products can be easily removed and reapplied with the same sealing pressure when torqued.
In APM Hexseal's sealing hardware, the elastomer is positioned within a specially designed groove, which requires minimum compression and deformation when the desired torque is applied. This results in a reliable 360° metal-to-metal fastener contact and minimum friction even over multiple reinstallations.
The various sealing materials available are resistant to a myriad of aggressive chemical compounds, making APM Hexseal's fastener solutions capable of operating in harsh environments – without the risk of seal degradation. For additional vibrational resistance, self-sealing fasteners may be integrated with locking features, including self-locking pellets, strips and patches.
Sealing hardware solutions
APM Hexseal offers self-sealing fasteners for almost any fastening and sealing needs, across industries. The company's range of sealing hardware is available with several elastomers and can achieve pressure seal ratings of up to 20,000 psi. 
These products include:
Seelskrews® and Seelbolts®: These self-sealing bolts and screws provide reliable seals against various liquid and gaseous substances. Seelskrews® and Seelbolts® products are also vibration resistant and reusable.
Seelnuts®: APM Hexseal's self-sealing hexagonal nuts are designed to be compatible with conventional screws, bolts and studs. The single-piece design features the elastomer moulded directly into a custom designed,

 

special cavity in the nut and helps provide superior sealing without compromising the nut's original thread count. These Seelnuts® are available in imperial and metric sizes, up to M90.
Seeloc® Washers: The self-sealing, reusable washers are constructed from a custom designed, stainless steel disc bonded on one side with a specially designed rubber. Seeloc® Washers are capable of controlling pressures of up to 100psi. APM Hexseal also manufactures Heavy Duty Seeloc® Washers, capable of handling torque values at least 50% higher than our original Seeloc® Washers.
APM Hexseal's range of sealing solutions are designed to meet the needs of almost any mechanical or electronic system, in almost any environment.  As electronic and mechanical systems become increasingly sensitive and high-tech, deploying them unsealed, in a world full of contaminants and environmental hazards, becomes a risk too costly to take. Protecting equipment ensures that it will function as needed, when needed, and significantly reduces the risk of expensive repairs and downtime. The most efficient way to safeguard expensive components is to seal them. APM Hexseal can help do just that. Its engineers can also customise products for more unique sealing requirements. "If you are interested in increasing the longevity of your equipment with effective sealing solutions, ask the experts at APM Hexseal."
apmhexseal.com