Meeting the challenge
22 June 2020
For over 100 years Mayes & Warwick has been producing thread and form rolling dies to the very highest standards – thanks to the experience and knowledge within the business, as well as its commitment to using the latest technology to stay at the forefront of the industry.
Mayes & Warwick Ltd is able to produce a full range of flat thread rolling dies, in a wide variety of thread profiles, for rolling all types of screws, bolts, and fasteners, as well as a variety of lockbolts and rivets. "We have built our capabilities within thread rolling dies up over the last 100 years and have a vast amount of experience within the company," states Peter Lawrence, managing director at Mayes & Warwick. "Within the industry we are also recognised for our quality. For instance, our dies are produced to such an accuracy that each die is interchangeable and can be set in a stack, off the machine and so optimises the best tool life and machine running time."
Leading brands
Alongside its range of dies for standard products, Mayes & Warwick is also licensed to produce a selection of branded products, including Taptite® products, MAThread® products, REMFORM®, Powerlok, FASTITE®, EXTRUDE-TITE®, EJOT® DELTA PT® screws, as well as Huck® bolts, rivets and blind rivets.
"As a business we have always looked to be involved with licensed products at an early stage, so that we are in a good position to help develop the products if they gain traction within the market," explains Peter. "This is exactly what happened with the Taptite licence in the mid 1980s and it proved very successful. Licences help us compete at the front end of the industry and shows the quality of products we are able to produce."
Peter continues: "When you look at products like the Taptite® PRO™ and MAThread® VR, these are leaders within their fields and to be able to produce dies to support these products is a real 'feather in our cap' and shows the capabilities we have within the business."
Mayes & Warwick also finds that when customers order licensed products, and see the quality the company is able to produce, they start to buy dies for more standard products. "Whilst we are proud of our capability to produce such premium brands, we are still committed to manufacturing dies for standard machine, chipboard, and wood screws – both metric and unified threads, as well as Whitworth threads," states Peter. "Being able to offer both enables us to start up conversations with customers about their requirements and build long-term relationships – by meeting all their thread rolling die needs."
Bespoke solutions
Mayes & Warwick can also work alongside customers on designing new dies for bespoke products. "We are able to work on a lot of special projects thanks to the knowledge and experience we have within the business. We are always happy to take on customers' challenges and we are determined to succeed. Every day we are developing and working on some form of design. It is very satisfying to help customers find a solution to their needs. We want to challenge ourselves and it helps us to continuously improve."
Peter points out that the demand for bespoke products has only increased in recent years, with customers looking for a high variety of products at low volume. "Within the UK fastener industry, we seem to focus more on specialised niche products, and you need to have this focus if you are going to be competitive as a UK manufacturer. We can still produce the standard products, but it is the special products that provide real opportunities for us."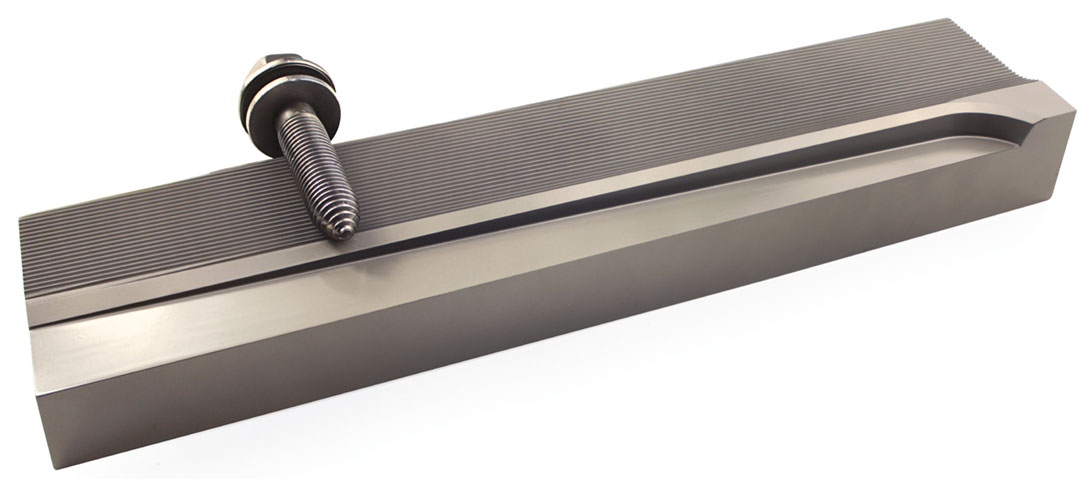 Latest technology
A vital part of Mayes & Warwick's ability to supply such a wide range of specialist dies is its investment in the latest CNC machinery, including milling, grinding, lathes and turning equipment.
"Having the latest technology is crucial if you want to be at the cutting edge of technology. The advantages of having CNC machinery is it gives better accuracy, better tool life and better surface finish. Also, once you set-up the right program, the machine repeats itself perfectly – guaranteeing the quality of the parts."
Ensuring it has the latest technology also helps the company when it comes to attracting new employees. "We have found some of the older skills are dying out and it is difficult to get experienced operators. By having computer-based CNC machinery we can attract a younger generation who are more computer literate. Also, because the machines are computer-based everything is stored on the system, which means we can manage the changes as younger staff come in. We can then ensure that experience is passed down, whilst at the same time making processes more digital."
Another advantage of modern CNC machinery is it helps improve the production process. "Whilst a grinding machine will only grind at a certain rate, having an automated multi-axis machine means more operations can be carried quicker, which helps speed up the production process and means single operators can manage several machines at once."
Targeting growth
Whilst Mayes & Warwick already supplies products around the world, the company is still looking to grow even further. "Exports count for well in excess of 50% of our business and we already supply customers in Europe, the Middle East, North and South America, India, and even China. However, I still believe there is a huge market out there for us and plenty of potential. That is why we are looking to expand our sales and customer service team. We can see there are opportunities, but we can't wait for them to come to us. We need to go out and talk to the customers."
"Obviously at the moment everything has been impacted by Covid-19, which is very serious, but I am sure the markets will recover. We also still have BREXIT to think about in the future and what that will entail. These are big factors that in many ways are out of our control. All we can do as a business is look to keep contact with our customers and ensure we are providing the service customers have come to expect from us."
Peter concludes: "As a UK manufacturer we cannot just sit back and hide behind the 'Made in the UK' reputation, which I believe is still respected around the world – especially in the fastener market. We need to be more proactive and go to customers and show the knowledge and quality we have within our business. Going forward, we will continue our core principles of investing in technology and automation; working with customers on new projects and features; as well as looking to see how we can get better step-by-step every day."
Showcase in Düsseldorf
Mayes & Warwick will be showcasing its range of products, and first class service, at the rescheduled wire® Düssedorf show from 7th – 11th December 2020 in Germany. "We were disappointed the first show dates were cancelled, but we fully agreed with the organiser's decision to reschedule to December," mentions Peter. "We are still planning on exhibiting and look forward to talking to existing and potential customers about the wide range of products and services we can provide."