​Bringing together the advanced engineering supply chain
02 February 2015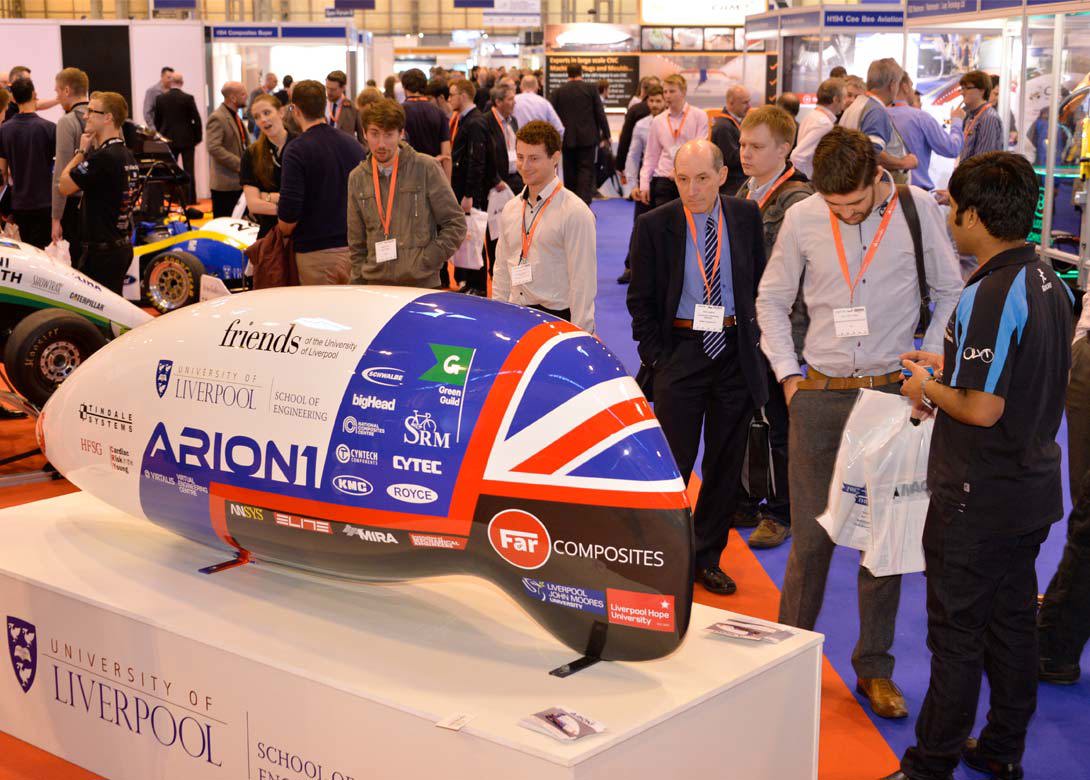 The Advanced Engineering UK group of events held on the 11th – 12th November 2014 – at the NEC Birmingham – saw a record 13,000 visitors from all parts of the advanced engineering supply chain.
More than 700 exhibitors (650 in 2013) showcased the latest technologies and a diverse range of technology, capability and engineering services – many within the fastener industry including: 3M, Anochrome Technologies Ltd, bigHead Bonding Fasteners Ltd, Binder Fastener Systems (UK) Ltd, DELO Industrial Adhesives, Ellsworth Adhesives Europe, HellermannTyton Ltd, NORMA UK Ltd, Permabond Engineering Adhesives, Specialty Fasteners & Components and TFC Fastening Solutions.
Visitors from a wide range of industries were brought together over the two-day event for the five co-exhibiting shows: Aero Engineering Show, Composites Engineering Show, Automotive Engineering Show, Auto Electronics and – new for 2014 – Performance Metals Engineering Show.
Ian Stone, managing director of show organisers UK Tech Events, commented: "The continuing maturity of the event and its growing pivotal position on the industry calendar is evidenced by a number of key indicators this year, notably the increasing diversity of international companies. Yet again we have seen the immense value of bringing together multiple high value sectors into a dynamic integrated environment."

Fastener exhibitors at the Aerospace Engineering Show included WDS Components, Binder Fastener Systems, displaying its reusable fire retardant fastener system, Duotec® for the aerospace and transportation industries, and TFC Fastening Solutions. TFC had engineers on its stand throughout the show to discuss specific applications and offer expert advice to its visitors. Steve Teale, UK sales manager said: "We've been busy and have seen visitors to the stand from a number of industries including aerospace, automotive, and rail and we've seen a lot of interest in our exclusive range of space saving Smalley® wave springs."
Also exhibiting at the Aerospace show was Specialty Fasteners & Components, showcasing the AeroLoc™ - its new lightweight, turnlock fastener featuring a cross head stud, locking spring, and mounting plate for race engineers in the motorsport industry. Paul Penny, account manager, at Specialty Fasteners & Components said: "80 years ago, when William Dzus invented the turnlock fastener, he wasn't expecting it to be improved, and that's exactly what we've done. As fastening engineers, we listen to our customers and the problems they encounter - particularly in the frenetic atmosphere of qualifying and pitstops – and a more reliable, easy to use and consistent self-ejecting fastener was something that was long overdue."
The automotive show also housed a number of returning fastener exhibitors, including HellermannTyton, supplier of products for fastening, fixing, identifying and protecting cables and their connecting components. The company was showcasing its wide product range, its automatic tooling capabilities, and its Q-tie - a unique and innovative product for bundling and fixing cables for a wide range of applications, which provides an easy insertion even under difficult circumstances. John Banks, product manager, at HellermannTyton explained: "The Q-tie has an open head design that enables simple and quick installation. The integrated pre-locking function of the Q-tie offers the ability of a temporary and a final cable fastening solution without additional effort."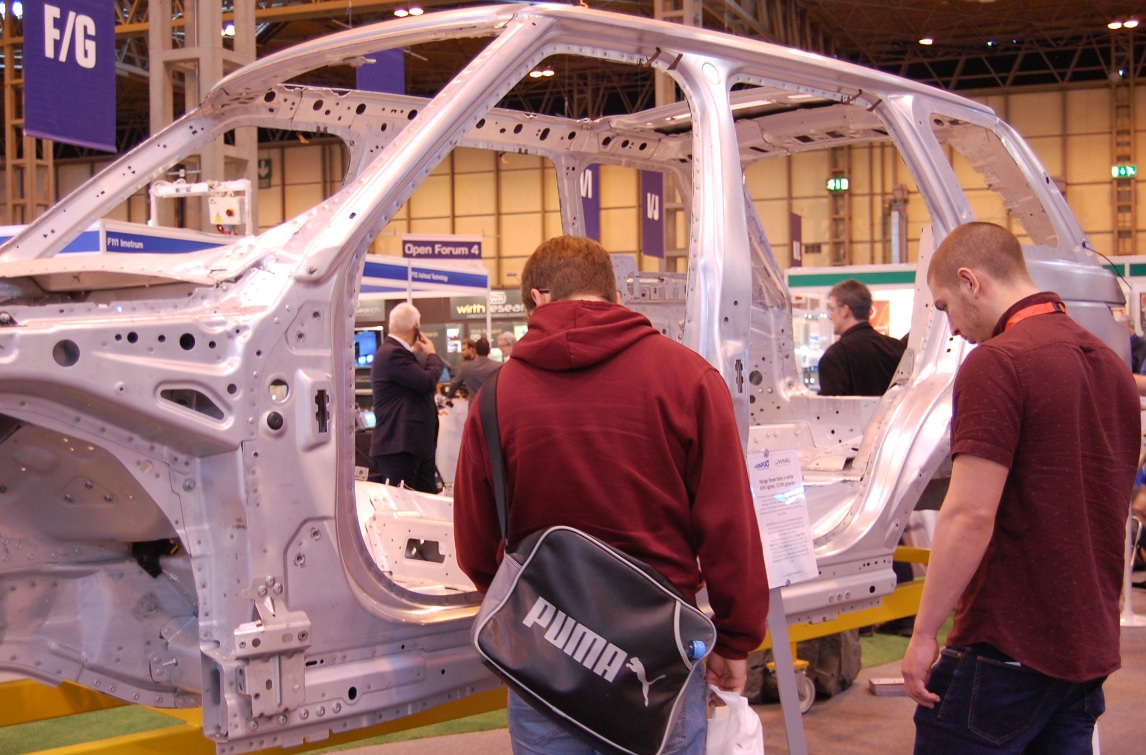 Exhibiting for the first time at the show was NORMA (UK) Ltd. Situated in the automotive section, the company showcased a cross section of its wide range of products to cater for all applications. Alex Burt, market development manager, at NORMA UK said: "As it was our first time at the show, we were not sure what the range of visitors would be like, and whether they'd be interested in our industrial ranges or automotive. We were glad we took a cross section, as we had many visitors from automotive applications, but also some from industrial as well. The show was good for us and a few of our customers also managed to visit us on our stand."
The Composites show saw many returning exhibitors from the fastener industry including Scott Bader, AMI-CON, bigHead Bonding Fasteners Ltd, and Permabond Engineering Adhesives - attracting to visitors to its stand with a Fiat 500 bonnet bonded with Permabond products. Daniela Davidson, business development co-ordinator, at Permabond explained: "We decided to bring the Fiat 500 bonnet to the stand to show our extensive range of adhesives for composites and the products' capabilities. It's something that our visitors can relate to and was definitely a conversation piece to highlight the benefits of using adhesives as opposed to mechanical fasteners."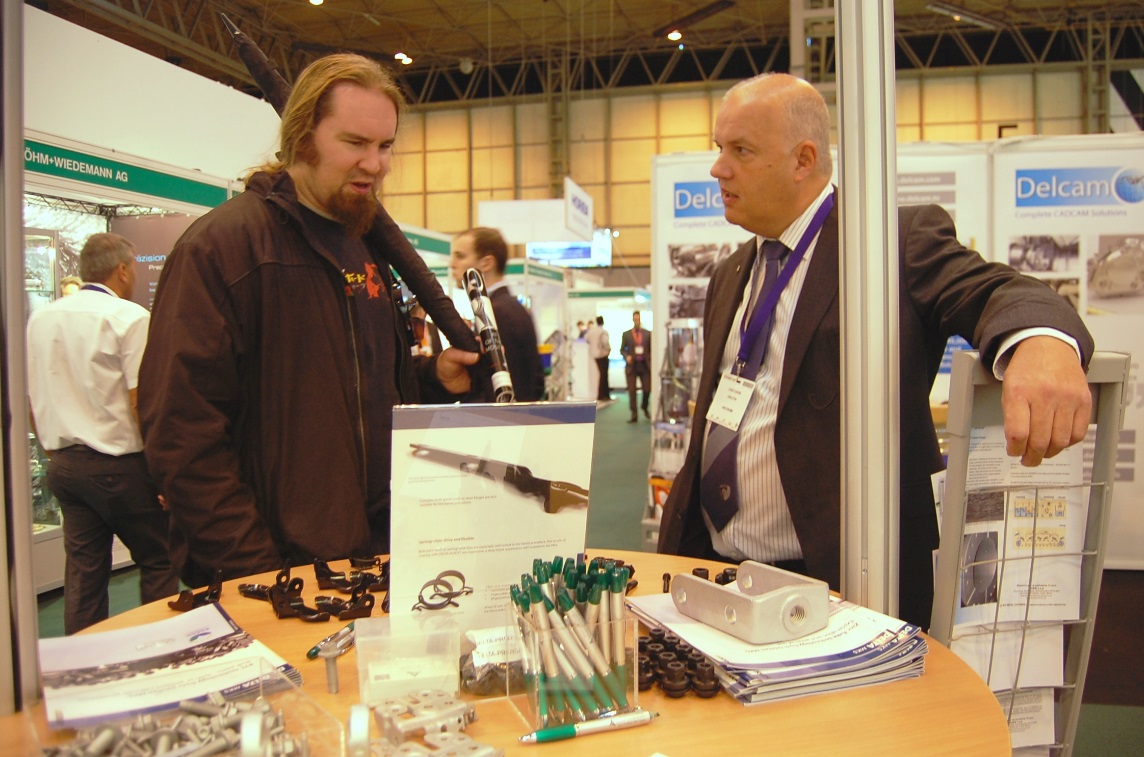 As well as the five shows, a comprehensive presentation schedule took place during the two days to give a coordinated view of the current landscape for the advanced engineering sector in the UK. The 2014 open conference programmes included a record volume of content sessions from leading industry bodies and leading OEMs and Tier 1 contributors including Airbus UK, BAE Systems, British Institute of Non Destructive Testing (BiNDT), Institute of Materials Finishing (IMF), Jaguar Land Rover, Motorsport Industry Association (MIA), Rolls-Royce plc and Rubber & Plastics Research Association (RAPRA).
The schedule also included a seminar on the 'Process with a twist: DELTA-eLACK' in the automotive forum from Chris Gorvin, business development director at Anochrome Technologies and Hans-Jörg Minas, applied technology – process engineering at Dörken MKS-Systeme GmbH & Co KG. To a full capacity seminar, Chris announced that from the end of 2014, Anochrome would be approved applicators of the new Dörken MKS Systems Delta eLACK® system. Chris Gorvin explained: "This electrolytically deposited coating known as KTL or E-cote is produced via a state of the art cathodic dip processing plant. This is ideal for complicated shapes and large unit numbers. What makes the new system special is the innovative plant technology. While until now stamped sheet metal parts could only be coated in a labour-intensive manual fashion, by being hung on racks, now they can be coated in a drum as mass bulk items."
The Advanced Engineering UK group of events will once again take place at Birmingham's NEC arena on 4th – 5th November 2015.