A maintenance free bolting assembly
17 January 2023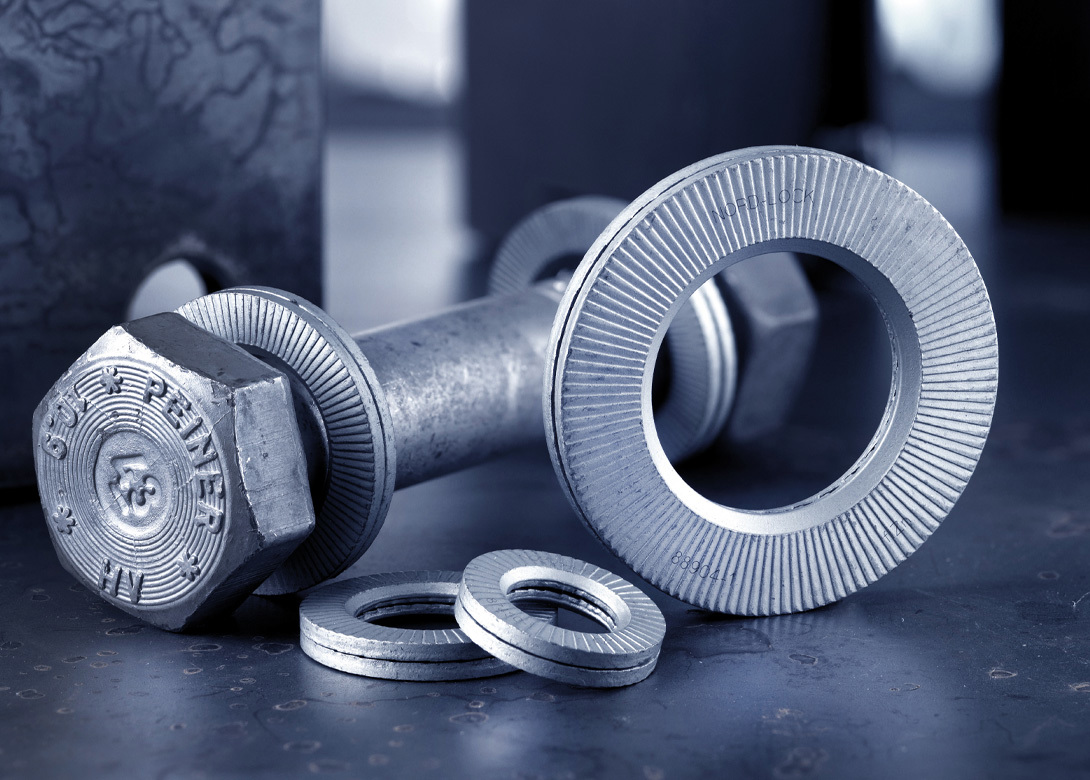 In a positive development for bolted joint security in European steel construction, Nord-Lock Group and PEINER Umformtechnik are now collaborating to provide a maintenance free structural bolting assembly – consisting of a PEINER HV bolt and nut according to EN 14399-4/-8, as well as a pair of Nord-Lock Steel Construction (SC) wedge-locking washers according to ETA - 20/0010.
The essential idea behind bolting assemblies is that the components come from one manufacturer. This manufacturer is responsible for the components, as well as for the friction coefficients (torque preload ratio). Replacing the commonly used flat washers of the standardised bolting assembly with the more secure Nord-Lock SC washers turns this basic idea on its head. But why should users replace the commonly used flat washer with Nord-Lock SC washers?
The self-loosening of bolted connections and the resulting problems that can occur are often underestimated points out Nord-Lock. If flexing, vibration, shock loading or thermal movements are possible during the lifetime of the joint, they must be considered when specifying the category of bolted joint to be used. If the wrong criteria are used for the conditions that the bolted connection will experience, the fastener, or the whole assembly may fail.
Practical experience often shows that lower initial preloads caused by poor friction conditions in the bolting assembly or higher preload losses due to settlements can have a critical influence on the load bearing capacity of the bolted connection.
Countless tests by PEINER and Nord-Lock on the torque-preload behaviour, settlements, behaviour under dynamic loads, etc, led to a secure bolted joint and the attainment of an official building approval by the highest German building authority, the DIBt. Following the constraints of EN 1090-2, the maintenance free bolting assembly was created.