When to specify stainless steel for component parts
10 July 2020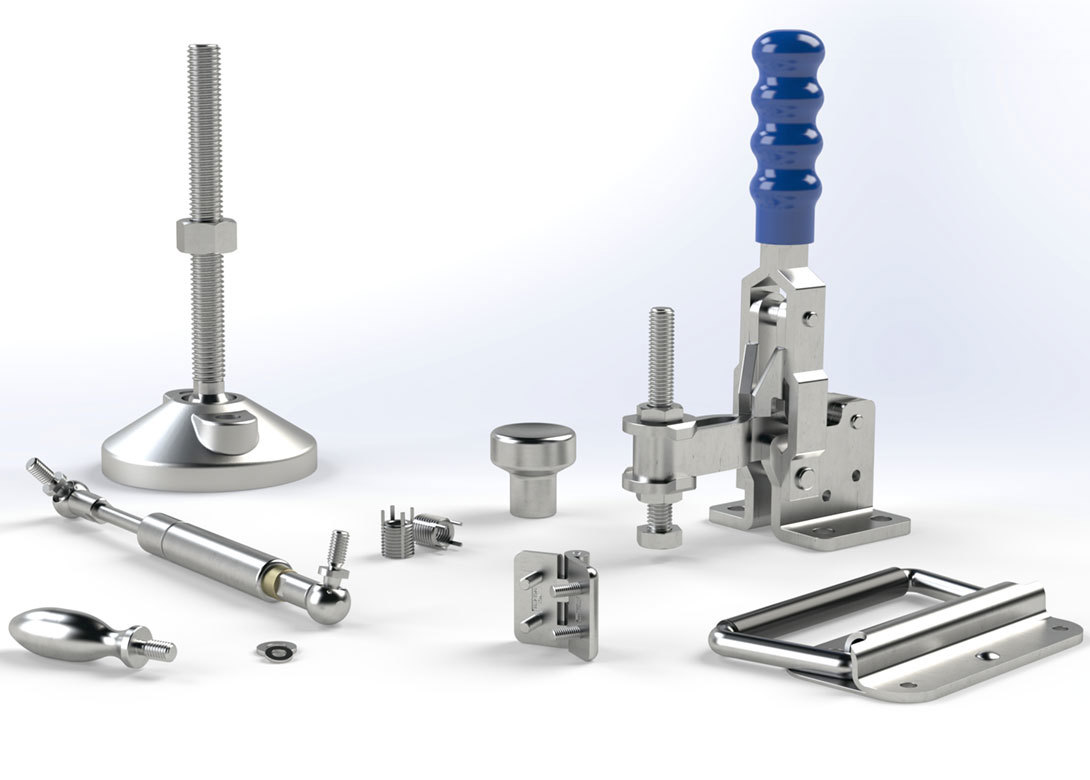 Stainless steel is often specified for use due to its combination of strength and corrosion resistance. However, there are various grades of stainless steel to choose from, each with their own characteristic and costs. Here, John Marshall, technical manager at WDS Components Parts Ltd, explains why it's important users make the right choice for their application.
Chromium alloy gives stainless steel its best known advantage, high corrosion resistance. The chrome component not only creates the protective chromium oxide layer but also contributes to its hardness, making it highly robust and resistant to impact. However, its relative hardness makes it more difficult to machine than mild steel, which means careful selection of a supplier is required in order to ensure optimum product quality and accuracy.
Type 304 is the most common type of stainless steel for component parts, composed of up to 20% chromium. It's often used in areas that are mildly corrosive, or that require only an occasional wash down, for example handles or hinges. Type 303 has similar properties, but slightly improved machinability when very low tolerances are required, but with slightly lower durability.
The highest quality stainless steel generally used for standard parts and components is type 316. Its added molybdenum component makes it highly resistant to corrosion and pitting, the effects of which would create a less hygienic environment and accelerate corrosion. Known as 'food grade', though it's also the first choice in the marine industry, 316 can endure regular chemical wash down or environments of high salinity. These characteristics make it more expensive, although the cost difference between 304 and 316 has reduced over time.
Growing range of stainless steel components
The range of stainless steel components that WDS provides continues to grow through increasing demand across wider industries and applications. New to the WDS range is a T Knob with a threaded stem, as well as a four-spoke threaded hand knob, both of which are made of Type 316 stainless steel. Hand knobs are ubiquitous throughout industry, including food and beverage, marine, and also for machine parts. While stainless steel is often selected for its shine, the new threaded hand knob is also available in 316 with a matt finish, usually chosen in order to hide fingerprints.
Another new addition in stainless steel is the hand wheel. Hand wheels are often provided in aluminium, which can be suitable for outdoor use if safety, hygiene, or regulations allow. However, the new 316 stainless steel hand wheel will last longer and is the choice for use in corrosive environments, such as marine applications. Small crafts to super yachts use WDS components, 316 stainless steel provides the anti-corrosion required, as well as the aesthetic appeal being more popular in the market.
A cam action indexing plunger, used as a fixing on a machine when indexing a range of motion or series of positions, is now available in stainless steel. Indexing plungers and bolts are generally manufactured in Type 304, giving adequate resilience even if it's not required to face the full rigours of a daily wash down.
Castor wheels for use in food manufacture and preparation must meet the necessary hygiene standards, but at the same time aren't required to withstand full wash down. Therefore, a stainless steel Type 304 frame is suitable, combined with a nylon wheel. Levelling feet with up to 50° of angle tilt are also available in a 304 stainless steel stem, and can be fitted with an anti-microbial polypropylene base.
Alternatively, an example of necessary use of the higher 316 grade for the food and beverage industry, is on gas struts because of the essential nature of a regular wash down. Used on food service hatches, mobile catering vans, and ventilation grilles, these applications face regular contact with food and grease splashes. For necessary hygiene standards, a regular wash down is needed and Type 316 stainless steel is required to withstand corrosion.
The importance of the manufacturing process and service
As stainless steel can be more challenging to machine, especially type 316 due to its hardness, it's essential that a user's component part supplier can reliably provide a precise, corrosion resistant finish. WDS designs and manufactures in-house, with capabilities including CNC milling, turning, drilling, grinding and honing. Operations include stringent training for its machinists and a test procedure with batch control to ensure repeatable high quality.