Stainless steel fasteners for the most demanding marine applications
06 June 2019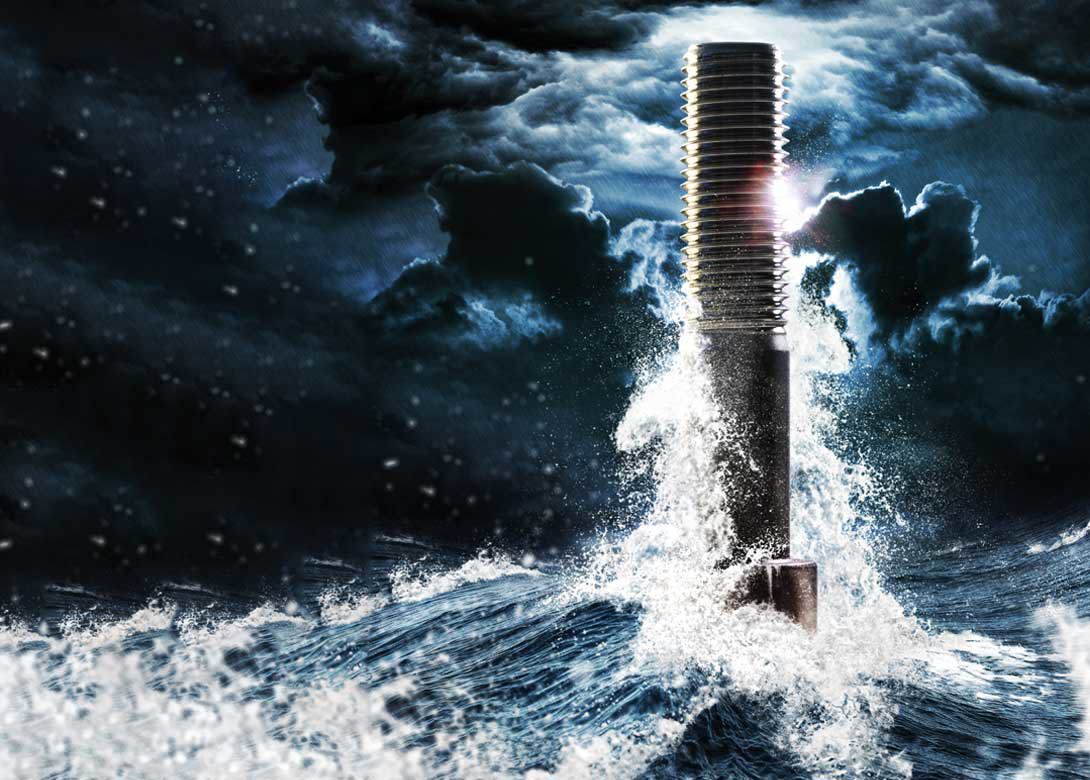 By Örjan Persson, BUMAX business development director and Anders Söderman, BUMAX technical director
High strength and corrosion resistant fasteners are essential in a variety of marine applications to promote safe, long-life, low maintenance and cost-effective solutions – not least in the most demanding environments.
Stainless steel – the optimal material for demanding marine applications
Salty marine environments accelerate corrosion for any steel – with greater corrosion caused by increased salt concentrations and temperature. Stainless steel products are particularly useful in marine applications as they offer corrosion resistance.
As high salt concentrations can build up in areas where salt deposits cannot be rinsed away by rain water or maintenance, it is essential to select a suitable stainless steel grade to reduce the risk of corrosion. Stainless steel grades of A4 or 316 with a minimum 2% molybdenum content and a Pitting Resistance Equivalent Number (PREN) of approximately 25 or higher are recommended for marine environments. The PREN is a predictive measurement of a stainless steel's resistance to pitting corrosion in chloride environments based on its chemical composition. For critical applications and longer life expectancy, a super austenitic, duplex or super duplex grade should be considered.
Stainless steels can also provide high strength and excellent fatigue properties. These properties can be essential in marine applications subject to vibration and dynamic loads, such as propulsion systems and offshore wind turbines.
In marine environments, cathodic corrosion protection is commonly used. Cathodic protection can cause hydrogen induced stress corrosion cracking (HISC) in ferritic or martensitic material. Crucially, austenitic steels are not sensitive to this type of corrosion phenomena, which is why they are widely used in marine applications.
BUMAX® – beyond standard fasteners
BUMAX offers a wide range of fasteners to cope with any marine application. BUMAX stainless steel fasteners are already used around the world in a variety of demanding marine applications, from thrusters and sub-sea cable connectors, to seawater filter fastening systems and cleaning equipment for subsea oil and gas wells.
BUMAX fasteners have consistently proved they can deal with the most extreme marine applications – often where standard solutions simply cannot cope. The use of high strength and corrosion resistant stainless steel fasteners promotes safety, extends lifespan and reduces the need for maintenance. This reduces lifecycle costs as they simply last longer and require less maintenance than standard solutions.
BUMAX products commonly used in marine applications include:
BUMAX® 88 – a premium A4 fastener with higher strength and better corrosion resistance than a standard A4 due to a minimum 2.5% molybdenum content and a nominal PREN of 27.
BUMAX® 109 – offers the same material as BUMAX 88 but with higher strength.
BUMAX® DX 129 – a product with extremely high strength combined with a nominal PREN of 36, which provides very good corrosion resistance.
BUMAX® SDX 109 – the optimum choice for extremely demanding marine applications where corrosion resistance is a critical issue with a nominal PREN of 42. The product will never corrode under normal marine conditions. BUMAX SDX can also be supplied in strength class 12.9.
BUMAX fasteners have also proved to have very good fatigue properties compared with standard fasteners in A4-80. This applies to BUMAX 88 but especially BUMAX duplex grades that have significantly better fatigue properties compared with both austenitic stainless steel and carbon steel fasteners. The key to higher fatigue resistance is the premium raw materials used for BUMAX fasteners, with minimal harmful inclusions and excellent surface properties. Rolled threads also enhance fatigue properties because of the compressive stresses created.
In addition, thread friction testing by third-party laboratories has demonstrated that BUMAX products have lower thread friction, as well as less variation in friction compared to competitor products. This significantly reduces the risk of galling, which can be an issue with standard stainless steel fasteners. Less variation in the friction coefficient also ensures correct clamping force, as incorrect clamping force is a major reason why standard fasteners fail.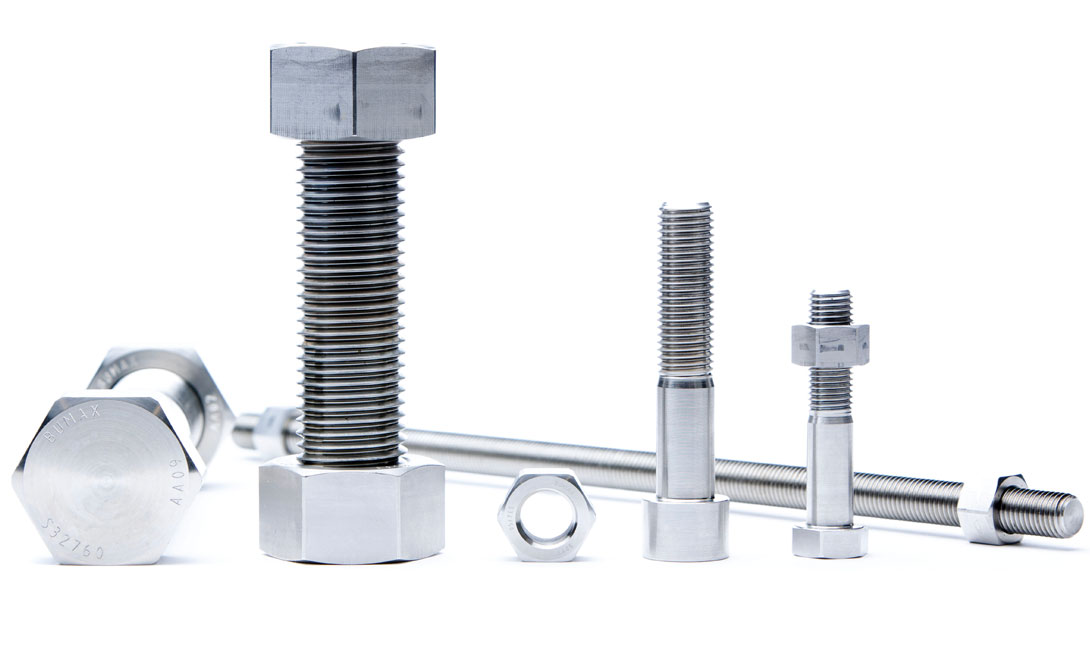 Application example: Vessel thrusters
BUMAX 88 bolts have been used by a leading propulsion system manufacturer to fasten thruster propeller blades. The manufacturer tested various fastener solutions and found that BUMAX 88 provides the best corrosion resistance, excellent fatigue resistance, improved assembly (less friction and galling) and overall premium quality. The thruster is also protected against corrosion by sacrificial anodes. The bolts are critical as a fastener failure would potentially result in high repair costs and safety risks.
Application example: Subsea cable connectors
BUMAX SDX 109 bolts have been used to fasten the cable fibre optic connectors on the sea bed that are used to regulate subsea oil and gas wells. As the connectors are at a depth of up to 3,000m, it can be expensive to repair or replace critical elements such as fasteners, which simply cannot be allowed to fail. 
BUMAX SDX 109 was selected as the very best option for corrosion resistant and maintenance-free fasteners in such demanding marine environments. Some customers have previously used titanium fasteners for such applications, although as these are expensive, BUMAX SDX 109 enables significant cost savings.
Application example: Seawater filter fastening systems
BUMAX LOCK, in duplex material, and BUMAX SDX 109 have been used to fasten two seawater filter fastening systems, 22m and 15m in diameter respectively, for a European nuclear power plant. Following customer tests on various high security wedge locking systems on the market, BUMAX LOCK, which is a full metallic lock nut, together with BUMAX SDX bolts were chosen. The high strength and low corrosion solution will meet the strength requirements and cope with the corrosive seawater environment throughout each of the filter's 30 year design lifespan.
The BUMAX solution also reduced the number of individual components required, and the free-spinning nature of BUMAX LOCK allows a quicker and more simplified installation process. BUMAX LOCK has a special thread design that will not cause it to disassemble when subjected to vibration and provides a constant preload. This ensures the filter will continue to provide critical cooling to the nuclear reactor to safeguard its safe operation.
Application example: Cleaning equipment for oil and gas wells
BUMAX DX 129 has been used to fasten subsea equipment for cleaning oil and gas wells. Regularly using such equipment to clear wells of debris is essential in optimising production and avoiding potentially costly issues. BUMAX DX 129 fasteners were selected as they are the only fastener solution capable of dealing with the extreme subsea environments – including very high temperatures and pressures, combined with exposure to salt water and hydrogen sulfide. DX 129 also ensures a strength class of 12.9, which is essential in this extreme environment.
About the authors
Anders Söderman, technical director
Anders has worked in the stainless steel industry since 1995 and has been technical director at BUMAX AB since 2013. Prior to BUMAX, Anders held various positions at Sandvik Materials Technology since 1999 – including five years as strategic technology and product development manager for Sandvik Wire and Kanthal®, six years as R&D manager for wire products and three years as a research engineer within the R&D organisation. Anders has an M.Sc. in materials science from Dalarna University.

Örjan Persson, business development director
Örjan has worked in the steel and tooling industries since 1987 with a variety of senior management roles. He has been the BUMAX business development director since 2013. Örjan's previous senior positions at Sandvik include president of Sandvik Mining & Construction Sweden, equipment sales manager Surface Mining, vice-president Surface Mining and president & CEO of Sandvik Smith. Örjan has an M.Sc. in Materials Science from the Royal Institute of Technology in Stockholm.