Bostik provides vital repair solutions in international yacht race
14 December 2021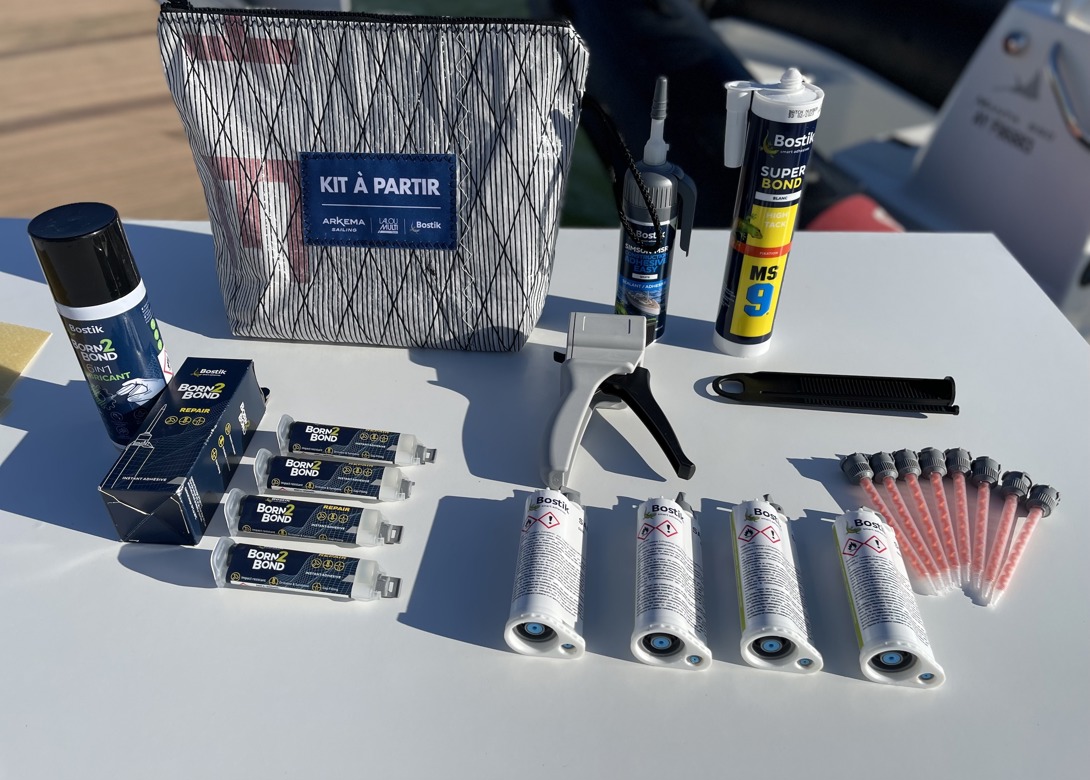 Bostik adhesives, including solutions from its Born2Bond™ Engineering Adhesives range, comprise an integral part of a vital Repair Kit or 'Kit à partir' that was offered by Arkema, Lalou Multi and Bostik to all 79 teams in the Transat Jacques Vabre (TJV) multi-day yacht race.
The adhesives have been chosen for their fast curing, high strength, and optimum moisture, humidity and chemical resistance qualities, crucial for the rigours of a global sea challenge. The Repair Kit, is used in the event of any equipment failure, delivering a more sustainable maintenance approach than replacing entire parts. The kit provides the required range of fast, instant, and primer-free structural adhesives, sealants and lubricants, with anti-corrosive and hydrophobic qualities suitable for underwater and minute size applications.
Arkema, a major speciality materials company and Bostik's parent company, is the headline sponsor of the Arkema 4 Ocean Fifty trimaran, one of the yachts competing in the TJV race. It also has an exhibition stand in the event village, focusing on 'Energy, Sport and Preservation of Resources'.
Bostik is using this international platform to launch its Born2Bond™ maintenance, repair and overhaul (MRO) range to showcase how its high performance and sustainable anaerobic and instant adhesives can be utilised in even the toughest environments. Indeed, on the stand and during the race, the Bostik team has been demonstrating how Lalou Roucayrol (Arkema 4 co-skipper and ship owner) and his team use the Engineering Adhesives to maintain and repair the yacht – as well as in the construction of the yacht itself. The effectiveness has been demonstrated using supplied substrates, e.g. rubber, plastic, composites, wood, glass, metal, and metal fasteners.
"It has also been a fantastic opportunity to showcase our engineering adhesives' capabilities and wide-ranging MRO applications, which have been very well-received. Bostik Born2Bond™ solutions within our repair kit maintain strength underwater, and the low odour solutions, including our White Label Anaerobic Adhesives are also incredibly safe to use, with no hazardous or toxic ingredients," explains Polivio Goncalves, head of engineering adhesives at Bostik. "Also a significant advantage, using Bostik's ultra-high-performance methacrylate adhesives, as opposed to mechanical fastenings, the team has been able to save more than 10kgs in weight."
In addition to the yacht itself, Bostik Born2Bond™ High-Performance HMPUR adhesives and UV-CIPG gasketing solutions are used for manufacturing and assembly of onboard marine instrumentation, such as onboard navigation and electronics.