Bostik exhibits marine portfolio at METSTRADE
23 November 2022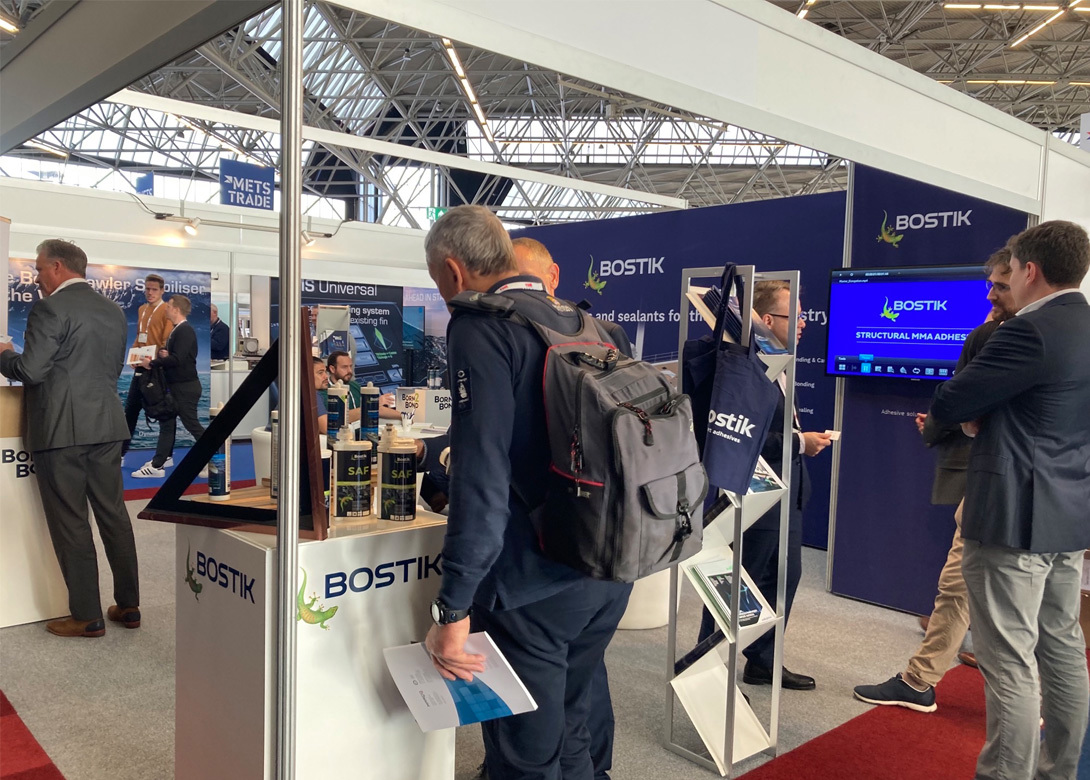 Bostik, the adhesives solutions segment of Arkema, exhibited a range of products at the world's largest marine exhibition, METSTRADE, which took place on the 15th – 17th November this year, with the aim to showcase how adhesives can deliver more sustainable, convenient and high-performance manufacturing solutions in the marine industry. Among the exhibiting products, Bostik's MSR sealant range and the Born2Bond™ engineering adhesives portfolio.
Bostik's repair kit took centre stage, a product currently being used by all crews in the 'Route du Rhum' transatlantic sailing race. The repair kit features Bostik's most prominent marine products, including two Bostik MMA SAF® 30-5 cartridges, two Bostik MMA SAF® 30-15 cartridges, eight Bostik Born2Bond™ Repair structural adhesives, a Bostik Born2Bond™ Ultra Gel instant adhesive, two Bostik MSR Construction Adhesives and two Elium® Composite Patches. The repair kit is used in the event of any equipment failure or emergency repair and offers a more sustainable alternative to replacing damaged parts.
Bostik also demonstrated its MSR SMP sealant range, a solvent and isocyanate free adhesive that provides good UV, aging, salt and fresh-water resistance, making it ideal for marine applications such as deck caulking. 
Also on display were the Born2Bond™ products. The range of adhesives were chosen for their fast-curing, high-strength, as well as their moisture, humidity, corrosion and chemical resistance qualities. These qualities are crucial for the turbulent and corrosive environments faced by marine components. Born2Bond™ instant adhesives are suitable for multiple substrates including metal, wood, leather, rubber, plastic composites and alloys. 
With recently improved formulas, the Born2Bond™ ultra one part, structural two part and light lock dual-cure cyanoacrylate adhesives enable deck repair without the need to dismantle the deck area. This is especially useful when artificial teak decking wears and bubbles, as it facilitates quick, easy and clean repairs without parts needing to be replaced. 
Born2Bond™ demo kits with instant, anaerobic adhesives and service products were on display at METSRADE, allowing the Bostik team to demonstrate how the engineering adhesives are fast and easy to use, even in the most challenging marine environments. 
"Drawing on the global Bostik brand, supported by our parent company, Arkema, and the ever-growing Born2Bond™ range of engineering adhesives, we are in an excellent position to provide dedicated marine product ranges that save time and energy. They also deliver the utmost in structural integrity, ideal for the exacting standards of the marine industry," says Polivio Goncalves, head of engineering adhesives at Bostik.