Atlas Copco advances hydraulic torque bolting
04 November 2022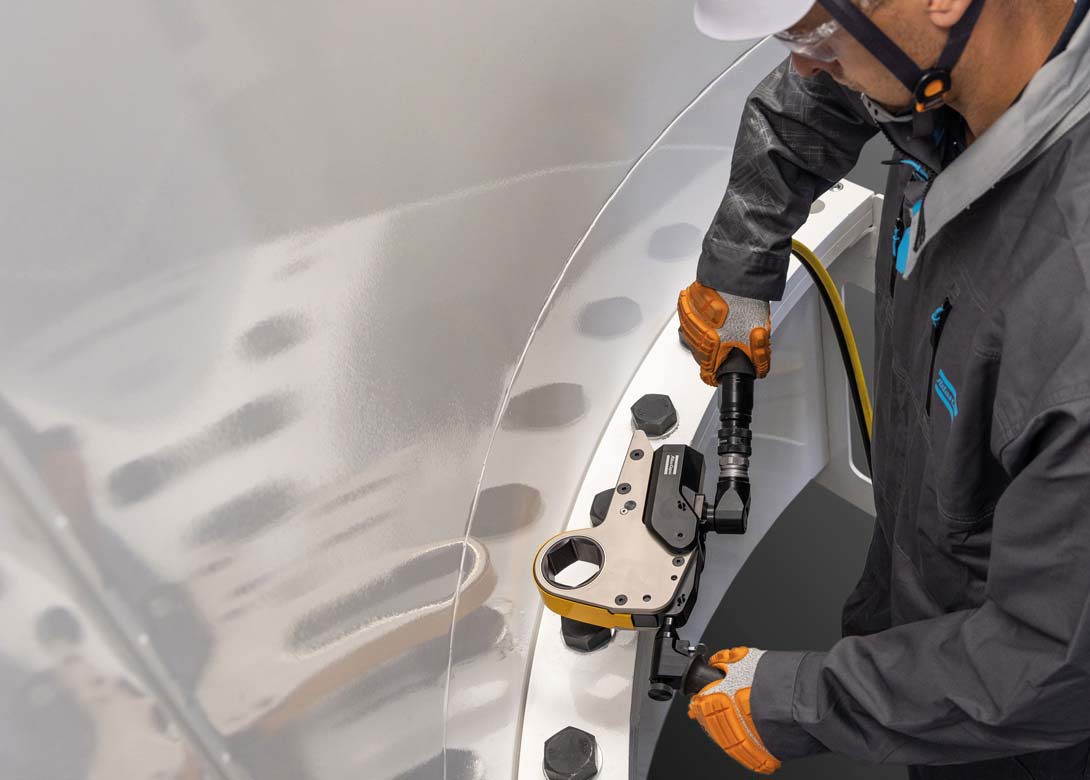 Across the wind industry hydraulic torque wrenches are paramount when ensuring the structural integrity of a wind turbine's tower, nacelle and blades. With the latest offshore wind turbines being capable of generating up to 14MW each, bigger bolts and higher torque values are necessary. For this reason, Atlas Copco has invested significantly in its hydraulic wrench offering with the launch of TorcFlex™.
Atlas Copco's new hydraulic torque wrench line, TorcFlex™ has been specifically designed to provide greater value in terms of ergonomic safety, accuracy, performance and cost-efficiency for multiple industry applications. TorcFlex™ models include the TF Square Drive Tool and TFX Direct Fit Tool, which are complemented by a Co-Axial single hose and coupling, which Atlas explains is over four times faster in set-up than previous generations, with better maneuverability and zero risk of hose tangling with free moving couplings.
Throughout the wind industry construction firms were seen to be reducing the number of hydraulic wrenches being used in favour of electric and battery operated torque tooling. However with the latest offshore wind turbines being much larger, the need for hydraulic torque equipment has returned, with safety, performance, ease of maintenance, quality and cost-efficiency being key drivers for turbine operators.
Capable of delivering torque levels over 43,000Nm on the Direct Fit Tool and 35,000Nm on the Square Drive Tool, TorcFlex™ addresses both assembly and maintenance demands of major turbines, maintaining a tool accuracy of 3%, whilst focusing on the user's experience and prioritising safety.
To do this, the tools feature a unique retained reaction arm. Other similar wrenches available have a reaction arm that needs to be fully disengaged, so that they can be repositioned on the application, which is not only time-consuming but also a dangerous drop hazard. Working at height is an obvious risk, so utilising TorcFlex™'s retained reaction arm, that can be easily transferred, increases safety for everyone working on the turbine.
TorcFlex™ also features an integral square drive retainer. Whilst other tools have a separate drive retainer, which has to be removed and re-engaged when changing direction, Atlas Copco's square drive assembly is now a single piece with a spring loaded button mechanism, which allows the user to change direction easily.
All hydraulic wrenches are also supplied with a new innovative support handle. The handle can first be positioned in multiple positions on the wrench, but then the head can be indexed by the operator, without it being removed, like all other designs. As it's supplied as standard and not an accessory, safety is again being prioritised.