Enhancing the safety and performance of transport lighting in the Crossrail network
07 August 2019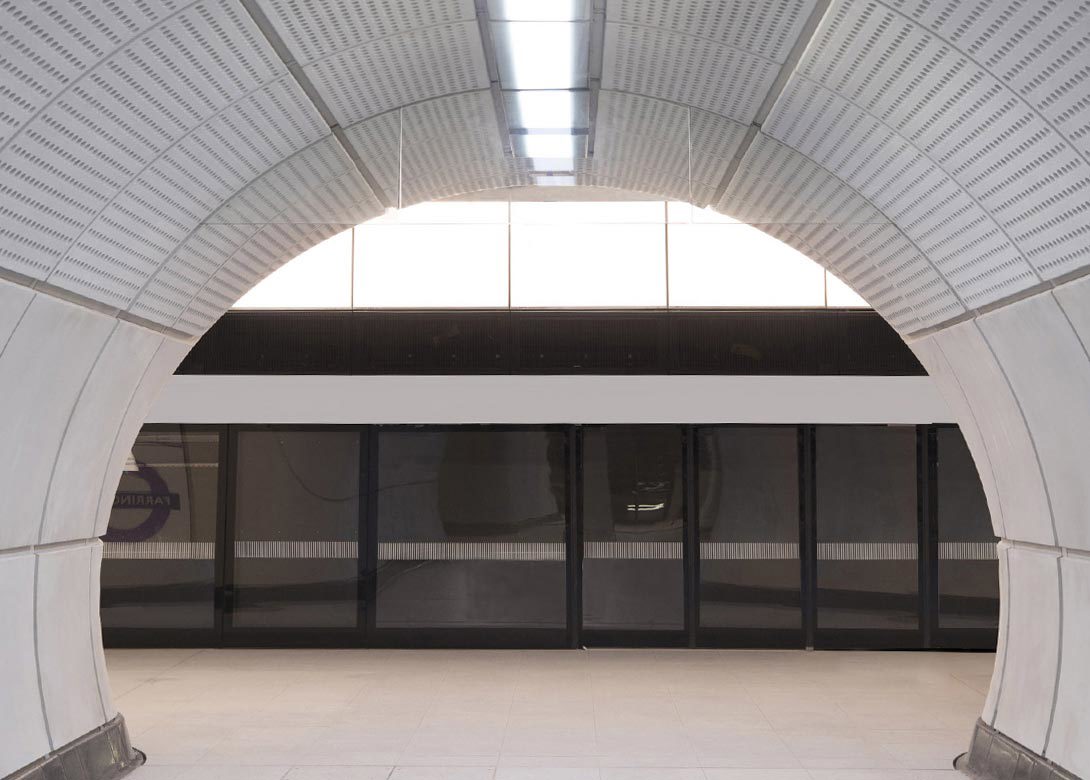 British specialist in the design and manufacture of luminaires, Designed Architectural Lighting (DAL) was recently contracted to design and manufacture specialist luminaires for the cross-passage tunnel lighting in several of the newly built stations on the Crossrail Elizabeth Line. A major challenge they faced was ensuring the safety of the significantly heavy main cover on each lighting fixture.
With the covers weighing up to 30kg, there was potential for them to fall open during maintenance and cause harm to staff and passengers, and damage to the surrounding area. While DAL has extensive experience in solving similar challenges for clients, it was tasked with demonstrating to Crossrail and Transport for London that its solution was robust, viable and cost-effective enough to meet the project specifications.
DAL therefore needed a supplier that could meet the design requirements of the luminaire system assembly. One of the most challenging design hurdles that DAL faced was the safety and positioning of the structural frame containing the glass diffuser, which also acts as the protective cover to the luminaire. At 30kg/m, its weight is significant, making the highest level of safety a key design consideration. During maintenance of the cross-passage service booms, which also incorporate the cable management system, speakers and CCTV cameras, the luminaires had to be easily accessible from below, making it necessary to integrate a special hinged mechanism. DAL needed to design a fixture with uncomplicated opening and closing operation, which would ensure that the heavy glass did not swing down uncontrollably throughout maintenance or at any other time. This in turn, would reduce the potential for operator injury or damage to the surrounding environment. The luminaire system also needed to be competitively priced and low maintenance to keep both project and running costs within budget.
Because each station is unique, with its own cross-passage tunnel twists, turns and lengths, various sizes and shapes of luminaire had to be designed and manufactured, with over 1,000 metres required in total. The design team needed to identify components which would offer durability in long-term exposure to the harsh environment associated with transportation systems such as condensation and fine particles. They were also looking for mechanisms that featured high-specification seals to protect against the ingress of dirt and moisture.
The design had to be versatile enough to work with new control technologies and incorporate state of the art LED light sources. Using LEDs rather than traditional lights in the luminaires would reduce the cost and frequency of maintenance. However, as this meant that the frames and glass diffusers would not be opened as frequently as for traditional lighting by service and maintenance personnel, it was also recognised as having the potential to present some new challenges. For instance, when the gas struts that are commonly used for large lighting fixture covers are not cycled frequently, there is potential of seals drying out. When the luminaires are eventually opened, the gas struts may leak and ultimately fail.
Southco is highly experienced at providing and designing hardware for lighting fixtures in all environments. For DAL, they also offered the added advantage of being a single provider with the capacity and expertise to provide multiple products which would function effectively together to create one cohesive solution.
After providing sample components for evaluation, Southco produced a small batch run of selected products, which were built into the DAL luminaires manufactured for a full scale, cross-passage tunnel mock-up. The design features and attention to detail shown at this stage met the rigorous specification specified by the Crossrail architects and engineers. With Southco's technical support and specialized knowledge, the final components were selected according to DAL's design requirements.
The DAL design team worked closely with Southco engineers to identify a practical solution that addressed the complex problem of making the light fixtures safe, easy to access and durable. Every DAL Crossrail luminaire now incorporates a combination of Southco components: the TL Draw Latch and Keeper, TL Slide Latch, E6 Position Control Hinge and DZUS® Quarter-Turn Quick Access Fastener.
TL Draw and Slide Latches – preventing accidental opening under vibration:
Southco's TL Over-Centre Draw Latch and Keeper and TL Slide Latch play a central role in the safety of the project. The design team selected them for their ability to offer a high-level of vibration resistance and their capacity to tolerate misalignment and hold panels securely and consistently in place, providing additional security.
The TL Latch series features simple hand operation that allows easy removal for access or maintenance, giving added flexibility for this complex setting. The lever-actuated, over-centre action pulls panels together and holds them secure, making the lid more difficult to open accidentally and providing a higher level of safety. Additionally, the wire link design provides the maximum level of strength and shock resistance, while the concealed mounting styles provide a clean surface appearance.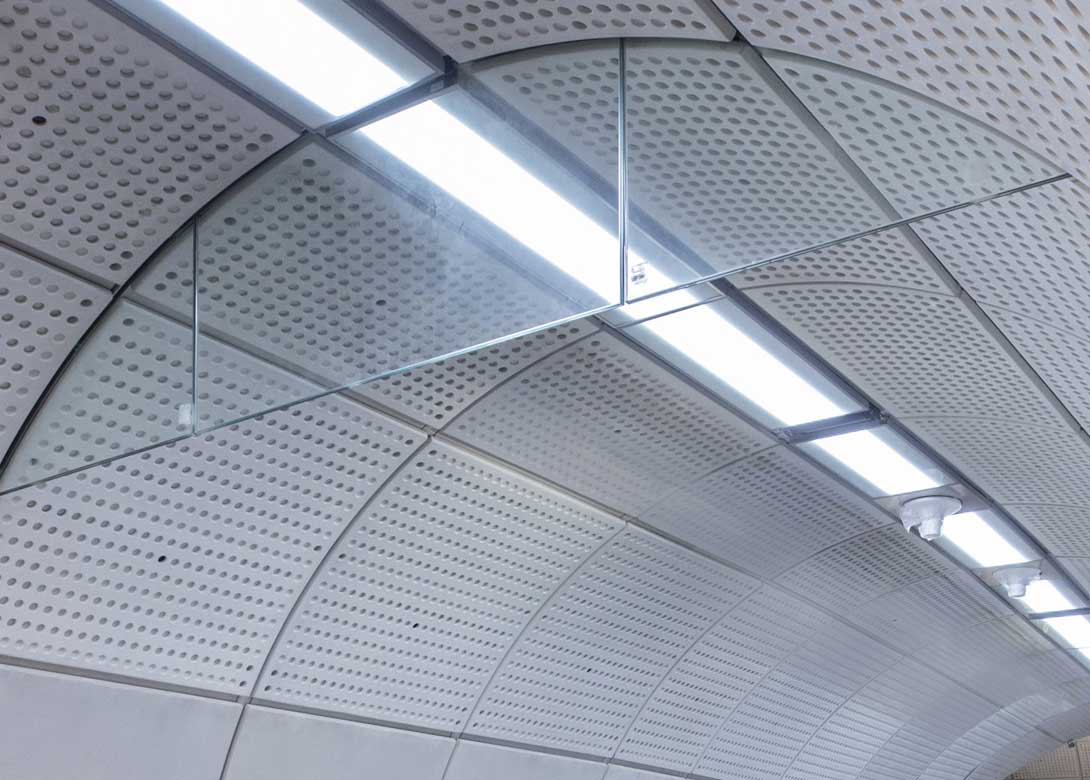 E6 Position Control Hinge – precise control and movement of heavy parts:
DAL selected Southco's external E6-10-600 series hinge over the gas struts commonly used for large lighting fixture covers, which not only holds the cover open, but offers added position control when accessing the lighting assembly.
The covers are accessed only infrequently by service and maintenance personnel, due to the use of longer-lasting LED lights instead of older lighting technology. Gas struts that are not cycled frequently create the potential issue of seals drying out, so that when they are eventually opened, they may leak and ultimately fail. The mechanical friction solution provided by the E6 hinge eliminates this risk. Incorporating the function into the hinge also saves on initial installation cost and space.
DAL identified Southco's E6 Position Control Hinge to resolve the challenges with the cover, which enables a heavy load to be lifted with ease and with no drift or swing. Integrated Positioning Technology within the hinge gives users the flexibility to define and adjust the operating effort required to move or position panels and accommodates variables in enclosure construction – without added hardware or installation costs. This allowed DAL to increase the safety and ease of use of the entire system, without exceeding the project budget.
DZUS ® Quick Access Quarter-turn Fastener – saving time with rapid fastening:
DAL's design also incorporated Southco's DZUS ® Quick Access Quarter-Turn Fastener as a tool-operated secondary safety feature for latching the lighting cover. The DZUS® series enables rapid fastening, providing safe and quick access that saves time on installation and maintenance. Its ability to provide repeatable functionality with a set amount of fastening force means that it cannot be overtightened and has consistent engagement. The head style of the Quarter-Turn Fastener has been specially modified for the Crossrail project to allow installation engineers and maintenance personnel to clearly see when it is securely locked, a vital aid when working at height on essential maintenance and repair procedures. The DAL team also valued the fact that the DZUS Quarter-Turn Fastener's proven cam and receptacle design allows it to remain securely fastened under heavy vibration load.
The new Crossrail Elizabeth Line comprises underground and overground stations with eight new stations in total, with DAL supplying nearly 1,000 specialist light fixtures to the project – all featuring Southco latches. The luminaires and their enclosures are not only highly efficient but also safer, more intelligent and more durable than alternative products, offering Crossrail and Transport for London the highest standard of quality, and greater peace of mind around liability and safety.
"With safety and access together with exceptional lighting performance being essential considerations within this complex setting, we knew that the design for our client, Transport for London, would require careful planning and problem-solving. We recognised that we had to identify a solution which, to meet all our client's requirements, would most likely be a multiple-part system," said John Ilett, chief design engineer at DAL.
"We needed to identify intelligent hardware which would not only fit the setting but maintain the long-term safety and performance of the entire lighting system. Our partnership with Southco enabled us to address a significant and complex challenge for Transport for London, ensuring that the DAL luminaires on the London Crossrail line are effective and safe to maintain and operate."