NORMA Group's infrastructure business gains momentum
29 July 2013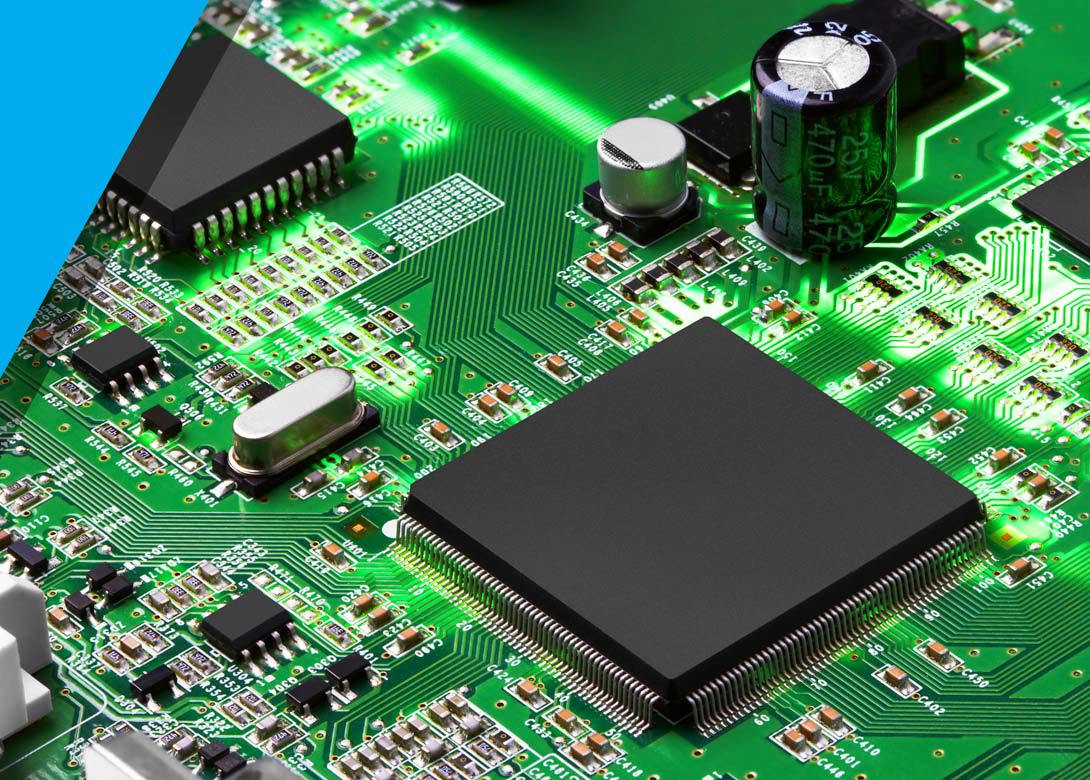 In early 2012 NORMA Group founded its business area – infrastructure – which specifically focuses on the desires and requirements of customers from the construction, sanitary, heating and air-conditioning, as well as from water and shipbuilding industries.
A new catalogue was launched in March 2013 at the ISH trade fair in Frankfurt, Germany, which shows NORMA's complete offering for the construction, sanitary, water management and shipbuilding sectors.
New product portfolio for supporting and fixing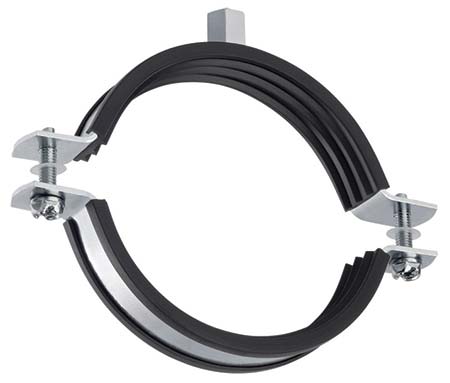 Besides its range of pipe connectors and couplings for the building, construction, water management and shipbuilding business, the catalogue also contains a new product offering of supporting and fixing solutions for pipe systems and electrical installations.
Launched in July 2012 on the test market France, the new Pipe Support System (PSS)(pictured, left) portfolio targets distributors in the sanitar y, heating, air-conditioning, and construction sector. At the ISH exhibition in March the product range was introduced to the German market. PSS complements the current NORMA Group infrastructure product offer.
"This is especially true for customers from the construction sector who can now get everything from one supplier, from pipe couplings to pipe support systems."
Infrastructure products in use all over the world
The infrastructure products are used in building and infrastructure projects all over the world. In Choutrana, Tunisia, sewage works are being upgraded in order to supply Tunis' growing population with fresh tap water. In order to provide the new activated sludge tanks with compressed air - 4.5 kilometres of new pipes are being installed, which are connected with 600 NORMACONNECT FGR pipe connectors (pictured, right). The Indonesian island Bali is home to a luxury 170 room resort that is being constructed. Its sewage pipes made of cast iron and other materials are connected with NORMACONNECT DCS RAPID couplings and NORMACONNECT DCS FIX to make them leak-proof. The cast-iron pipes of the drainage system of Frankfurt airport's parking spaces in Germany are connected with NORMACONNECT DCS RAPID couplings and NORMACONNECT DCS universal restraint collars. The two joining products withstand high pressures while keeping the system tight, and protect against downpours and large amounts of water.
Market and customer requirements in focus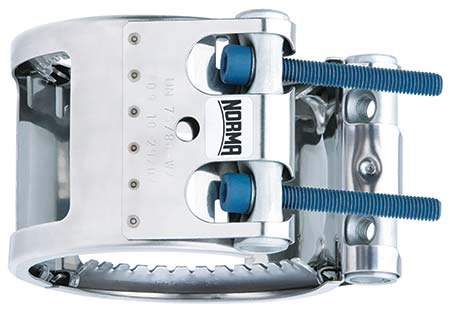 NORMA Group states that the markets for sanitary, heating and air-conditioning technology have changed significantly over the past years. Customers expect high quality and reliable supply combined with outstanding client service. Products need to be functional, i.e. easy to handle and install without expensive and highly complicated tools. NORMA Group offers exactly the right products to meet these requirements.
Today, producers and suppliers use modern communication tools and order systems, as does NORMA Group. The process starts with capturing and directly confirming the incoming order all the way through to confirming shipment. Wholesalers use modern warehousing systems. In this context, NORMA Group makes use of the master data system ARGE Neue Medien (new media ARGE). To function flawlessly, the supply chain depends crucially on efficient work processes. These in turn require state of the art and reliable production, on-going quality surveillance of the production process and outgoing goods inspection. NORMA Group has all these elements in place and also uses a modern order management system to always meet the highest client standards.
Expanding the water management business
NORMA Group has underlined its focus on the infrastructure business with its recent acquisitions in the Asia-Pacific region. In November 2012 NORMA Group acquired 85 percent of shares in Chien Jin Plastic headquartered in Malaysia. The company has been in the market for more than 20 years and produces thermoplastic joining elements for plastic and iron pipe systems. These products are used in different application areas, in particular for drinking and domestic water distribution, and irrigation systems. In addition, Chien Jin Plastic produces components for sanitary appliances and globally distributes its products to more than 200 distributors in approximately 30 countries.
Shortly after this acquisition, in January 2013, NORMA Group added Australian based Davydick to its company group thus expanding its distribution network in Asia-Pacific. For more than 20 years Davydick has distributed various elements in the transportation of water in irrigation systems. Valves and pumps for agricultural, as well as hardware and plumbing markets, are part of Davydick's portfolio too. Davydick services more than 700 customers with its products. By acquiring Davydick NORMA Group has expanded its competencies in the water management market, added products to its infrastructure portfolio and extended its distribution network in Australia.
NORMA Group points out that it has also recently agreed to acquire the Australian business Guyco, which specialises in the design, manufacture and distribution of fittings and valves for freshwater distribution, irrigation, agricultural, plumbing and industrial market sectors. With its 32 employees, Guyco supplies over 700 customers in Australia and New Zealand.