New low odour, low bloom light curable cyanoacrylate adhesive
14 April 2021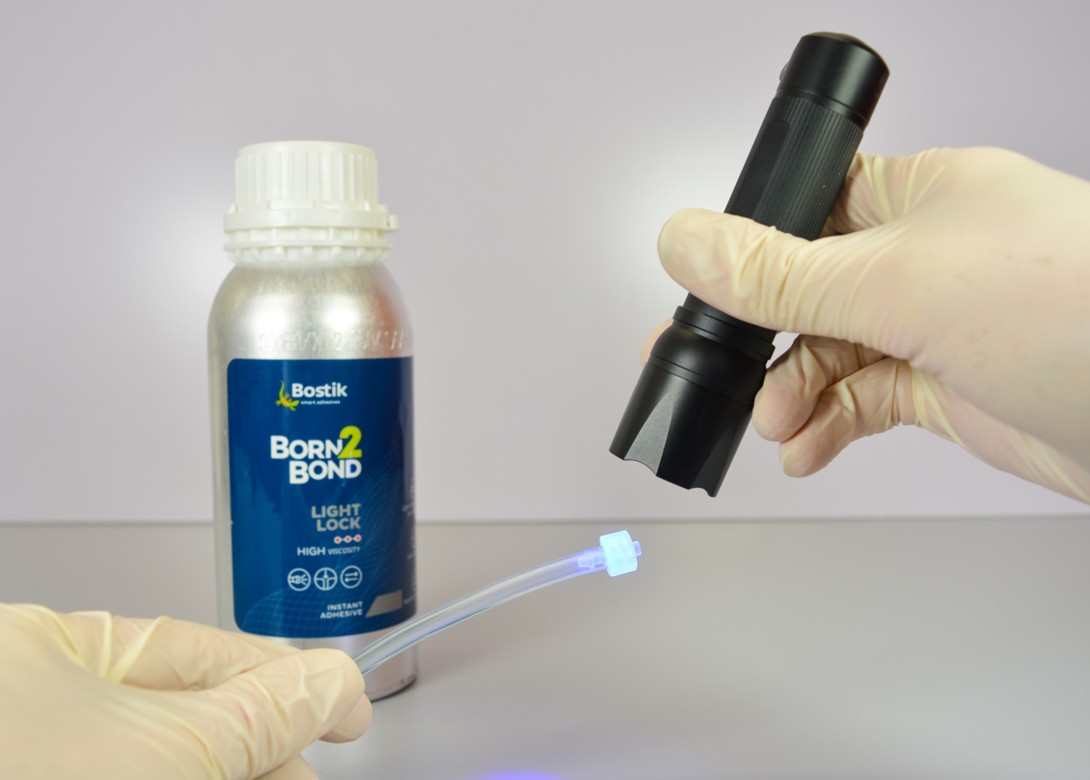 Designed for a wide range of bonding applications that require fast fixture, coating or surface cure, adhesives supplier Intertronics has introduced Born2Bond™ Light Lock, available in high viscosity and gel formulations for bonding, repair, coating or infilling applications.
Light Lock offers typical instant cyanoacrylate adhesive (CA) bonding - typically by exposure to surface moisture - for fast interfacial curing, while its UV and visible light reactivity allows rapid curing of exposed fillets or areas, as well as through transparent parts. This means it can solve the typical CA bonding challenge of curing outside of the bond line.
Without light exposure, Light Lock's fixture time is around 60 seconds, while with low power visible or long wave UV light it is curable in less than 5 seconds. UV wavelength is not critical, the useful range is from 365Nm to 430Nm and low cost LED-based curing technology is effective.
"Cyanoacrylate adhesives are strong and fast products for interfacial bonds," explained Ben Swanson, sales manager at Intertronics. "However, they don't tend to cure quite so well if not between two surfaces. The addition of light curing of any exposed adhesive brings process improvements and decreases the risk of contamination. Light Lock is a simple solution for exposed bond lines, while offering all the benefits of CAs - it is single part, fast curing and adheres to multiple surfaces.
"It does not offer the shortcomings of traditional CAs, like blooming, an aesthetically undesirable residue on the surface of a part - a side effect of CA's volatility and fast cure. Manufacturers can therefore realise the benefits of both CA and UV technology in one easy to use adhesive product."
Born2Bond Light Lock is available in two viscosities, 600 cps and 30,000 cps, to suit different processes, in containers of 5g, 20g and 500g. It is ISO 10993-5 and ISO 10993-10 tested and can be evaluated for use in the assembly of medical devices. There are no hazard symbols on the label, it is non irritating, very low odour, and creates dry-to-touch, tack free surfaces when cured.
Common applications in electronics manufacturing include ruggedising, wire tacking, encapsulating, insulation and coating. In medical device manufacturing it is suitable for plastic and metal bonding, including needle and hearing aid bonding. It also has applications in glass to metal bonding for jewellery, watches, perfume and liquor bottles.