Versatile bolting sets for bolting applications
27 June 2022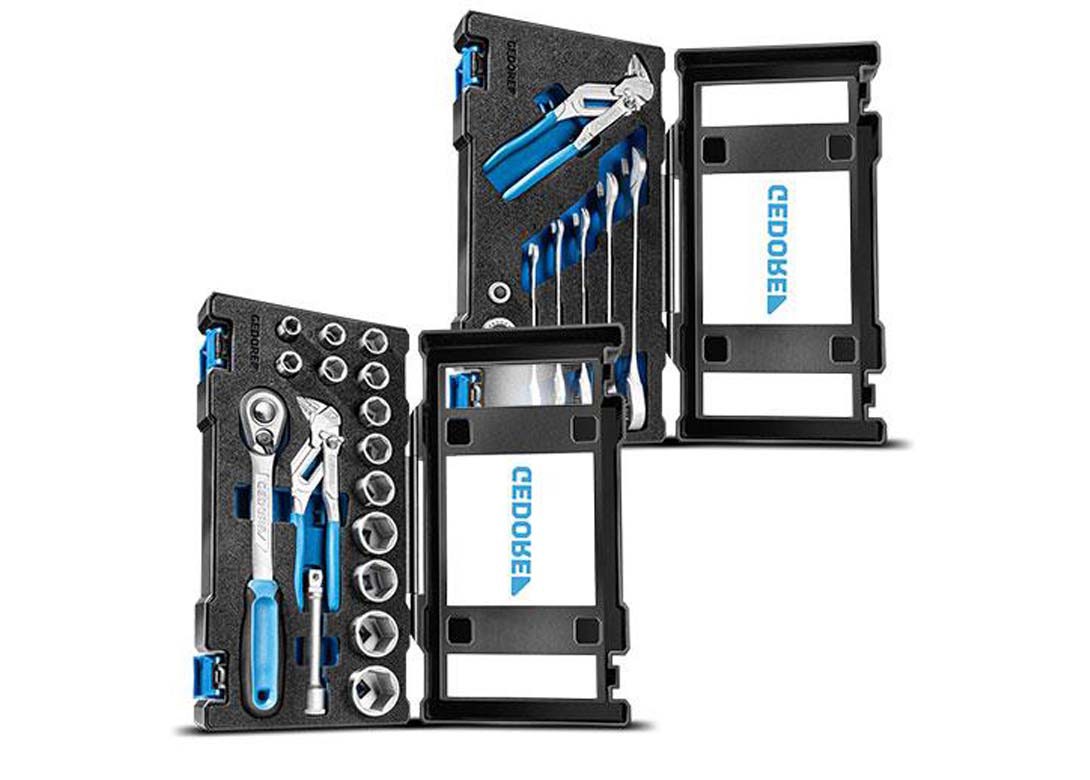 GEDORE has released two versatile sets for a host of different screw connections, the ratchet spanner set 7 RA 183 and the socket spanner set 19 DMU 183.
Designed for professionals in the industry that need safe, reliable and functional tools, GEDORE Werkzeugfabrik GmbH & Co KG is answering screwdriving challenges with these well designed combinations, which it says, provide the option of working effortlessly on counter fittings. Both the ratchet set and socket set are integrated with Unit Drive Profile (UD profile), as well as being housed in plastic cases with protective 'Check Tool' inserts making them easy to transport.  
In addition to a UD Profile in key widths 8mm, 10mm, 13mm,17mm and 19mm, the ratchet set also includes a 7 RA - 12.5 adapter 1/2 inch 19mm and a 7 RA - 6.3 adapter ¼ inch 10mm. A plier wrench 183 7 TC with protective jaws is also provided. The combination ratchet spanners have a low installation height and a return swing angle of 5° - 7°. With the help of the two adapters in the set, the combination spanners can be converted into ratchets with an equally low installation height. With these properties, the set is predestined for applications with limited space.  
The new socket set contains a plier wrench 183 7 TC and 13 socket wrench inserts, 19 in key widths 10mm - 32mm with a six edge UD profile. Also included is a 1990 KR-5 universal extension ½ inch. The fine toothed 1993 U-20 reverse ratchet ½ inch with a low return swing angle of 6° and a small teardrop shaped head that allows it to be used in confined spaces, completes the tool set.  
Also included in both sets, plier wrench 183 7 TC is a wrench and plier in one, which adds to the possible uses. Thanks to the sliding mechanism and parallel jaws, the plier wrench can be adjusted to different key widths from 0mm - 42mm or 0 inch - 1.5/8 inch. The sliding mechanism in combination with the smooth jaws of the tool which ensures safe gripping, holding and pressing with a high clamping force, while at the same time protecting the workpiece.
The set also includes protective jaws, which can be pushed onto the gripping surfaces of the plier wrench for a gentle grip on delicate surfaces, such as chrome plated fittings. Furthermore, the plier wrench is also an ideal counter option for even more efficient tightening results.  
Both the ratchet spanner and the socket wrench inserts in the sets have the special UD profile. The UD profile has a wavy structure with rounded contact surfaces. This structure protects the screw heads and creates the ideal force closure, which results in up to 20% higher torque transmission. Therefore, slipping and spinning are prevented, even on worn screw heads. 
The tools in both sets are made of high-quality chrome vanadium steel, which provides a long service life and high wear resistance. To ensure safe and correct transportation, the individual components are all accommodated in a sturdy plastic box with a viewing window and two-tone Check Tool foam inserts. A quick visual check is all it takes to ensure all the items are where they should be.