The role of productivity and process improvement
15 November 2023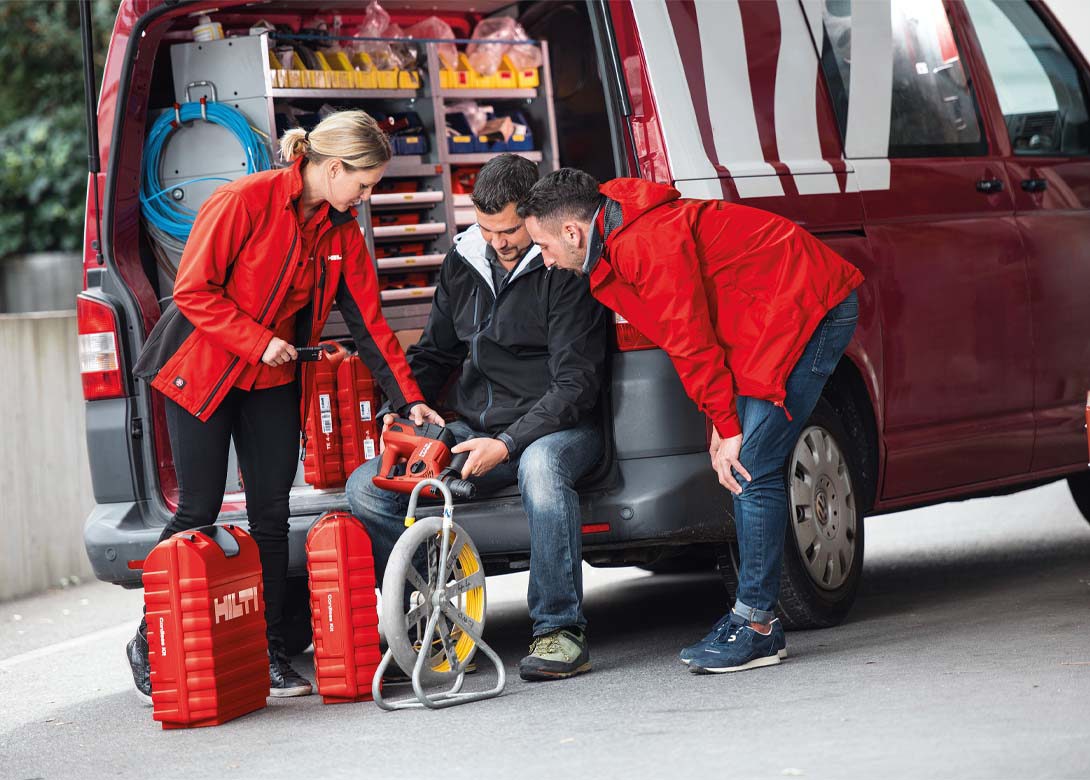 Here we speak to Johannes Wilfried Huber, senior vice-president for the diamond systems business at Hilti Group, as well as a member of the executive management team, about the crucial role of productivity and process improvements within the construction sector and how Hilti can provide solutions and support. 
Our last interview with Hilti was in September 2022. What have been the key developments for the business over the last twelve months? What are the current challenges within the market and where do you see opportunities?
"Over the last 12 months there have been several internal changes, including the appointment of new CEO Jahangir Doongaji – who has been running the business since the beginning of the year. At the same time, we launched our new group strategy, 'Lead 2030', which is now defining our targets until 2030.
Other key developments include the successful conclusion of our biggest product launch ever – the cordless platform Nuron – which was rolled out globally. We have also recently announced another big software acquisition in the form of 4PS Group, a company that is focused on ERP systems. This is an important step towards our digital transformation of the construction industry. 
Regarding challenges, there are certainly enough. The rise in interest rates is not helping investment sentiment, especially in the residential sector, which leads to pressure in the market. There is also still a significant shortage of skilled labour and the availability of workers is a big topic. There are also still a lot of geo-political risks around us, which we will continue to monitor. 
However, there is still good news within the market, with some good opportunities. The supply market is certainly back to 'normal' and some sectors are also doing very well, such as infrastructure, energy, renovation, etc – with good market development. 
Last but not least, the pressure in the construction industry right now – driven by the shortage in labour and increasing inflation – is leading to more of a focus on productivity and process improvements and how to make the construction industry more effective."
How important is continuous productivity and process improvement? What steps has Hilti taken in this area?
"The purpose of Hilti is to make construction better and productivity is at the core of this. A vital part of our ability to help customers improve their productivity and process improvement is our direct sales force, as they work directly with our customers every day. Thanks to this presence, we have the opportunity to really understand our customers' requirements and also their challenges, which we can then bring back into product development and developing innovative solutions. The direct sales team can then take these innovations to the customers and show, and explain, how the new products provide the
perfect answer.
We are very proud that we are able to bring productivity improvements to not only our hardware solutions, but also to customers through our service offerings. This is how Hilti was established in 1941 and how we have developed over the 82 years. Through the addition of new service offerings, such as fleet management – where we take care of the complete tool park of our customers – and more recently our expanding and
growing software portfolio, we can offer solutions to our customers to manage their assets far beyond the Hilti relevant product categories.
We want to develop productivity significantly beyond our hardware and really help drive the productivity of our customers' business processes. We are already working with customers on this aspect and we are receiving some excellent feedback, as we are helping them drive their digital transformation to work on process improvements.
By helping our customers run their businesses more competitively, it helps them to improve their market position, as well as enabling them to make more money and grow. By being part of that we can form a strong long-term relationship."
Do you believe automation and robotics could be solutions for the shortage of labour and the need to improve productivity and processes?
"When it comes to the implementation of automation and robotics in the construction sector it is not as straight forward, as it can be for a lot of other markets and sectors. Within the construction sector there are not many standardised processes, no two projects are the same. You have different types of solutions and the types of parties involved in similar projects can also be different. This makes it hard to standardised and industrialise construction. 
However, there are some processes on job sites that you can either optimise or automate using robotics. For instance, that is why Hilti has introduced the Jaibot – a semi-autonomous mobile ceiling drilling robot that can help MEP installation contractors tackle productivity, safety and labour shortage challenges. The Jaibot carries out its tasks based on Building Information Modelling (BIM) data and is a completely cordless and easy to use system that doesn't require expert skills.
If I look at my own portfolio, within diamond systems, we are also automating diamond coring machines, as well as diamond sawing machines, in order to drive the productivity of our customers through automation.
Finally, we also believe exoskeletons are a step into this direction as well, as they are able to support the workforce on the path to more robotic solutions. Exoskeletons are a very new topic for the construction industry, driven by the fact there are a lot of older workers or workers that suffer from bad health due to the manual aspect of the roles.
The exoskeletons are support systems that users can wear to make the work easier and to take the load away from the body –
making work less tiring and safer. For example, the first product we have launched is the overhead exoskeleton, which supports customers whilst they work on ceilings above them. This exoskeleton, with its support structure, actually brings the load from the arms to the hips – helping to take the load away from the shoulders.
At Hilti we are looking to invest in all of these areas, to drive the productivity of our customers and also the attractiveness of the construction market for current and potentially new employees."
You mention systems such as BIM being adopted within construction. How do you see this type of software growing in the future?
"BIM is undoubtedly a significant part of the digital transformation and is a key part of introducing robotics onto job sites. Also, when you have a BIM system there is more information available – what to order, when to order, etc. You can also plan and execute your job sites more efficiently. 
We believe that BIM will become even more prominent within the sector, which is why we have invested in a few different aspects. For example, we have a BIM Experience Centre in the Netherlands – where we invite customers and show them how they can transfer from a 'paper world' into a 'digital world' and how to make it tangible as a business. By having the centre we make it easier for customers to understand what it means for them and their customers to use BIM and how we at Hilti can help them during the process.
In addition to the BIM Experience Centre, we also have specialists in the field that help customers transfer data models into BIM systems to facilitate the move to a 'digital world'. This allows for more
pre-production, such as cutting and kitting, and helps bring everything to the job site in a much more organised manner. 
Combined, the BIM Experience Centre helps customers to visualise what the digital future can look like and the on-site support is there to then help them transfer to the new digital system."
What role does maintenance and preventive maintenance play in ensuring high levels of productivity?
"Within Hilti, preventive maintenance is standard. We always maintain our machines in production in times of low utilisation, so that when we go into phases of high utilisation, we have 100% up time and maximum output.
Regarding helping our customers with their preventive maintenance for power tools, it proves to be a bit more complicated, because a lot of the repairs we see are hard to predict, which is why our fleet management service is the solution. The fleet management system enables our customers to run their businesses with a leaner amount of assets – because with fleet management our customers don't have to wait for a repair, they send us the tool and we can give them a loan tool to bridge the time, ensuring 100% up time and productivity. 
As part of the fleet management, we also have the assets management software ON!Track – where we look to help our customers recognise the usage of assets and capital employed. By giving them a system to manage this more efficiently, the customer gets a better overview of what they have and they can judge more precisely what they need. In many cases we see that customers can run their businesses with a leaner set of assets, which again drives their productivity."
You are responsible for the diamond systems business at Hilti Group. What recent developments have there been within Hilti's diamond tools range? How has the range changed and how do you see this business area developing in the future?
"The most interesting development is the move towards cordless, especially with our Nuron range, which was rolled out globally in just 15 months. This was a huge endeavour for us as the range included over 70 innovations and launching the portfolio globally took a lot of work. 
The special aspect of the Nuron range is that it has a battery system that has enough power and performance, and battery reach, to drive more high power solutions also within the diamond systems business unit. This is a great opportunity, as we are the only company in the market that can run diamond applications off a 22V platform, and without any compromise on performance or battery reach. 
A good example is that we recently launched some battery cutters that provide the same performance as the comparable gas powered tools. This means that not only are we providing CO2 free solutions, but any issues regarding two stroke engines are all gone.
For the Nuron range we develop both the hardware and the inserts in-house, which means we have been able to optimise the system. This is really important as for battery tools the available energy is limited and we therefore need to guarantee the system is completely optimised in order to have the same capabilities as traditional tools. 
The next step for the Nuron range is to continue to outline to customers, and potential customers, the capabilities of the tools. When we say the battery tools have the same performance as the traditional two stroke engine tools, some customers are unsure or they believe that it will be only for a few minutes and then the battery will run out. That is where having our direct sales force, who go on-site and can show the customers the products and give demonstrations, is a real positive for us. They can show that the tools have the capability to reach the same performance level and the battery reach is very good. This is how we have been getting customers to move away from their traditional technology and move to this new technology. 
Another key area for us within diamond systems is providing virtually dust free job sites for our customers. That is why we are strongly expanding our portfolio of vacuum cleaners, both on the corded and cordless side. Beyond this, we have also introduced the first job site suitable air cleaners, which are light and transportable. There are always applications you cannot address with a vacuum cleaner, such as renovation job sites, where you cannot catch all the dust. That is where these new air cleaners can help. 
We want to be the one partner that provides all the products and services our customers need and through our wide portfolio of products, direct sales team, and ability to support companies with productivity and process improvements, as well as additional value-added services, we can create long-lasting partnerships with customers and help the construction sector take the next step in its development."