The benefits of battery installation tools
09 April 2021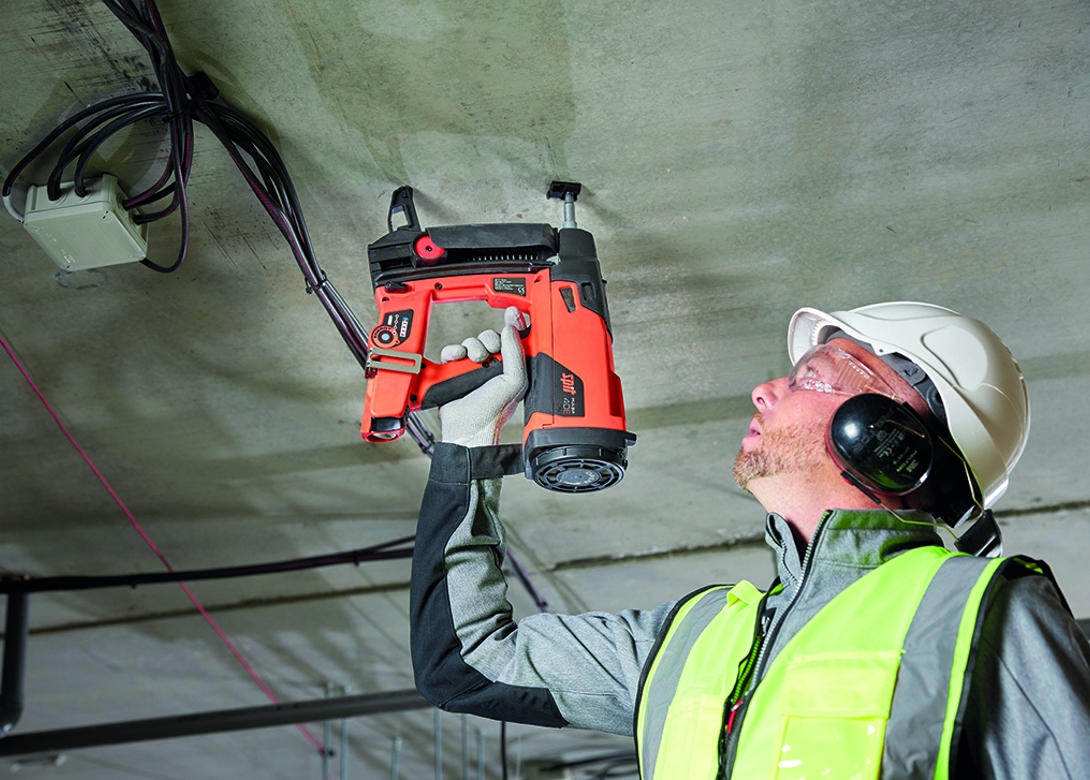 Choosing dual fuel direct fixing tools, which combine both battery and gas power can offer returns on time and cost compared to battery only tools. Here, Anthony Coulson, technical sales manager for SPIT – a brand of ITW Construction Products, explores how choosing tools that use both battery and gas power will increase productivity, save money and improve health and safety on-site.
Direct fixing tools, more commonly known as nailers, use an automotive style fuel injection to drive nails through fixtures into a required substrate. The applications range from fixing drywall track, electrical cable management, and insulation boards, to concrete, steel, masonry and timber. This method of fixing is fast, safe, and reliable, making it popular on large commercial and residential building projects.
It is a common misconception that battery powered tools have superseded gas models, when the reality is, combining the two will give users unrivalled performance. Gas powered, or fuel powered, cordless nailers were first brought to market in the 1980s, with battery powered alternatives developed later on.
It is fair to say that when first launched, battery powered direct fixing tools offered a range of advantages – but not for long. Technological advancements in gas power for hand tools has enabled manufacturers such as ITW Construction Products to bring to market 'next generation' products that combine all that is great about battery and gas in one tool.
As the pioneers of original gas technology, ITW has spent two decades innovating alongside its customers to solve 'real life' construction challenges. Direct feedback from the industry has shaped the technological evolution of its products, to create a range of dual fuel direct fixing tools that specifically meet the challenges faced on-site. These tools offer increased power, less charging and more shots per second in a compact and lighter tool.
Using tools that are reliable, perform quicker and more accurately, will result in direct cost and time savings – combining gas with battery power is the proven way to achieve this. A dual fuel nailer, like the SPIT Pulsa nailers from ITW, will deliver up to 16% more power than a battery only alternative, performing with complete reliability across a range of substrates including steel, concrete, brick and wood. Enabling employees the ability to work across all substrates with one powerful tool will make moving from one application to another quicker and more cost-effective.
The additional power of dual fuel also provides more shots between charges, which means not only can employees work more effectively, with better results, but they can work for longer without needing to stop. To be specific, a gas/battery powered tool will guarantee 400% more shots between charges compared to battery only nailers. That's 3,500 shots between charges, rather than between 400 and 800 – a substantial difference.
For tradespeople who need to use the same tool for extended periods of time, comfort and usability are key, both for the health of the operative and the speed of work. Without a larger battery and additional battery motor to weigh the tool down, SPIT Pulsa gas powered nail guns are up to 15% lighter than battery powered alternatives. No additional battery motor also means these guns benefit from a more evenly distributed weight, creating far less strain to the wrist and hand during operation.
When it comes to direct fixing tools, the better the stick rate, the more reliable the fix is to the substrate. The power generated by combination gas/battery tools delivers an excellent stick rate in the hardest of base materials – ensuring the nails are at an adequate depth to offer complete peace of mind.
Health and safety continues to be an overriding consideration for many construction sites. It is vital that tradespeople are provided with safe and secure tools to ensure they can conduct their job in the right manner, without worrying about downtime caused by ill health from the equipment they use. Direct nailing systems are developed to minimise the exposure to prominent health and safety concerns caused by traditional methods. Dangerous silica dust, when drilling into concrete, is a real concern that can be practically eliminated with direct nailing.
Direct fixing tools
For drywall applications, such as fixing metal stud track to concrete, steel and masonry on floors, walls and the soffit, ITW Construction Products states users should choose the SPIT Pulsa 40P+. Focusing on improving productivity and reducing downtime on-site, the cordless gas/battery nailer delivers 3,500 shots per charge, meaning operatives can work for longer between charges.
The Pulsa 40E can also be used for electrical applications and boasts the same benefits for improving productivity, reducing downtime and minimising health and safety risks as the 40P+, as well as an extensive range of application specific electrical accessories. A magnetic pin guide is also available for securing metal accessories and further cost savings are available using the specialised E-Lift pole to aid safe working at height, therefore reducing the time on access platforms.