Spectre launches new screw sizes
28 March 2023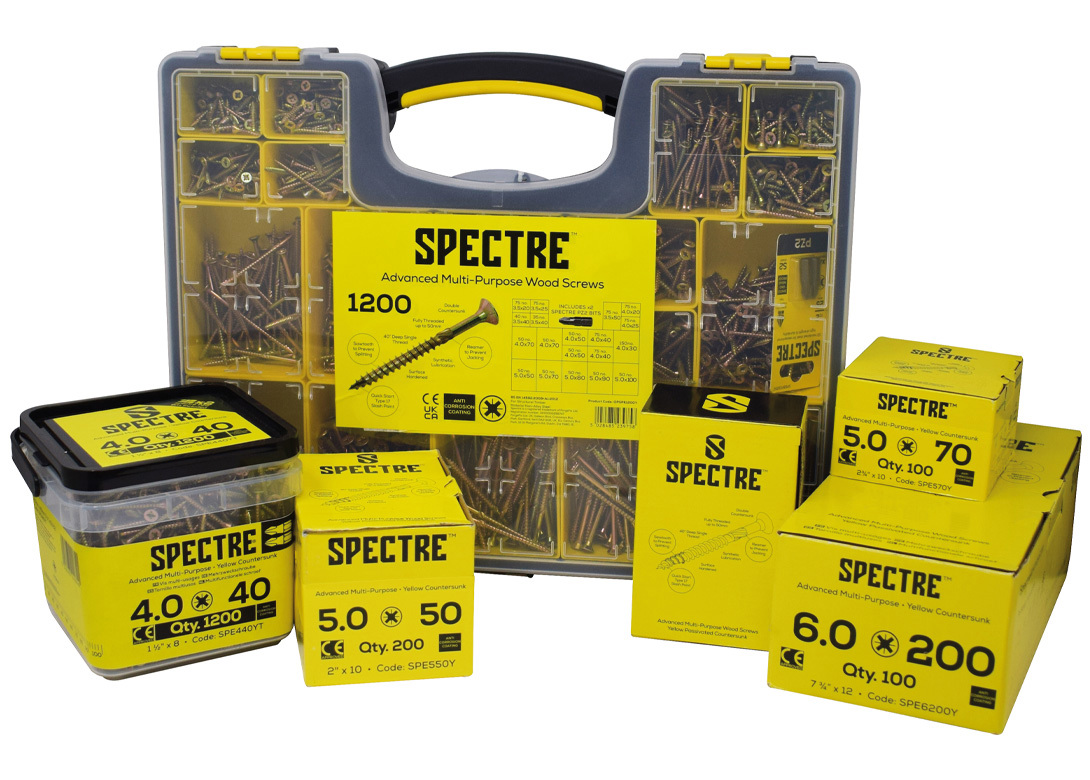 Spectre, the advanced multipurpose woodscrew range from ForgeFix, has launched two new sizes of screw to help the trade sector comply with UK building regulations. 
Designed to bring performance and value to merchant customers, the Spectre range has now been expanded to include 6mm x 200mm and 6mm x 240mm woodscrews and will shortly also include 8mm x 180mm, 200mm, 240mm and 280mm versions too. 
The UK building regulations for roof insulation were updated in 2022, and according to the updated regulations, all new-build homes and extensions must have a minimum roof insulation level of 0.18 W/m2K. The insulation material needed to achieve this is now thicker and therefore longer screws are needed for the thicker insulation, because they provide a more secure grip and help to penetrate the full depth of the insulation – ensuring that it is properly supported. 
If shorter screws are used with thick insulation, they may not reach the framing behind the insulation, reducing the stability of the insulation and potentially causing it to sag over time. Additionally, using longer screws can prevent damage to the insulation, as it helps to distribute pressure more evenly. 
ForgeFix points out that the range was specifically designed to make the tradesperson's life just that little bit easier and incorporate a long list of features, often only found in premium products. As with all Spectre screws, the size of the product is included on the packaging so merchant customers do not have to open the box to size up the product. Spectre products are also available in 100% recyclable tub packaging – made with a minimum of 30% recycled plastic.   
ForgeFix highlights that as well as the popular Spectre Advanced Multi-Purpose Wood and Timber Fixing Screws, a comprehensive range of holesaws and screwdriver bits are available, as well as eye catching point of sales for the trade counter.