Safe footing in the Swiss gorges
03 April 2023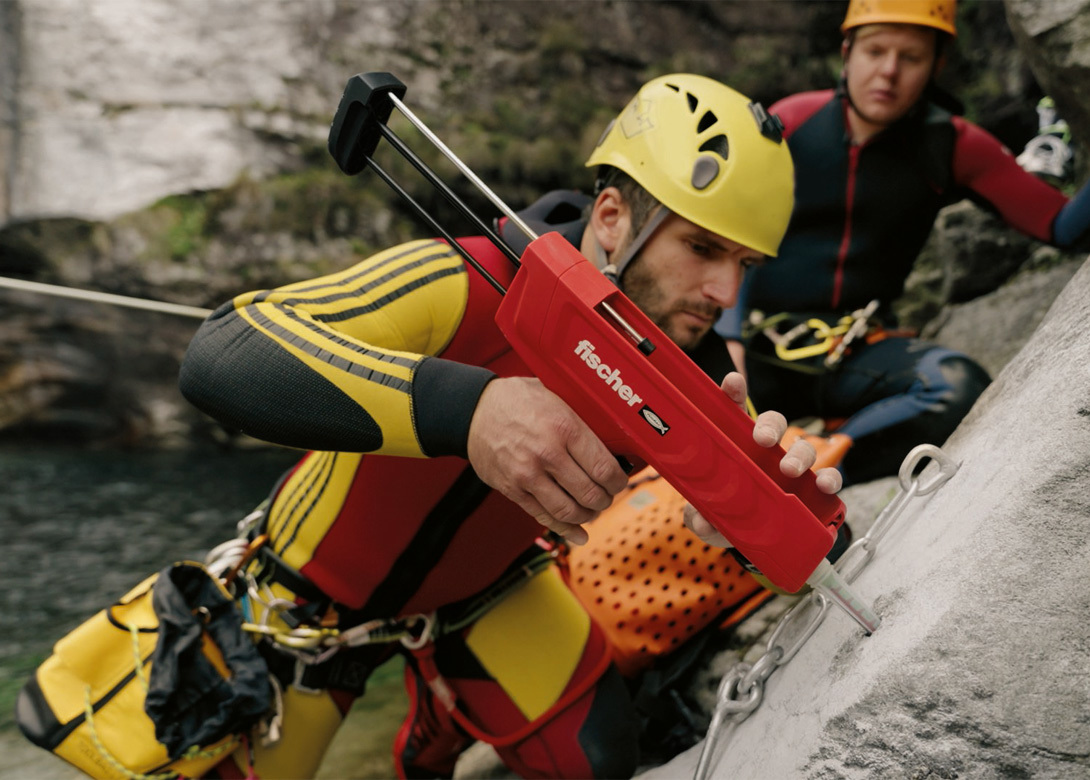 On a canyoning route in Ticino, Switzerland, old and rusty abseil hooks had to be replaced with new ones and reliably anchored in the rock faces. To ensure optimal safety, the injection mortar FIS V Zero from fischer was chosen for this demanding fastening task.  
Canyoning is an extreme sport which involves walking down gorges from top to bottom. Lucian 'Lucki' Haid has been working independently as a canyoning guide for canyoning tours for eleven years and has been actively involved in the sport for 16 years. He is also responsible for the maintenance of these routes. In this maintenance process, he has already set several hundred abseiling hooks himself. 
"Safety has top priority on our canyoning tours and we have an obligation to our guests to guarantee it," emphasises Haid. "Before the start of the season in summer, we walk and check the routes and check whether everything is still usable. It turned out last year that old abseiling stations had to be removed and replaced with new ones on one route."
The abseil stations each consist of two hooks that are connected with a chain. The safe anchoring of these hooks in the rock faces was extremely important. "The fischer group of companies not only supplied the suitable fastening solution for this application, but also offered valuable support with advice, dimensioning and planning as well as with on-site assembly," says Haid. 
Ultimately, the fischer injection mortar FIS V Zero was chosen for the fastening project as it offers the required performance features and could also be processed quickly and easily. "I chose the mortar because it provides the required performance and does not need to be labelled with hazardous substances," explains Haid, describing the advantages. "That means I can process it without goggles and gloves. This makes it much easier for me to use it in the gorge than if I had to wear additional safety equipment in the demanding terrain conditions." 
To anchor the hooks, Haid first checked with a hammer whether the rock face was still intact. This can be determined by the sound of the hammer blow - the brighter it is, the 'healthier' the stone. He then drilled holes in the rock to install the abseiling station and injected the FIS V Zero injection mortar into the drill hole using the associated fischer injection device and screwed in the hooks, which thanks to the mortar can be held securely in the long term.
"We are very pleased that we were able to support Lucki in the project and accompany him through all project phases from planning to installation to successful project completion," concludes Jens Zimmerlin, head of chemical product management at the fischer group of companies. "With such a fastening task, there were of course many technical questions, but all of them could be answered and clarified. We were able to successfully demonstrate the advantages and possible applications of our injection mortar FIS V Zero."