Reliable design of fastenings
18 May 2023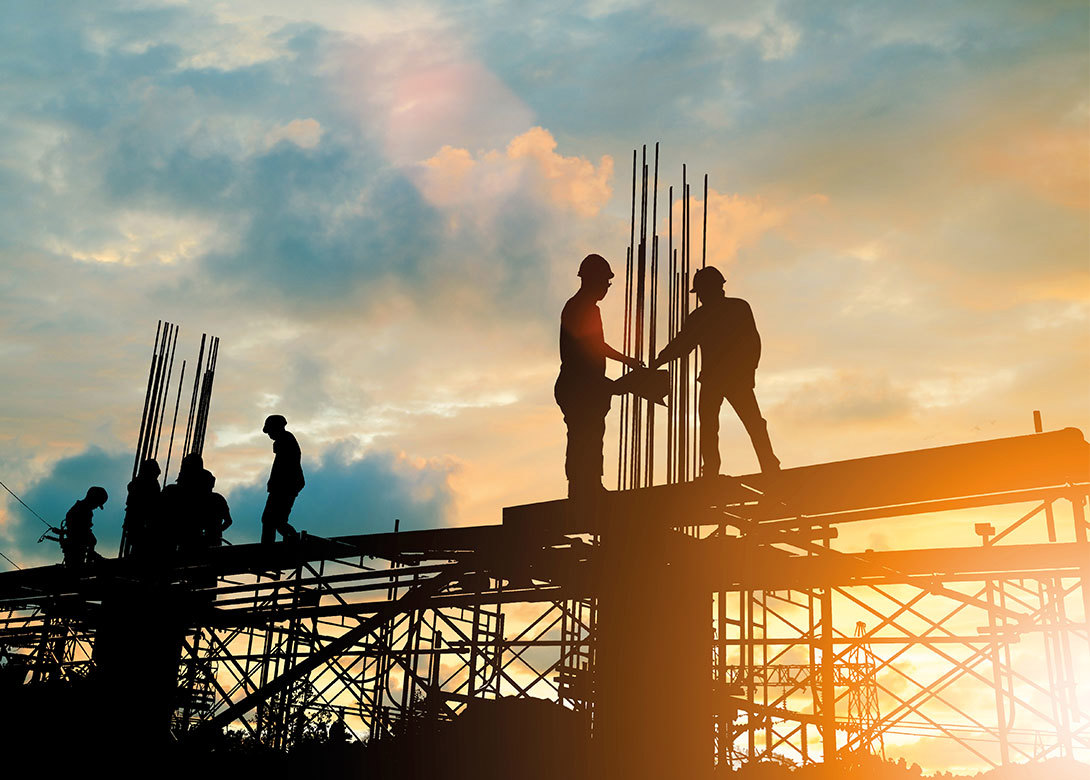 Here Thomas Holland-Letz and Ulrich Bourgund, from the Construction Fixing Europe Association, focus on the reliable design of fastenings based on ETAs, EN 1992-4 and EOTA Technical Reports.
Sound and reliable fastening solutions with anchors require proper performance data of the respective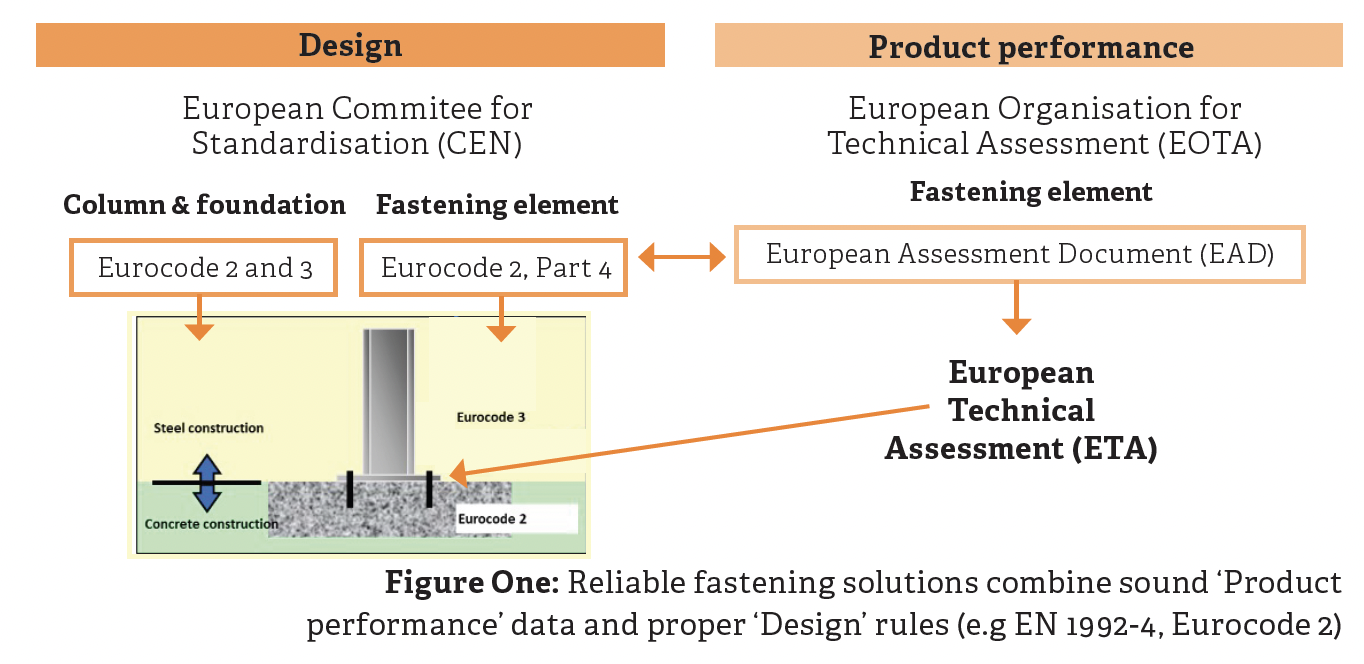 product and a suitable design methodology in order to ensure the appropriate level of safety (Figure One). Over recent years product performance data based on ETAs and design in accordance with Eurocode 2, Part 4 (EN 1992-4) has been widely accepted in the engineering community for this purpose.

According to the Construction Products Regulation (CPR), European Assessment Documents (EADs) are the basis to issue European Technical Assessments (ETAs) for construction products, which are not or not fully covered by harmonised European Standards (hEN). 
Due to new products and new applications requested by customers in construction, the EAD/ETA process has developed a high level of agility to provide the respective documents. The level of agility could not be matched by the respective design rules for fastening covered in EN 1992-4 (Eurocodes). Continuous agile development of design rules is needed in combination with performance data of products, based on ETAs, to ensure a transparent and adequate level of safety in construction. 
For such cases, the European Organisation for Technical Assessments (EOTA) issues Technical Reports, which complement the basic design rules in the Eurocode with tailored design methods for products and applications covered in the respective EAD. The drafting and approval process of EOTA TRs by EOTA follows the same high standards as for the EADs – with the involvement of the expertise of all interested national Technical Assessment Bodies (TABs), as well as experts from academia and industry when necessary.
The EOTA TRs are published together with the respective EADs and are referenced in each ETA issued for the respective product type and application. Table One gives examples of current EOTA TRs for the design of special fastening applications.
EOTA TRs can only complement the Eurocode design rules, but not override or contradict them. Currently, there is no evidence for such inconsistencies at least with the TRs for the design of fasteners in concrete and masonry. For widely used applications, the content of EOTA TRs can also be integrated in the next generation of Eurocode. Design concepts given in EOTA TR 029 'Design of Bonded Anchors' and EOTA TR 045 'Design of Metal Anchors For Use In Concrete Under Seismic Actions' for example were integrated into EN 1992-4:2018.
The legal status of both kinds of documents is perceived identical and is mainly driven by a strong need for harmonisation on rules – to achieve transparent levels of safety in construction. 
Some EOTA TRs, which cover a higher number of applications, are already referenced in the national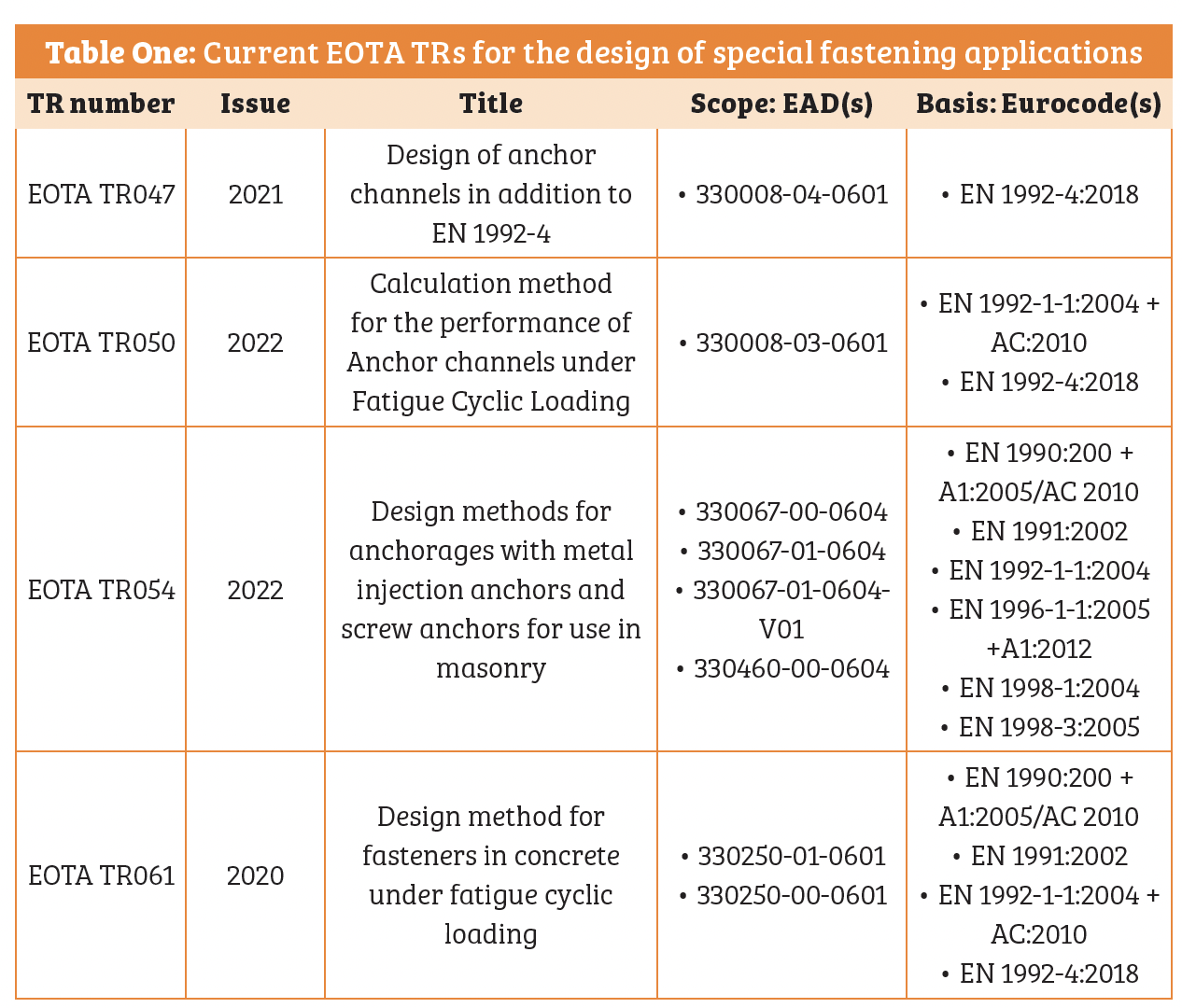 building regulations of EU member states. Such a reference gives a maximum of legal certainty to the specifier, but also TRs without such a reference reflect the state of the art and can be used without any technical or legal concern. 
EOTA Technical Reports for the design of fastenings provide the same level of reliability as the EADs and complement them to provide a complete set of assessment and design methods.
For the revision of the current CPR, it is in the interest of the construction industry that TRs can be developed and issued. Only the agile development of design rules for new applications will support innovation and productivity gain in the construction sector. It is expected that future design concepts in fastening technology will have a further increased complexity, and it is therefore of utmost importance that the development process of necessary TRs is supported by a trustful group of design experts in the corresponding field.