Lindapter launches Hollo-Bolt plug-in tool
22 February 2023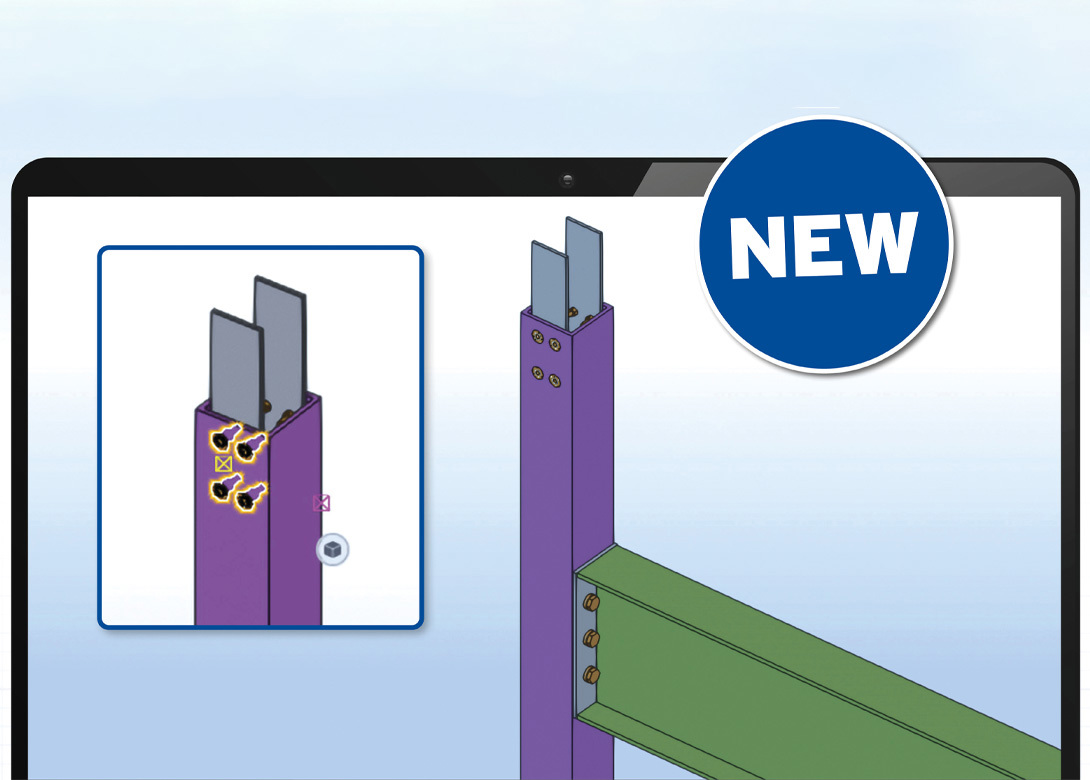 Working in partnership with Trimble Solutions (UK), Lindapter has launched a new Tekla plug-in tool, which will help facilitate the efficient and accurate detailing of the company's Hollo-Bolt system into structural steel models.
Available to download from Tekla Warehouse, the time-saving tool enables Lindapter's innovative Hollo-Bolt system to be incorporated directly into a user's 3D Building Information Modelling (BIM) Tekla Structures.
Known in the industry for manufacturing and supplying innovative steelwork connections, Lindapter's Hollo-Bolt system is a range of CE UKCA-marked expansion bolts that only require installation access to one side of the steel. Suitable for both end-plate and profile-to-profile connections and with three bolt heads available – hexagonal, countersunk and flush fit – the products provide a faster alternative to welding, or through-bolting, enabling steelwork contractors to reduce construction time and labour costs. The new Tekla plug-in tool, however, takes these time-saving benefits even further, providing a more efficient and accurate detailing process.
Prior to the launch of the tool, Tekla and Lindapter customers have, previously, had to manually model a generic steel bolt connection with no specific attributes.
Not being linked to any manufacturer, the generic connection makes it impossible to generate precise take offs. Now, using the new tool, users can automatically detail the Hollo-Bolt connection with the associated product specific information and data, (including product codes and attributes), leading to more accurate quantity take offs and estimates. In addition, rather than detailing a bolt connection in isolation, the tool creates a parametric component; effectively a more intelligent detailing experience, which automatically prevents users from going outside set parameters. For example, the positioning of the Hollo-Bolt products has to allow for a pre-stated distance between both the bolts and the inside edge of the steel section; the tool's intelligent parametric capabilities help ensure a correct, first-time steelwork connection design, in turn contributing to a more seamless, on-site installation and assembly stage with minimal re-work required.
Talking about the launch, Sunny Bansal, engineering director at Lindapter, said: "As a business, we've been wanting to integrate our products into BIM software for a while. As the global industry leader in structural steelwork detailing software, Tekla was the ideal partner for Lindapter to work with, to further enhance our digital journey. For us, it's all about providing our customers with a product that's easy to use, right from the initial design and detailing stage, through to on-site installation. This plug-in tool does exactly that, providing a simplified and improved user experience for fabricators and steel detailers, enabling them to utilise our steelwork connection solutions within Tekla's digital and automated 3D environment."
Craig Johnson, Trimble's business development manager, detailing and manufacturing added: "We were delighted to have the opportunity to work with Lindapter on this new plug-in tool, combining the Hollo-Bolt system's time saving capabilities with our constructible, 3D modelling software, providing our customers with an enhanced design and detailing process."