EJOT supports green roof vision in Bangkok
08 November 2021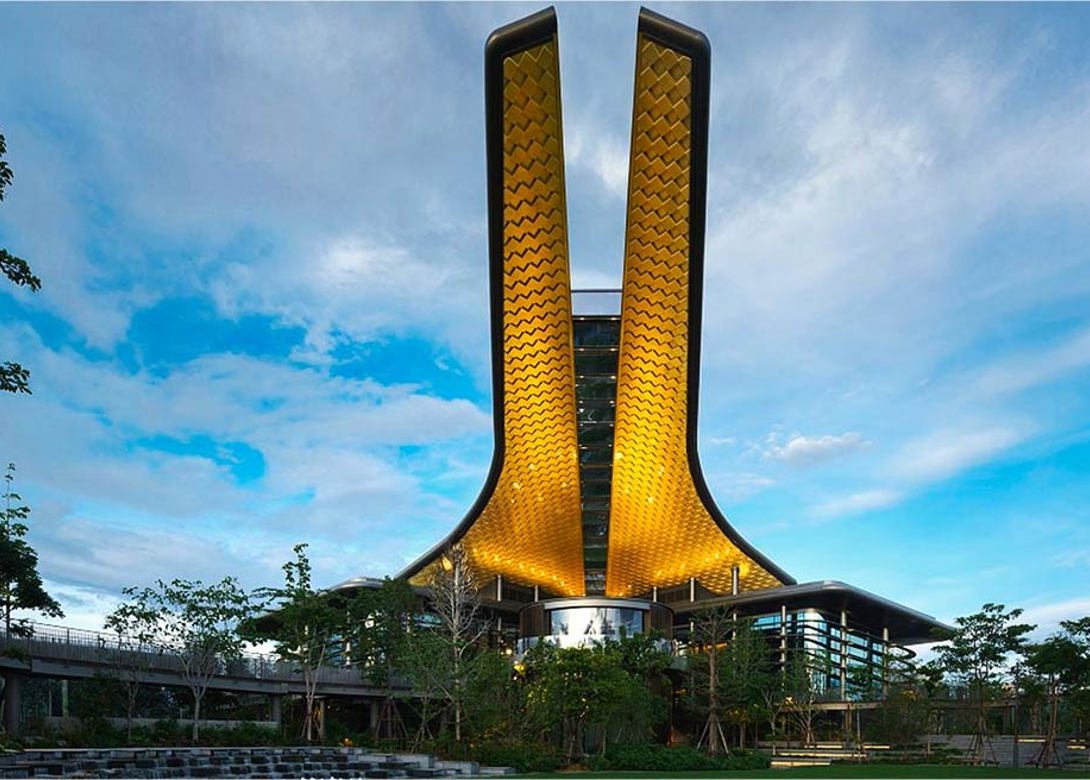 EJOT UK has been involved in a new and exciting project and provided innovative solutions to meet the complex design requirements of a 2,500m2 green roof for the Forest Pavilion, the centrepiece building of a new 158 acre wellbeing focused development in the Thai capital, Bangkok.
'The Forestias' residential and commercial scheme blends state of the art technology and construction with deep forest for sustainable well being. The masterplan by Foster + Partners brings to life the vision of developer MQDC to create a multi-generational residential neighbourhood on the edge of Bangkok with a 6,000m2 nature reserve at its heart. In common with the Forestias ethos to bring together technology and nature, the Forest Pavilion features an extensive green roof as part of an eye catching building envelope alongside aluminium shingles, aluminium standing seam and PV panels. 
To deliver on the architect's 2,500m2 green roof vision, contractor D1 Systems partnered with EJOT UK to utilise its innovative lightweight fastening systems. The solution centred around a combination of the EJOT HTK tube washer, for securing the roof insulation and PVC membrane to the metal deck substrate whilst minimising thermal transmission, and EJOT EJObar to anchor the soil's wire reinforcement securely – all without adding significant weight.
Manufactured from high grade plastic, HTK tube washers are a thermally superior alternative to metal tube washer/fastener combinations. They provide high load-bearing strengths in a variety of lengths to facilitate secure mechanical fixings into steel, plywood or concrete substrates and their telescopic design resists impact loads.
One major challenge on the Forest Pavilion project was to achieve a secure attachment for the green roof at an angle of 16 degrees without exceeding a maximum weight of 35kg per square metre. Any fastening system also had to be 100% waterproof to prevent corrosion risks and maximise the lifespan of the building as well as accommodating significant wind uplift given the position of the Forest Pavilion, initially standalone with no adjacent buildings to deflect the wind.
EJOT engineers provided extensive technical support to D1 Systems including calculations for the optimum number of fasteners to balance strength, weight and security. The EJOT team also assisted in a materials selection process for the green roof conducted by RISC (Research and Innovation for Sustainability Centre) on behalf of the developer, which included providing detailed test reports and internationally recognised certification to demonstrate the integrity of the proposed fastening solution.
Ben Gallant, Export Sales Manager for EJOT UK said: "The Forest Pavilion was an exciting project to be part of and central to this unique sustainable development. An innovative approach to the fastening systems was crucial to deliver the complex roof design without adding weight, and with HTK and EJObar in our membrane systems portfolio we had an immediate advantage to enable D1 Systems to secure the contract.