Customer service at the heart of pgb-Polska
11 September 2023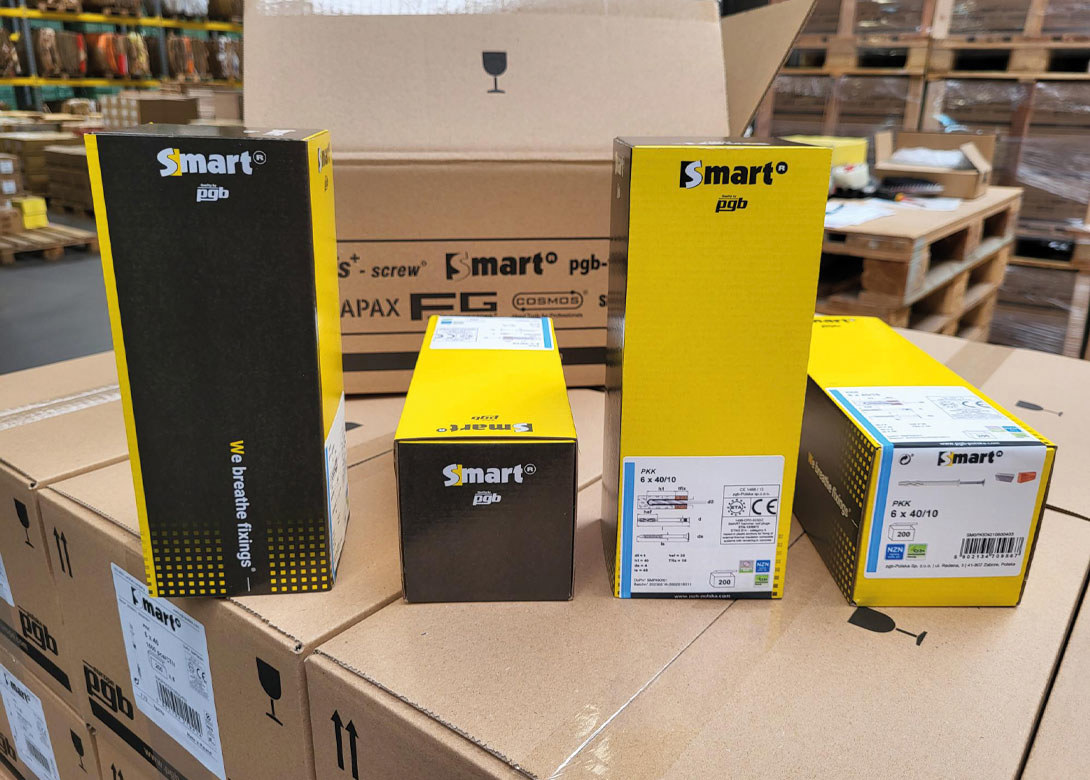 pgb-Polska, the production subsidiary of nylon and steel anchors for pgb-Europe – a leading supplier and manufacturer of fixings, anchors and tools, is a major eastern European player strongly committed to digitisation and modernisation, with customer service at heart. With recent investments in automated packaging lines and distribution capabilities, pgb-Polska promises high-quality materials with tailored packaging and labels for its customers. 
Since 2021, pgb-Polska has increased its storage capacity from 10,000m2 to 14,000m2 to better address customer challenges. With an assortment of around 5,000 items constantly available from stock, the company offers a solution for almost every fastening challenge.  
Investments in an automatic packaging line have also contributed to the company's boosted distribution capabilities, a move which allows pgb-Polska's private label customers to choose the right packaging options, as well as labels tailored to their requirements. "We are able to deliver products in any size of packaging, according to our customers' demands. Our manufactured products can be packed in custom tailored packages, suited to a customer's brand," clarifies pgb-Polska.   
Additionally, since 2020, the company has made several expansions to its product range, increasing its offer to customers while simultaneously gaining new markets. pgb-Polska's range now includes new sizes of frame anchors and insulation plugs, according to market needs. Other additions include new types of fasteners for guttering.  
"In today's fast-paced and dynamic business landscape, staying competitive is essential for survival and growth. Investing in new technologies and innovative solutions helps businesses keep up with or surpass their competitors. Innovation often leads to process improvements, automation, and the development of more efficient systems. These enhancements can boost productivity, reduce costs and increase overall profitability," pgb-Polska believes. 
SMART quality assurance for products 
The complete anchoring programme of pgb-Polska is distributed under the brand name SMART, a product family which spans from standard wall plugs to heavy-duty anchors and includes a variety of
high-quality and European approved mechanical and chemical anchors. At the company's production unit in Zabrze, synthetic anchors, such as window plugs, nail plugs, insulation plugs, and universal plugs, are manufactured to the highest standards.  
"We strive for high-quality materials through a proper purchasing policy, ensuring compliance with industry standards, such as DIN, ISO or customer specifications. We approve, provisionally approve, or reject suppliers based on their past performance and quality system evaluations. Random inspections of incoming goods are performed, with measurements taken and a standardised report made, depending on the product type. Various tools, such as the Fischerscope, thermo scientific X-rays, pull-out testers, go and no-go gauges, torque testers, sliding gauges, micrometers, hardness meters, profile projectors, and wire gauges are used in our inspections," explains pgb-Polska.   
Alongside being an ISO 9001 certified company, almost all pgb-Polska products have received ETA certification to guarantee safe and durable anchorage. pgb-Polska is also a proud member of the European Consortium of Anchors Producers (ECAP).  
Sustainable practises for a brighter future  
Currently, pgb-Polska has installed 550 photovoltaic panels, which amount to a total capacity of 250kW. Through this, the company is attempting to run on autonomous energy as much as possible – while also trying to reduce its carbon footprint. The company states these installations are already bringing results – hence the motivation to continue this reduction in energy costs for a more sustainable future. 
Taking into account different ways of galvanisation, the company ensures that its screws are all galvanised with a Chrome-free coating and thus reducing potential pollution with the removal of hazardous substances. In addition, all pgb-Polska screws comply with RoHS guidelines. 
pgb-Polska also pays close attention to its shipped goods. With a focus on recyclable packaging, like cardboard, while reducing the use of plastics, the company promotes a more sustainable supply chain. "At pgb-Polska, we keep our promises. 'Sustainable business' is not an empty statement. Our commitment to the environment is gradually taking shape."