Compact tool sets from HAZET
13 February 2023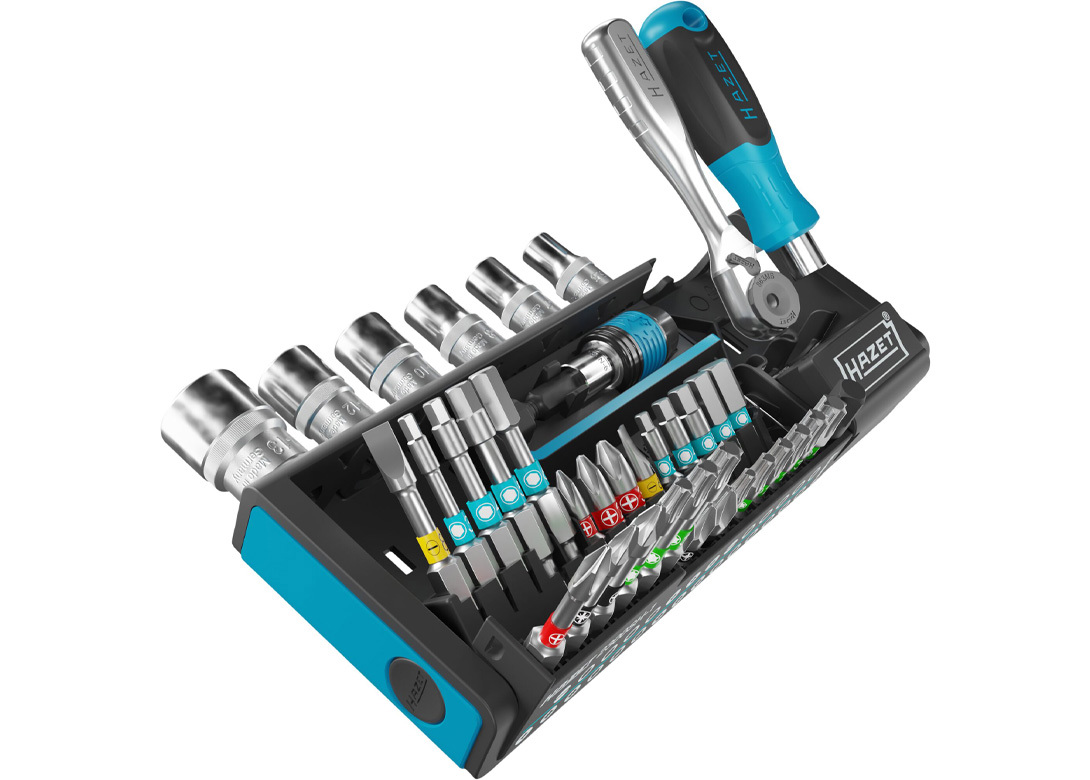 The newly developed HAZET SmartHolder socket set 2300SH-1 from the Remscheid-based tool manufacturer is a practical 39-piece tool holder, equipped with the new fine-tooth reversible ratchet from HAZET.
The socket set is made up of a newly designed ¼ inch mini all-steel fine-tooth reversible ratchet, a magnetic bit holder, two adapters, six ¼ inch sockets and 29 bits with the most common drives. The ¼ inch solid steel ratchet is only 90mm short, has 60 teeth that allow an operating angle of 6°, making it an ideal tool for work in confined spaces.   
The SmartHolder is practical and compactly equipped with a maximum number of tools in a minimum of space. It fits in almost any pocket and is ideally suitable for all smaller and quick screwdriving jobs. Its durable twist lock ensures a tight fit and immediate access to the sockets. When locked, the sockets are securely fixed; it is now impossible for them to fall out. To remove it, simply turn it to the left and then pull it off upwards. Pressing the push-button on the side activates the bit magazine's set-up function.
The set also includes a ¼ inch bit adapter as well as an adapter with a ¼ inch outside square as the output for the sockets and ¼ inch hexagonal drive for ratchet operation. The ¼ inch bit adapter is easily suitable for clamping the included bits in a drilling machine. The holder contains 18 short bits, measuring 25mm, and 11 long bits, measuring 50mm. All bits are of course suitable for use in an impact drill.