​Bumax® – starting where standard ends
17 June 2015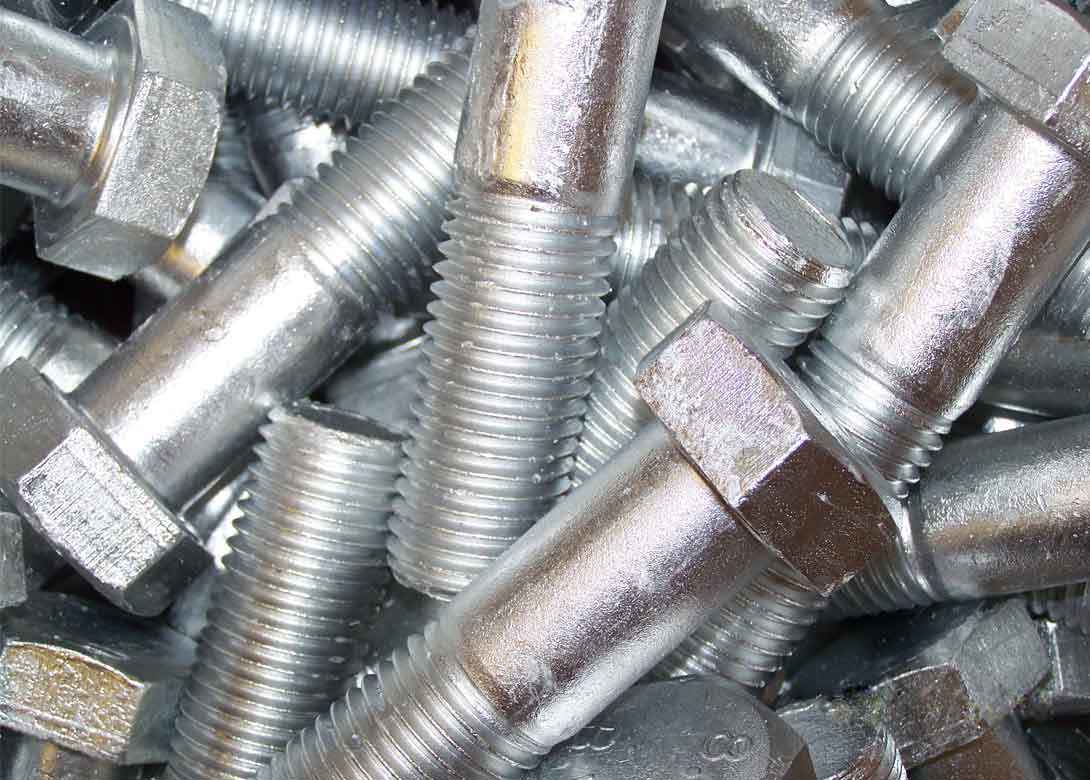 Ask about Bumax® and the most likely – and completely accurately – association will be with manufacturing the "world's strongest stainless steel bolt". The brand has been around since 1997 and the Swedish factory that exclusively produces the Bumax range for a lot longer. Despite which there remains a great deal about Bumax that is far from common knowledge even within the fastener industry. Phil Matten set off for Sweden to discover what Bumax is really about.
Approximately 200km north of Stockholm, nestled behind the forests surrounding the small village of Åshammar is a fastener factory. At first sight it might not seem particularly remarkable apart, perhaps, for its location. It employs around 60 people and has a not unfamiliar array of production equipment including established workhorses such as the Nedschroef BV boltmaker. The fruits of more recent investment, though, can also be seen in the form of the latest SACMA SP560 progressive header and Ingramatic RP72 thread roller commissioned in 2014.
Actually the location isn't really that puzzling. This is Sweden's historic steel making area and nails were forged on this site as far back as the 17th Century. The Åshammar bolt factory was established in 1899, installing its first cold heading former in 1916 and becoming one of the first companies in the world to cold forge stainless steel as long ago as 1926.
Significantly, particularly for the modern company – since 2000 a manufacturing subsidiary of the 235 million euros Bufab Group – Åshammar is just 16km from Sandviken. The town gave its name to one of Sweden's largest industrial groups and, in particular, Sandvik Materials Technology, a leader in developing and manufacturing some of the most advanced stainless steels and special alloys in the world.
What is truly remarkable about this factory is what it produces – and what it takes to do it. Bumax® legitimately lays claim to manufacturing the world's strongest stainless bolt – which using the ISO grade system for carbon steel fasteners means performance above and beyond Grade 15.9. That, though, is to focus on a single dimension of a fastener production programme, ranging from M3 to M36 in diameter, which includes a stocked range of high strength and high performance stainless steel fasteners, which have proved their worth in unusual as well as surprisingly simple applications. Beyond that Bumax extends to a set of unique and truly quite extraordinary performance fasteners, manufactured to specific requirements, which ensure critical joint reliability and longevity in the most extreme environments known.
The best starting point to really get to grips with this capability is the Bumax grade selection 'cross':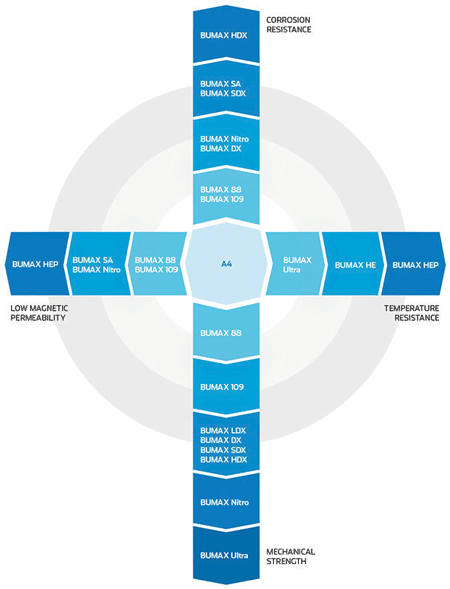 Start at the centre with conventional A4 specification fasteners – but let's be clear, if commercial grade A4 fasteners are genuinely adequate for the job there is no real point in talking about Bumax. Move outward, though, along the four compass points of increasingly extreme demands for mechanical strength, corrosion resistance, temperature resistance, and low magnetic permeability, and Bumax comes into its own – until, at the outer limits, it offers unique solutions to resist the most extreme performance demands.
Overstatement? Try a few statistics. At the equivalent of Grade 15.9 Bumax® Ultra has a tensile strength of 1,500MPa compared with a typical A4-80 value not much in excess of 800MPa. Available from stock, Bumax® 109 bolts – as the designation suggests, equivalent to Grade 10.9 in carbon steel – have a yield strength of 900MPa and a tensile strength of 1,000MPa but combine that with corrosion resistance that exceeds levels of standard A4-80 due to the high Molybdenum content.
A Bumax® SDX 12.9 ISO 4762 M10 x 100 socket screw – manufactured from Sandvik Super Duplex 1.4410 steel – as well as providing tensile strength of 1,284MPa and yield strength of 1,026MPa, delivers exceptional ductility. It has an elongation of more than 1.5 times its diameter – compare that to A4-70 at 0.4 x diameter. SDX provides excellent corrosion resistance, especially in chloride bearing media with a PRE (Pitting Resistance Equivalent) of 42.
Bumax® Hyper Duplex fasteners are the first to be cold headed from 1.4658 material developed and patented by Sandvik for really aggressive corrosive environments, which are encountered in combination with high mechanical stresses. Bumax® HDX fasteners possess a PRE of 49 – virtually double the PRE-value of A4-80, outstandingly suiting them for use in severe environments involving hot chlorinated seawater or aggressive acidic, chlorine-containing media encountered in the chemical, oil, gas and petrochemical sectors. Used in an offshore application, 3,000m below sea surface, the screws have to endure at least 25 years in service. If they don't, it requires subsea robots to carry out repairs – at truly eyewatering costs.
Bumax® Ultra fasteners, formed from unique, ultra high strength, precipitation hardenable Sandvik steel, offer the extraordinary property of hardening with ageing to strength levels of 3,000MPa. Here corrosion resistance may well not be the primary issue, although Bumax Ultra still maintains similar levels to A4-80. Bumax Ultra screws recently provided the only solution to persistent breakage in the seemingly mundane application of a lock mechanism. Grade 8.8 socket screws failed rapidly under the repeated transversal forces incurred during locking and unlocking. Escalating to carbon steel 10.9 and then 12.9 screws failed to resolve the issue, with failures after 10,000 repetitions. Customer fatigue testing of Bumax Ultra class 15.9 stopped at 500,000 repetitions – without a failure.
Recently Bumax asked Sandvik R&D to carry out extended fatigue tests on M6 x 50 ISO 4017 samples in A4-80, Bumax® 88, and Bumax Duplex®. As typical preloads increased to beyond 400±80 only Bumax Duplex exceeded 10 million cycles before fracture. Bumax 88 sustained this level of cycles at 400±55. Some A4-80 samples fractured within 1.4 million cycles at 400±50 and at 400±55 failure occurred within 0.4 million cycles.
Often fatigue failures under cyclic loading are triggered by microscopic crack formation at stress concentrations, typically surface defects and inclusions in the material. Worth recognising, then, that the starting point to ensuring Bumax performance is the extremely tight tolerance of the wire used to cold form the fasteners. Sandvik and Outokumpu steels are sourced to tightly defined EN standards. 'Entry level' Bumax 88 is produced from EN 1.4432 or 1.4435, or 1.4436, austenitic wire in which the maximum allowable carbon content is 0.03. By comparison ISO 3506 permits A4 wire to hold up to 0.08 carbon, a level that at the discretion of the manufacturer may increase to up to 0.12 to achieve specified mechanical properties for larger diameters. In austenitic stainless steels with a maximum carbon content of 0.03, ISO 3506 permits nitrogen to be present to a maximum of 0.22. For A4 it is also permissible to have up to 4% copper in the alloy.
Even then Bumax works extremely closely with its steel suppliers, recognising that process and quality control can vary substantially in critical melting, rolling, cooling and annealing processes. For its more demanding and critical wire, Bumax defines additional requirements for a series of key parameters and all incoming materials are closely scrutinised by Bumax's own quality personnel.
One of the other key differentiators for most Bumax fasteners is that they are cold formed (only diameters beyond M30 are hot forged) and thread rolled. In fact the process of strain hardening often starts earlier in the production cycle with the wire being drawn, either in a specialist drawing area, or inline. The significance of the manufacturing process is that it confers higher strength, higher fatigue resistance and lower risk of galling (the latter additionally prevented by the application of Bumax's own specification assembly wax). It is not, though, easy. Correctly defining the cold forming process, both to achieve the required material characteristics and achieve acceptable levels of tool wear requires exceptional levels of skill, developed over decades of experience, combined with extremely high-levels of metallurgical knowledge.
Incidentally, while talking more about male threaded fasteners bear in mind Bumax® Lock – an all metal lock nut made from the same steel grade as Bumax 88, with a specially designed thread profile, that means the nut is free spinning until tightened when it locks to prevent vibration loosening and increase fatigue resistance.
The arguments for using high strength stainless steel fasteners have become increasingly relevant in many applications – not necessarily just in extreme environments. Size may be reduced, as may weight, with the use of fewer fasteners to achieve the same or greater clamping force, enhancing weight savings and improved installation productivity. Better relaxation and fatigue resistance and increased safety margins are also increasingly important.
Needless to say Bumax possesses a series of quality certificates including ISO/TS 16949 and CE marking to EN 15048 for non-preload applications. Bumax 88 also conforms to the Pressure Equipment Directive PED no 97/23/EC and its strict control from the material origins means Bumax can provide 3.1 and 3.2 certification as required.
The full Bumax programme together with examples of the many challenging application sectors in which it has achieved distinction are detailed online. The Bumax website hosts an interactive version of the Bumax grade selection cross together with many technical downloads. Most importantly, though, is an online contact form to the Bumax technical team, committed to responsively identifying exactly which Bumax solution will best meet your, or your customers, requirements.
Bumax stock products, in Super Duplex, 88 and 109 materials, include hexagon head bolts and screws, hexagon nuts, socket head caps screws, washers, stud bolt and thread forming screws. In key European markets inventory of Bumax 88 and 109 is also held by approved stockists to provide more economic and responsive availability.
Bumax really does start where standard ends but you might be surprised how often a Bumax solution succeeds in a far from exotic application.