A new generation of chemical anchors
04 October 2022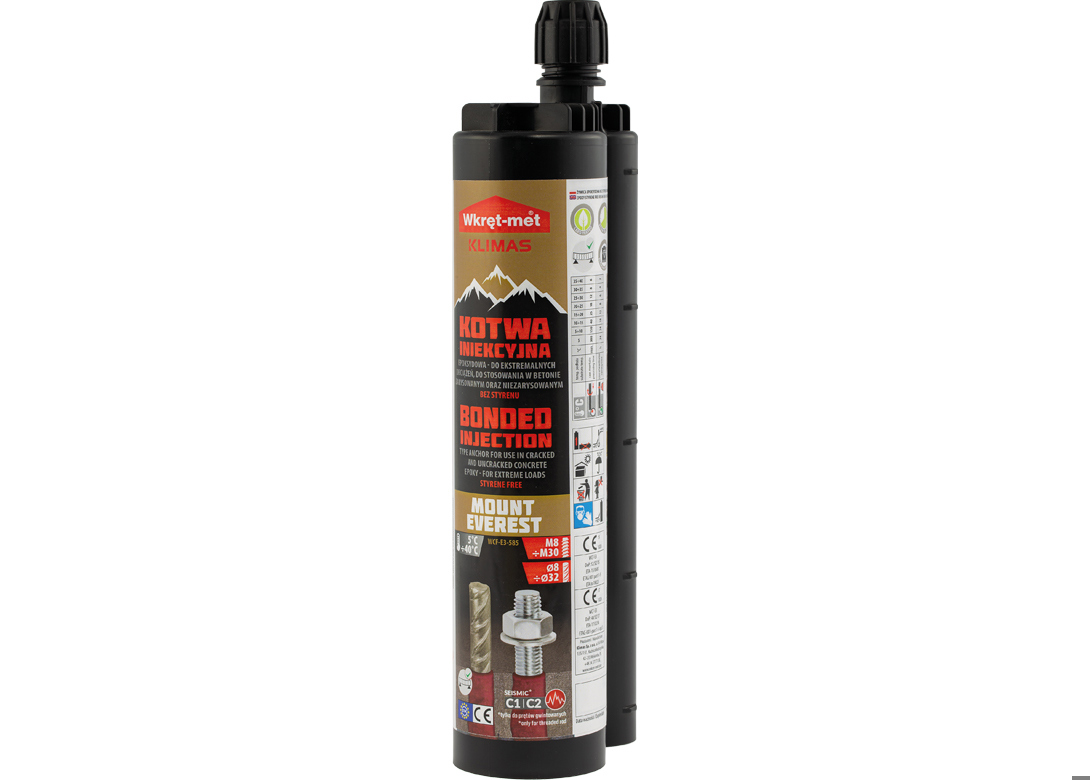 Created with sustainable construction in mind, professional chemical anchor brands Mount Everest and Makalu, from Klimas Wkręt-met, are both certified by ETAs and meet the criteria of the LEED (Leadership in Energy and Environmental Design) certificate – underlining the manufacturer's commitment to quality products.
Chemical anchors, consisting of a steel bar and an injection anchor, which is usually two component, work well wherever the safety of the connection is important. For installation, the cleaned mounting hole is partially filled with resin before the anchor rod is inserted. Its ability to connect with the irregular shape of the drilled hole makes it very effective in transferring loads along the entire length of the joint, using the bonding forces. The most important advantages of chemical anchors include the possibility of using them in various types of substrates, both in cracked and non-cracked concrete, as well as for installation in brick walls, hollow blocks, silicate blocks and aerated concrete. Pasting threaded and rebar into concrete of an existing structure is used in the construction of new facilities, but is often used in the reconstruction, reinforcement and joining of structures.
Klimas explains that its Mount Everest brand of anchors is one of the most advanced formulas in its portfolio. Thanks to their properties, they can be used in demanding investments – from the construction of buildings and civil engineering structures, to the construction of roads and bridges. The Mount Everest WCF-ES epoxy injection anchor for heavy loads has assessments for bonded fasteners for use in concrete
(ETA – 17/0234) and for metal anchors for use in concrete, used as an EAD (ETA – 15/0681).
"The formula of the Mount Everest chemical anchor developed by our laboratory is designed to provide professional contractors with maximum strength and durability of connections," says Wiktor Paradny, global product manager at Klimas Wkręt-met. "These properties are of particular importance in construction, where the required durability standard is calculated for 50 and 100 years. Such durability of our Mount Everest chemical anchors is confirmed by tests carried out in accordance with applicable standards."
Also available from Klimas is the Makalu range of universal chemical anchors for extreme applications. The Makalu universal chemical anchor is characterised by a wide range of applications, in both indoor and outdoor conditions – in humid rooms, industrial and marine environments, as well as particularly aggressive conditions. Available in WCF-EASF, WCF-EASF-E and WCF-EASF-C versions for heavy and medium loads, these chemical anchors are used to protect multi-layer arches, multi-layer wall connections, fixings for lighting installations, as well as being suitable for repairing lintels, cornices and bay windows. They can also be used for fixing steel elements of column structures, protective barriers, plinths of machines and devices, rails, guides, window frames, wooden structures, gratings, hinges, pipe connectors, as well as cable routes to the ground. The Makalu chemical anchor can also be used on all types of surfaces, from ceramic blocks, bricks, silicate, to cellular concrete. 
The anchors have approval for installation of threaded rods into masonry substrate (ETA – 20/0617), as well as approval for threaded rods and rebar calculations according to EN-1992-4:2018 (ETA – 15/0702).
"Quality right now is absolutely fundamental," comments Maciej Strychalski, marketing director at Klimas Wkręt-met. "Customers everywhere need the assurance that the solutions they're buying are safe. That's why ETA certifications are vital. They not only show the products are quality, but they prove products are safe and right for the job."