100 years and holding
03 January 2023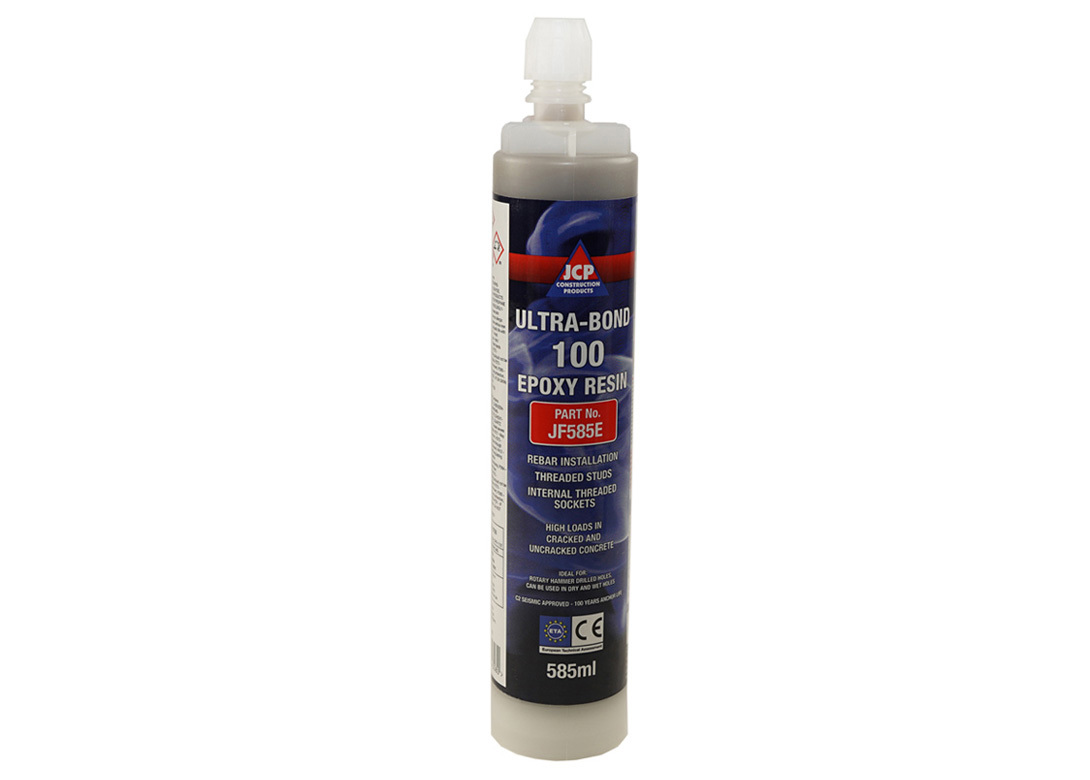 With a 100 year anchor service life, and a double shelf life, the new JCP Ultra-Bond 100 epoxy resin is the latest addition to the JCP range and is now the highest strength resin the company offers customers.
JCP Construction Products (JCP), a supplier of specialist construction fixings from Owlett-Jaton, offers a comprehensive range of products, including an impressive selection of chemical anchors.
Available in a 585ml tube, Ultra-Bond 100 is a formulation derived from pure epoxy with very high bond strength. It is used principally to anchor rebar, threaded studs and internally threaded sockets into concrete. Used for high performance structural applications where loading is critical, it is ideal for rotary hammer drilled dry and wet holes. The two-component chemical anchoring injection system, in a 1:1 ratio, can achieve high loads in cracked and non-cracked concrete.
ETA Option 1 approved, it is suitable for high loads featuring large diameters and deep embedment. Longer working times make it ideal for large holes and high temperatures. It is also approved for use under seismic actions C1 and C2. Offering high durability and resistance to chemicals, Ultra-Bond 100 is a low-emitting material and qualified to be categorised as LEED v4 and v4.1 Beta according to ISO 16000, EN 16516, ISO 11890-2 and ASTM D2369 testing standards.
Why Ultra-Bond 100
Sustainability has grown considerably in the construction sector, with more attention paid to building practices and the materials chosen. Increasing pressures to develop buildings with longer lifespans have led to more sustainable decision-making. Due to changes in society, nowadays developers are looking to construct buildings with a lifespan of 100 years or more when traditionally, this would have been much lower. Offering a 100-year anchor service life, Ultra-Bond 100 supports this approach and helps work towards a green economy.
In addition, Ultra-Bond 100 offers a storage life of 24 months from the date of manufacture, double that of a standard resin, reducing the likelihood of wasted material due to the chemicals expiring.
The complete chemical anchor offering
JCP supplies a comprehensive range of resins, all backed with full technical specifications. Although applying for an ETA is voluntary, as a leading supplier, JCP often deems this vital, irrespective of how complex, time-consuming, and costly the process may be. With recent changes in regulations and an increased awareness concerning the impact of fire on construction fixings, an ETA can assist in determining the correct selection.
JCP's pure epoxy or vinylester resins both hold an ETA Option 1 certification and are designed for use in dry and wet holes in cracked and non-cracked concrete. They both offer very high load capacities and are also WRAS (Water Regulations Advisory Scheme) approved.
In contrast to mechanical anchors, chemical anchors are sensitive to some environmental factors, such as temperature. For applications in low temperatures, the JCP Vinylester Fast Cure Winter Grade resin cures at temperatures as low as -10 degrees Celsius.
JCP's Epoxy Acrylate resin has an ETA Option 7 certification, making it ideal for use in non-cracked concrete. Whilst it offers a lower load capacity than the Vinylester, it delivers a higher capacity than the JCP general-purpose ETA Option 7 certified polyester resin (available with and without styrene).
Available to download from the JCP website, their free resin calculator helps to calculate the volume of resin required for a project based on the number of holes, anchor diameters and embedment depth.