Tidiness at first sight
18 June 2021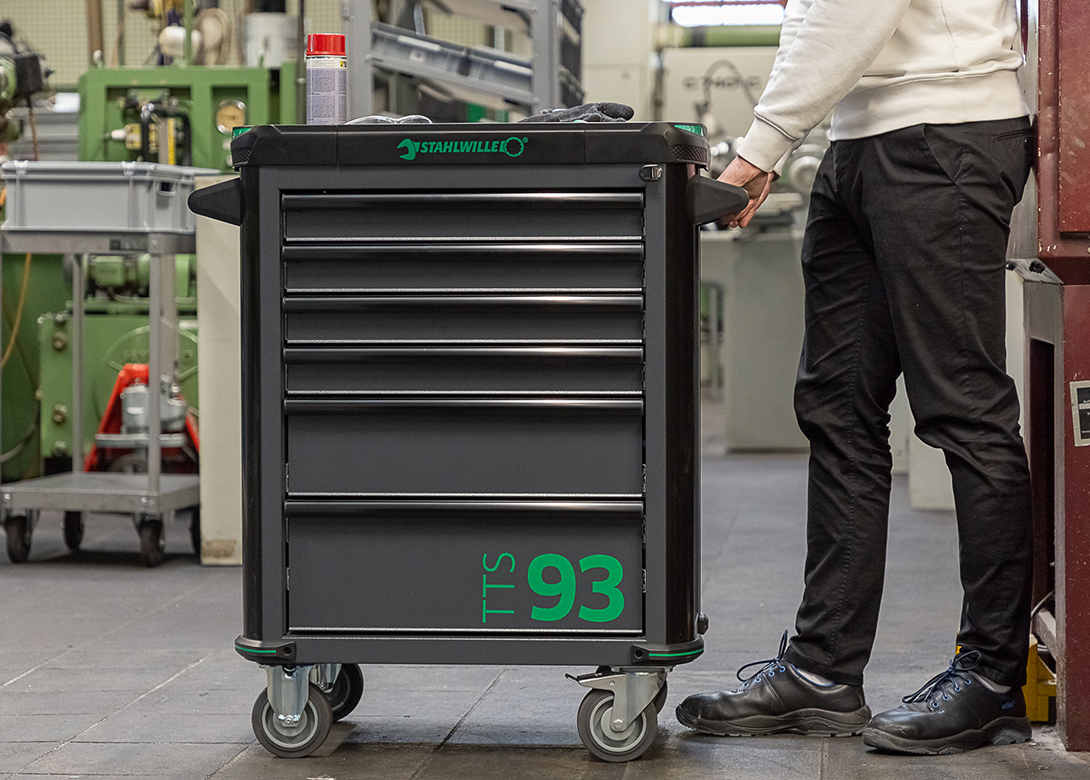 The new TTS93 tool trolley from Stahlwille enables tools to be stored neatly, has an attractive design with a robust construction ensuring a long service life of the tool trolley, even when it is subjected to tough everyday operational conditions and on mobile assignments.
The worktop is made of durable ABS material and has a raised edge to prevent small parts from rolling off. Three storage compartments each to the left and right of the worktop offer clear sorting options and quick access to materials as they are needed during work.
The six ball bearing mounted drawers in the TTS93 run smoothly and can be fully extended. Four of the drawers are 75mm high, the two lower ones have heights of 155mm and 205mm respectively and can also accommodate larger tools and bulky accessories. In conjunction with tool inlays and the variable drawer dividers, tools can be ideally arranged to suit immediate needs and ensure convenient removal and storage.
The tool trolley has central locking with a key that can be folded to the side. The lock is located to the top right of the drawers, so that the key does not interfere with the operation of the drawers. The wraparound plastic bumper provides impact protection while effectively preventing damage and scratches to sensitive surfaces and even injuries when manoeuvring or if the trolley accidentally gets stuck. Protection against the trolley toppling is ensured by the fact that only one drawer can be opened at a time.
The sturdy metal trolley construction means it can support loads of up to 500kg. The bottom drawer has a load capacity of 45kg. There is space for hooks in the perforated side walls of the trolley. The working height of 1,000mm enables strain free working in an upright posture. The four rubber tyred lightweight wheels with a diameter of 125mm are resistant to oil and acid and are equipped with carpet protection to prevent blockages due to the ingress of dirt and fibres. Two of the wheels have parking brakes that guarantee the trolley will stay put. The sturdy handles at both ends can be firmly grasped even with dirty hands or gloves.