Skipping the top coat - achieving precise controlled friction
23 October 2020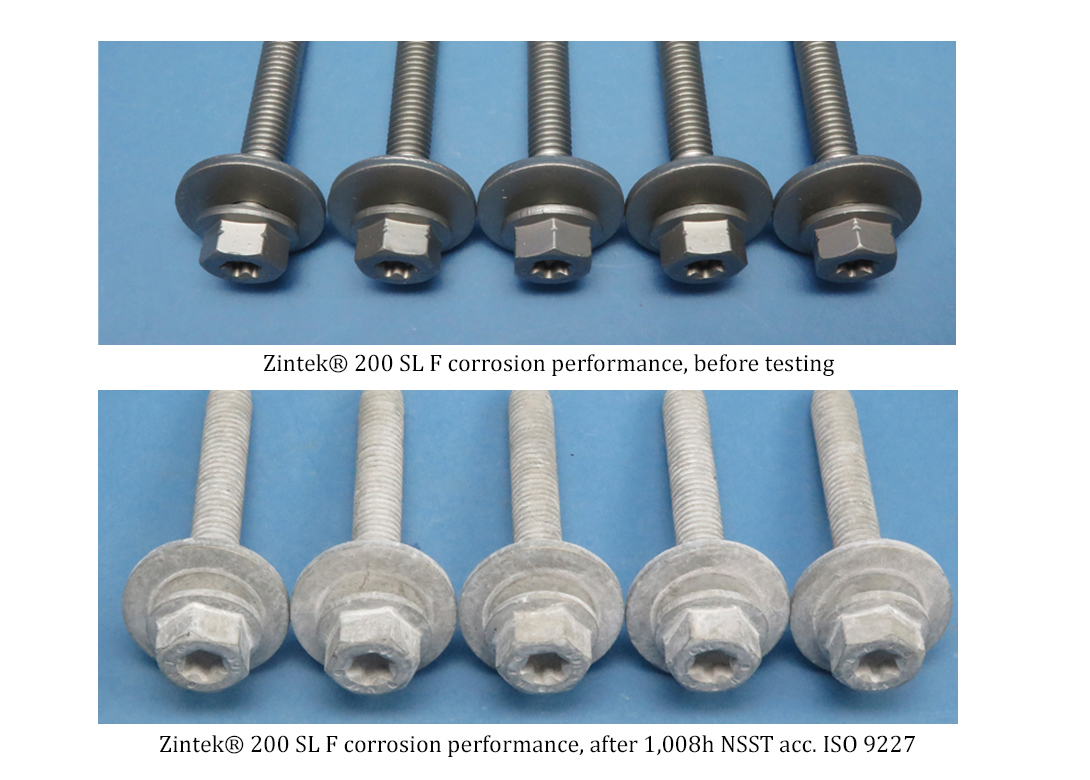 High corrosion protection, long-term bath stability, and reliable controlled friction, has meant Atotech's Zintek® 200 SL F has acclaimed accreditation and approval from two major French automotive OEMs for the coating of safety labelled fasteners and other components.
Many industries, including automotive, construction, railway, heavy machinery, wind and renewable energy, rely on the multifunctional properties of paints using lamellar shaped zinc particles. For zinc flake coating systems these properties are what constitutes their powerful corrosion protection capabilities, their lubricant incorporating capacity and hence, their friction control ability.
Furthermore, zinc flake coating systems are distinguished by their extreme low coating thickness, their high durability and their attractive appearance. The automotive industry, including light and heavy vehicles, as well as the motorcycle industry, preferably employ zinc flake coatings for their fastener systems.
Due to diverse production technologies in the vehicle manufacturing process, every OEM has different mounting requirements for fasteners. Consequently, the standard coating sequence for fastener elements in silver finishing consists of a 2+1 coating combination of two base coat layers, responsible for cathodic corrosion protection, and one top coat layer. Here the top coat layer contributes additional properties to the coating, such as the coefficient of friction, which is most important in automotive applications.
"Thanks to Atotech's R&D efforts, it has been possible to reduce the number of total layers from a three layer finish (2+1) by 33% to just two layers (2+0). Skipping the coating step for a top coat, which is usually needed for the standard coating sequence, results in noticeable savings. Customers, who are now using the 2+0 system instead of a 2+1 system, indicated a higher capacity for the dip spin line, which could lead up to a 50% higher yield compared to other three layer systems," commented Dennis Gündel, global product manager zinc flake coatings at Atotech Deutschland GmbH.
Atotech points out its base coat Zintek® 200 SL F is a cost-efficient solution that contains an integrated lubricant that provides controlled friction properties to the zinc flake coating – without using an additional top coat. Thus, sacrificial corrosion protection and precise coefficient of friction properties are achieved at the same time within one product. Zintek 200 SL F accommodates a centred COF in the range of 0.12 to 0.18 – as measured by the standards of the French automotive industry. Those defined friction requirements hold for diverse materials, such as aluminium, galvanised steel and e-coated steel. Compared to a standard three coat system, the silver two layer base coat system enables a lower deviation of coefficients of friction. Although the two base coat layers incorporate lubrication, Zintek 200 SL F does not exhibit a 'stick-slip' effect, which constitutes an issue for several alternative solutions available on the market.
"In addition to its excellent adhesion and friction properties, Zintek 200 SL F achieves a remarkable cathodic corrosion protection property. According to the standards of the French automotive industry for corrosion protection of fastener systems, a coating has to maintain corrosion resistance in the neutral salt spray test (acc. Renault D17 1058K) without base metal corrosion for at least 600 hours. Lasting for more than 1,000 hours without base metal corrosion, Zintek 200 SL F exceeds this standard requirement," explains Dennis.
These corrosion protection properties also apply to complex part geometries. Besides the NSST standard, high corrosion protection is also demanded after a pre-damaging by stone-chipping (e.g. PSA D24 1312). Within this very demanding testing environment, Atotech highlights the Zintek 200 SL F exhibits first-class results of 720 hours of corrosion resistance and more.
Long-term humidity stability is a crucial criteria requirement for different solvent-based coatings available within the market. Instability against humidity can lead to deviation in friction behaviour and corrosion protection, as well as to severe paint destruction within the tank during lead times. "In contrast to other comparable solutions with lubricated base coats entering the market, Zintek 200 SL F, as a production proven and reliable process, exhibits an outstanding stability against humidity, which leads to a prolonged life time of the ready to use paint inside the dip spin tank. Compared solutions claiming to possess commensurate properties also have shown inconsistent CoF behavior after gaining some aging humidity intake."
Zintek 200 SL F requires a curing temperature of only 230°C. This moderate curing temperature does not weaken hardened steel structures typically to be found in modern fasteners, making it perfectly suitable for the application on to safety parts in the automotive industry.