Seamless integration with wireless torque wrenches
29 June 2023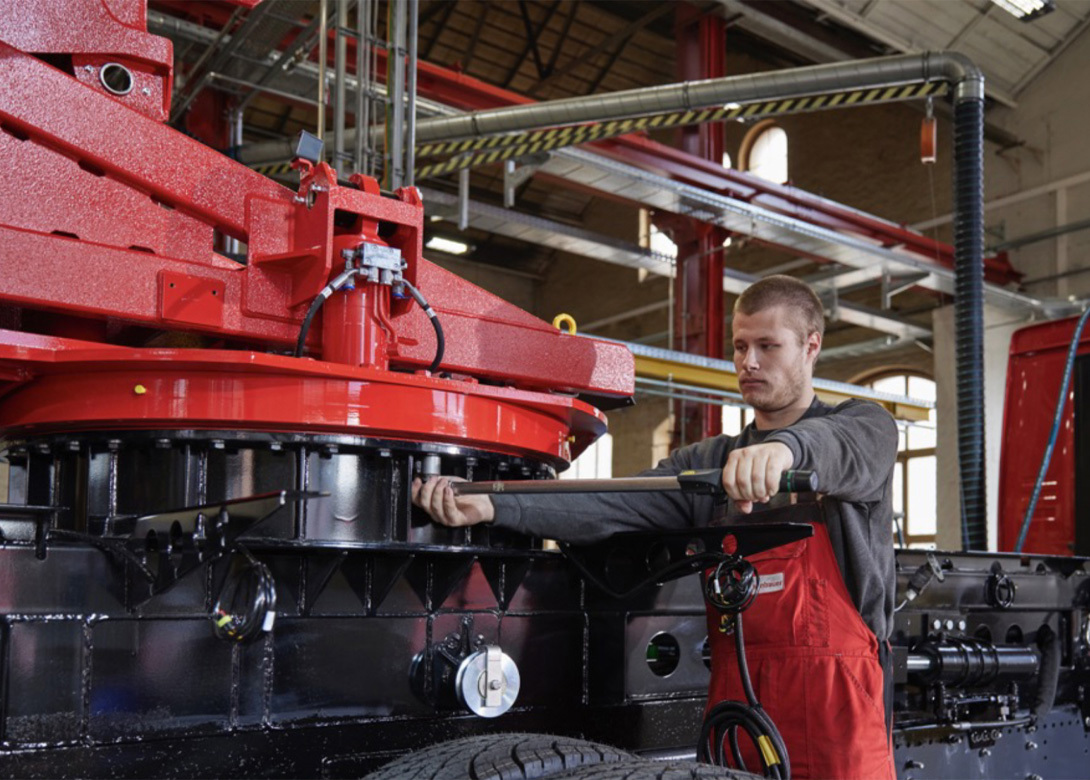 In order to meet the high demands of the fire and emergency service industry, Rosenbauer relies on Stahlwille's electromechanical wireless torque wrenches at its workstations, which offer the advantage of being fully integrated into a software-based worker guidance for assembly workstations.
Rosenbauer Karlsruhe GmbH & Co. KG in Karlsruhe, with a team of around 500 employees, produces over 190 vehicles every year for fire and emergency service equipment. This requires the highest level of quality and maximum reliability, because if there's an emergency, the technology must be 100% reliable.
At Ronsenbauer's facility in Karlsruhe, the assembly of turntable ladders and aerial rescue platforms is characterised by a host of individual solutions and a high proportion of hand-operated fastener-tightening operations. "A large number of bolted connections have to be carried out in a specified sequence and with a precisely defined torque," explains Torsten Schuster, production planner international/head of work preparation at Rosenbauer.
There are now three workstations at Rosenbauer's Karlsruhe site, as well as another in Italy, that are equipped with the Manoskop 766 Daptiq torque wrench from Stahlwille. This tool is the only one in the company's range that works electromechanically – meaning it measures digitally, can be integrated wirelessly by WiFi and can both receive and transmit data.  
At Rosenbauer, the torque wrenches are directly integrated in the ProTight worker guidance system. When a fastener-tightening process is initiated, the tool receives its data from the worker guidance system via radio transmission and the required torque is set automatically. In the specific case of Rosenbauer's site in Karlsruhe, the processing sequence and the assembly points are displayed on a large-format monitor beside the workstation. The wrench signals three times whether the tightening operation has been carried out correctly and the specified target torque has been reached – by means of an LED traffic light system, the digital display and the familiar click. The system also detects whether fasteners have been overlooked or tightened twice. Error messages cannot be ignored.
Completed operations are then reported back to ProTight in real time in a traceable and loss-proof manner, logged with a time stamp and the exact torque, and the result is visualised on the monitor screen at the workstation, which ensures seamless traceability at all times. The Manoskop 766 communicates with ProTight through Stahlwille's open-source interface, which makes it easy to transfer and store joint data and make it available for evaluation purposes.
"What our employees particularly like about this torque wrench is that it trips with the typical click of its mechanical counterparts," Torsten reports an important feature of the tool, specially considering working environments can be noisy and visual displays on the wrench may be obscured. 
Each individual employee has a high degree of responsibility for self-monitoring during the fastener-tightening process. An incorrectly tightened fastener can have an effect on the functioning of the entire system – with consequences in terms of the costs of warranty services and complaints. This deficit can be counteracted by using digitally defined fastener-tightening processes as this makes the learning curve manageable and guides the worker accurately through the specified procedures.
"With Industry 4.0 solutions from Stahlwille, we are making the fastener-tightening operations during assembly in production environments safer and more dependable, and can also log them as data quickly and easily at the same time. This enables us to offer our customers verifiable quality at a consistently high level – an important selling point for us," says Torsten.
"The decision to opt for Stahlwille was made together with the employees on the shop floor," adds Torsten. "It was very important to us to involve our employees early on and give them the chance to familiarise themselves with the new tools and how to use them."
Stahlwille states that the Manoskop 766 Daptiq was quickly integrated in Rosenbauer's existing system environment. On site, it took about two days to set up the first station. "However, this involved work tasks that are only required once," explains Alexander Grosser, project manager industry 4.0 at Stahlwille. "In many cases, less than one working day is required at the customer's site. And once installed, it all runs automatically."