​One of the world's leading manufacturers of clamps, connectors and fluid systems
05 February 2015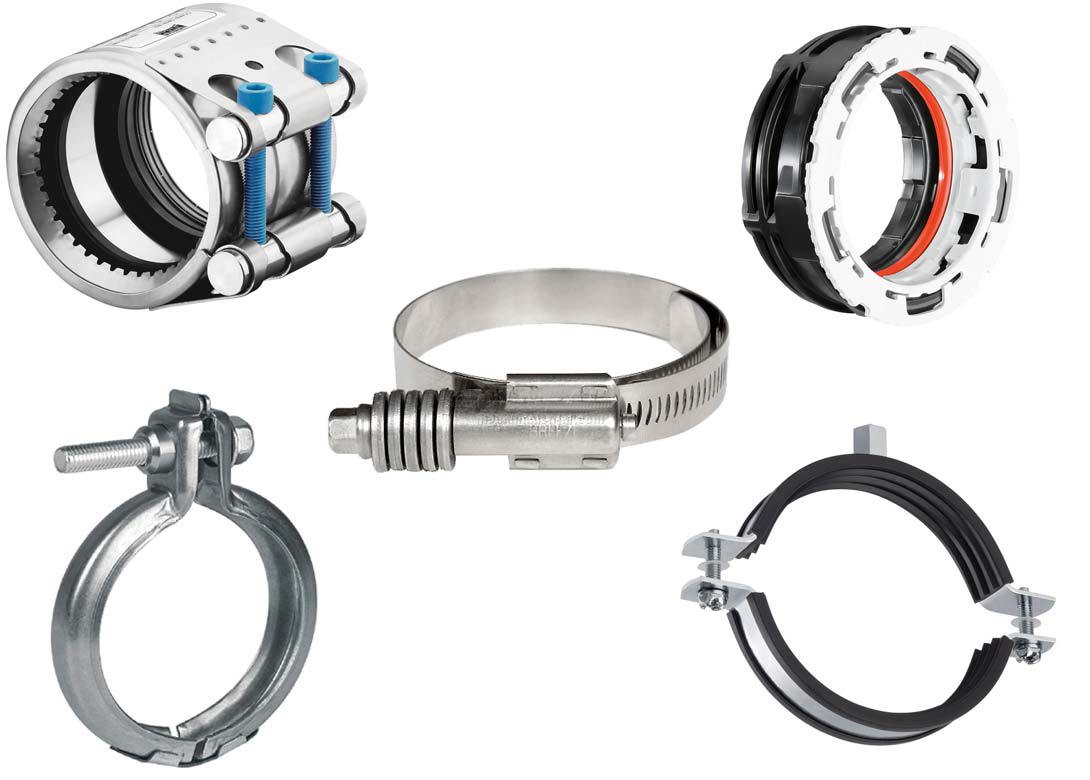 Not a claim to be made lightly but one that NORMA UK Ltd is justifiably proud to make, being the UK arm of the NORMA Group – one of the biggest manufacturers and suppliers of connecting products worldwide.
NORMA UK Ltd has been established in the UK for over 30 years now and since 2006 has been providing its market leading range of engineered joining technology solutions from its Greenham Business Park headquarters in Newbury.
As a key member of NORMA Group, the company acts as both a strategic manufacturing centre – specialising in the design and production of the NORMACONNECT® V range of precision engineered profile clamps, which are predominantly used in the automotive industry – as well as a national distribution centre for more than 35,000 products that are also produced within the Group.
The hose clamps, pipe connections, retaining products, quick connectors, fluid systems and plastic connectors of NORMA Group are accredited to all leading European and international quality standards and are vital parts of for instance vehicles, aircraft, trains, ships, water pipelines, and of applications for the pharmaceutical and biotechnology industry. This combination of experience and market leading product portfolio, has enabled NORMA UK to maintain its position as a primary supplier to businesses ranging from large-scale multinationals through to local independent resellers.


A technological focus on automotive solutions
With its many years of experience in manufacturing and developing a comprehensive range of engineering joining technologies in the clamp, connect and fluid sectors, the automotive industry is a key market for NORMA. As such, providing solutions that integrate stringent emission regulations, rapid installation times, consistent performance at temperature extremes and ever tightening space envelopes, is a discipline in which NORMA Group combines its expertise in both metal and plastic materials. One such product manufactured by NORMA that encompasses all these criteria is the VPP profile clamp.

VPP (V-Pressed Profile) clamps have been produced at the NORMA UK facility since 2005 and through their innovative design, consistently high performance, and engineering development, have now become a product of choice for many leading vehicle manufacturers, with demand for these clamps rising significantly to many millions of parts per year.
To satisfy both current and future production requirements, 2014 saw NORMA UK take delivery and commission its latest technology to this business – two Aida 250 tonne 'C' frame presses with integrated transfer mechanism. Key to the success of the VPP production process is the transfer mechanism that is integrated into the new press machinery. This mechanism enables parts in the VPP manufacturing flow to be moved from one step to the next, in a sequential and automated process, until the finished forming has been achieved. This not only achieves the high volume production runs required, but crucially allows tool changing time to be drastically reduced, thus keeping down time to an absolute minimum. The Aida 250 tonne transfer presses, weighing approximately 29 tonnes and with an overall size of nearly 90 cubic metres each, represent a significant investment and milestone for NORMA UK. Commenting on the success of the new manufacturing capabilities, Mark Burnett, managing director at NORMA UK, said: "With this facility now in place, NORMA UK has considerably increased its competitive advantage. Through the efforts of many departments and people here, we now have a significantly enhanced ability to surpass the exacting specification, quality, deadline and volume requirements that our customers demand."


Innovation is the key
Innovation is also a vital element in all the solutions that NORMA provides, an aspect that is very well illustrated by the BREEZE Constant Torque hose clamps that the Group manufactures. Constant Torque clamps or CT clamps, as they are often referred to, are used throughout the automotive, general industrial and marine industries and include a Belleville spring mechanism fitted to the clamp that enables it to maintain a constant seal, even when subjected to fluctuations in temperature.
Mark continued: "Annual sales, workforce numbers, product ranges and production capabilities have all seen significant increases this year, and everyone within NORMA UK has contributed to the success and growth of the company. However, the opportunities ahead of us are even greater. 2015 will see a major roll out of the Nagara manufacturing principles we have already implemented, along with several other benchmark projects that will support our growth. We're incredibly proud of our achievements and we plan a great many more of them in 2015."
These Belleville springs are specially shaped components that whilst resembling a washer, feature a spring characteristic, and when a series or stack of these are fitted to the clamp, it is allowed to thermally expand or contract without adversely affecting sealing performance. This unique design means that BREEZE Constant Torque clamps eliminate the problems of 'cold flow' and through their dynamic action, are ideal for applications involving a thermal cycle.
The marine industry is also one of the many environments, where another well established NORMA connecting solution can be found, namely the FGR pipe coupling. The DIN 86128 accredited FGR range – thus called as it combines the FLEX, GRIP and REPAIR clamp solutions – offers a compact, economical and reliable means for connecting plain-ended pipes. The different combinations of anchoring ring, protection ring and seal material that is integrated into each clamp, means that FGR couplings are ideal for joining both plastic and metal pipes, especially stainless steel, throughout the mechanical engineering, construction, shipbuilding and hydro-technology industries. Key to the technical superiority of FGR pipe couplings however, is its patented double lip sealing system.
Firstly, the seal of each clamp – which could be either an EPDM or NBR rubber material – features a design that enables two sealing lips to be in contact with the pipe application at the same time. This double safety feature means that a highly reliable seal is delivered for each application, be it low pressure, vacuum or extreme load. Secondly, sealing performance is further enhanced by the profiled shape of the rubber material. This profile means that when internal pipe pressure increases, the double lip seal is compressed even further onto the pipe surface, thus delivering an even stronger sealing force.


Investments securing the future
Significant investment in service levels and product development, such as the examples previously mentioned, have led to many large-scale, long-term contract wins for NORMA UK. These successes in the manufacturing and distribution industries, plus an on-going commitment to providing the very best in engineered joining technology solutions, are the key steps in satisfying the product demands forecasted for 2015 and beyond.
"2013 and 2014 have seen major developments and investment in the future of NORMA UK," commented Mark Burnett. "We have expanded again with the opening of a new 1,850m2 building alongside the current 5,000m2 premises, which has enabled further manufacturing, warehousing and distribution amenities for the company. Our workforce has grown to the largest it has ever been – over 250 people are now directly employed by the company – and a highly successful apprenticeship scheme to accommodate future demand has also been implemented."