Old parts for new cars?
09 March 2020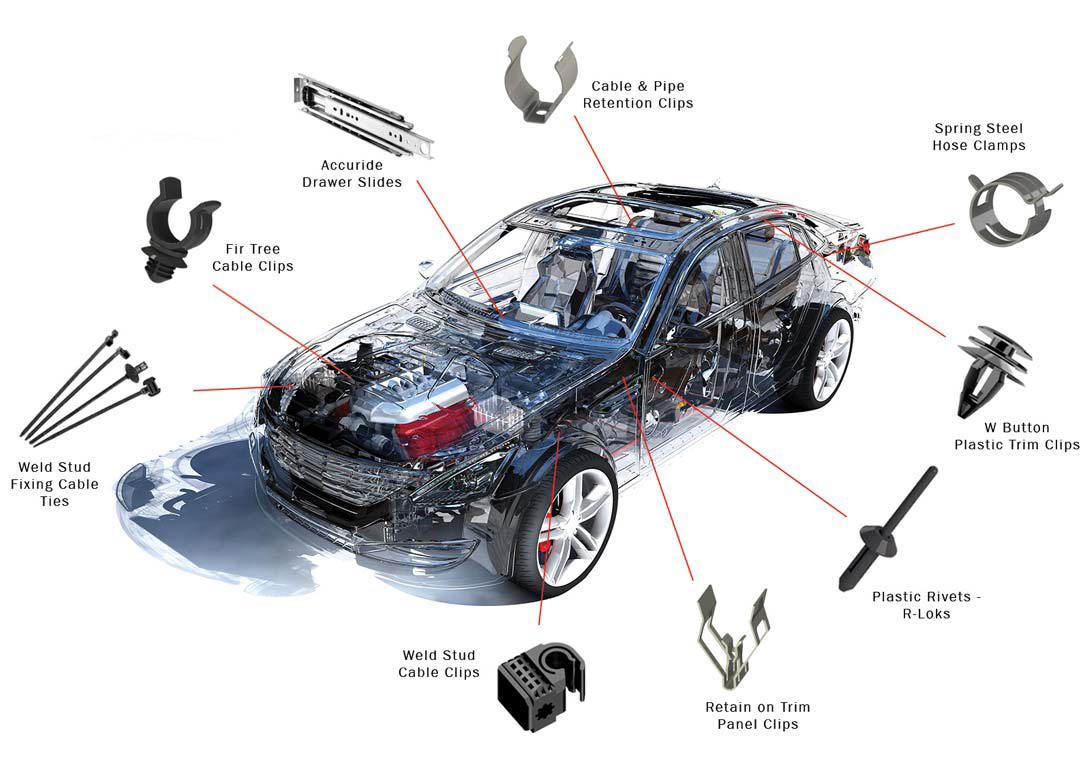 With many new electric and autonomous vehicles entering the market designers are facing completely new challenges. They may demand new and innovative solutions, but fastener specialists JET PRESS has found it often specifies tried and tested engineered fasteners. Here is a round up of fasteners being used by JET PRESS customers.
Fasteners for 5mm welding studs
The automotive industry standard is a 5mm welding stud so JET PRESS supply fasteners to match, including weld stud cable and pipe clips that fit beneath the vehicle and keep fuel lines securely in place made from very durable acetal. JET PRESS also has weld stud fixing cable ties made of black nylon to attach the engine wiring harness.
Fir tree and W button cable and pipe clips
Made from acetal or nylon these clips are available in many sizes and you can use them with a wide range of panel thicknesses, using anchor or fir tree push-on fixings. You can use fir tree cable clips or W button pipe clips where tubes pass through panels. Alternatively, use them with mounted brackets where they help deal with vibration absorption.
Cable and pipe retention clips
These cable and pipe retention clips are like the clips described above but made from austempered carbon steel. They rotate through 360° so they are less likely to cause the sort of chafing that can, in time, lead to the failure of a pipe or cable.
Accuride drawer slides
Vehicle builders and converters use accuride drawer Slides in cars, recreational vehicles and specialist vehicles. Very low profile slides are popular in modules within centre consoles. Designers often specify heavy-duty slides in camper vans and motor homes to maximise space and functionality. Features like slide and tilt, lock in/lock out and locking handle kits are very valuable for blue light and other specialist vehicles.
Retain on trim panel clips
Specifically designed for the automotive industry, these retain on trim panel clips hold plastic panels to the A, B and C pillars of a vehicle. They're also widely used for facias and dashboards. Interior panels have to be fixed securely in place but easy to remove for maintenance, repairs or at the end of the product life cycle.
Slightly different are retain on base panel clips. They are quick to fit and provide a snug, rattle free installation. These clips can be used with rectangular studs or moulded ribs. When the panel is removed the unheaded version of the clip stays on the panel. The retain on base panel clip remains on the base panel but separates easily from the panel.
W button plastic trim clips
Designers use plastic trim clips to attach door and tailgate trim panels to inner door panels. Many versions have a flexible skirt that seals the hole against water or dirt. The design means they can be blind fixed to look neat still be easy to remove.
Spring steel hose clamps
When you lift your car bonnet, you will see spring steel hose clamps holding low pressure cooling system hoses and windscreen washer pipes. They are available in a variety of sizes and different finishes. Using different colours for otherwise similar parts can help with error avoidance during assembly.
Plastic rivets - R-Loks
Vehicle manufacturers rely on cost-effective R-Loks, also known as blind rivets or pop rivets. They are lightweight, corrosion resistant and non-conducting with a nylon body and acetal pin. These qualities make them ideal for attaching padding and attaching airbags because they don't damage the airbag.
"The JET PRESS team is always keen to talk to designers to help overcome their challenges."