Much more than just screws
16 August 2023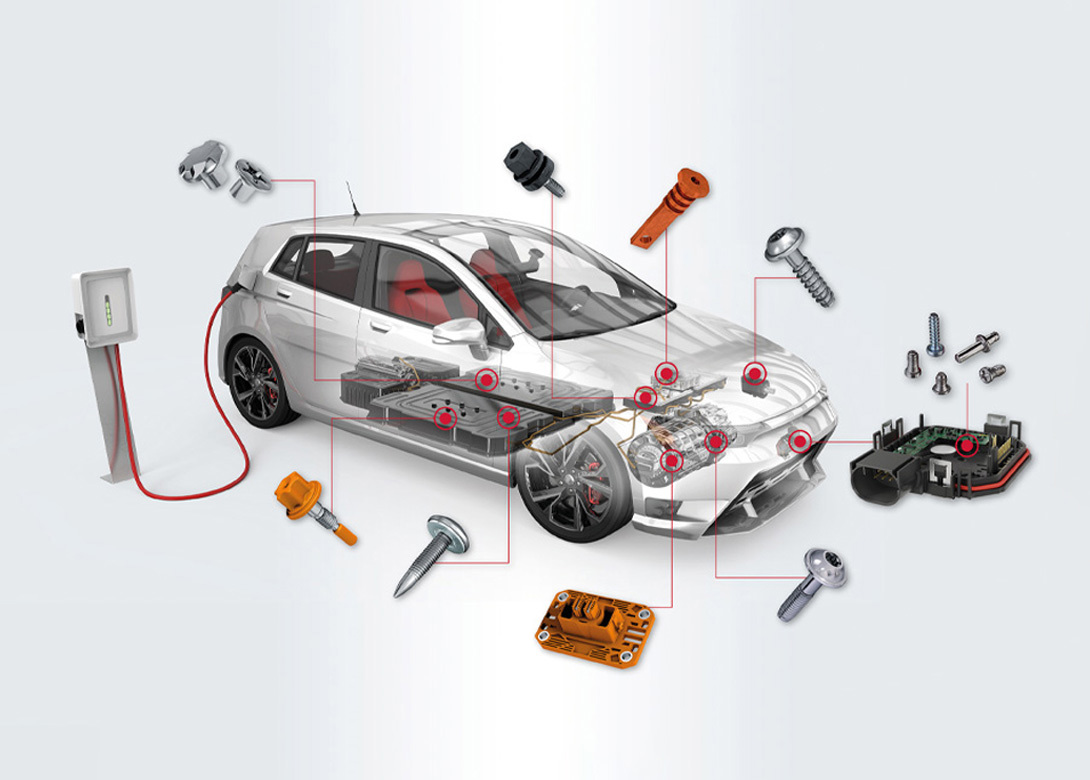 The drive towards sustainability has led to a massive demand increase in the automotive sector as electric vehicles are being developed to replace fossil fuel cars on the road. EJOT, as a fastening technology specialist, offers innovative manufacturing technologies in the areas of cold forming and plastic injection moulding to offer customers tailored solutions for electromobility.  
EJOT's electromobility portfolio is capable of fulfilling various applications. For example, EJOT's high-precision components for the high-voltage range of electric vehicles are manufactured from copper instead of steel in a complex, multi-stage cold-forming process. In combination with another EJOT manufacturing specialty, plastic injection moulding, cold forming is also the basic technology for special metal-plastic components. These are used, for example, as pole screws for the high voltage contacting of battery modules or as spacers for the electrical decoupling of printed circuit boards in an on-board charger.

Battery systems
With regard to batteries, EJOT states the focus is again on 'fastening'. Wherever maximum assembly reliability and performance is required, the flow drill FDS® screw, which is already used for the body-in-white construction, provides an ideal solution. Equipped with a special sealing function for this application, it ensures that the battery housing is securely fastened to the cover. For welding aluminium components to the battery frame, EJOT recommends its EJOWELD®friction welding. Also, if the battery box is made of plastic instead of metal, the company ensures that EVO PT® screws enable process-safe direct fastening of the cover to the battery frame.

TOBI® – the high-performance screw drive concept
The TOBI® Drive System is the latest drive concept. Thanks to the special design between drive and bit, three important requirements can be combined. Firstly, the axial alignment of the system when inserting the bit into the screw head drive simplifies handling even in areas that are difficult to access. Second, a contact surface between bit and drive that is up to ten times larger ensures lower surface pressure and thus less wear on the tools. And finally, the large concave and small convex radii inside the drive as well as a taper to the upper edge of the bit lead to a slight clamping effect of the screw so that it cannot fall out of the bit. This enables safe working in all positions, such as overhead assembly or when fastening components or parts in hard-to-reach areas.
Furthermore, the self-retaining effect of the TOBI® Drive System means that the vacuum technology previously used in assembly for the intake of the screw in the mouthpiece can be omitted. The drive system also holds screws made of non-magnetic materials securely in all positions. This leads to significant cost and time savings as well as a reduction of the CO2 footprint in production.