Local design, global supply
23 June 2020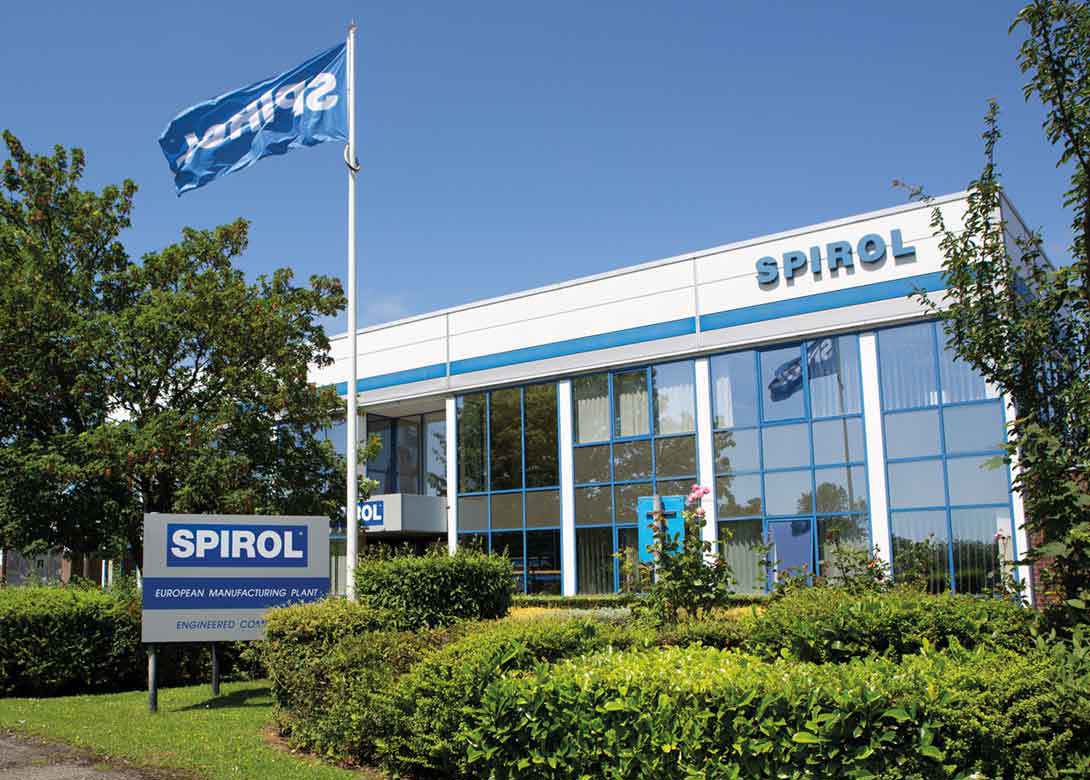 Spirol® Industries Ltd has been a major force within the specialised fastener industry since its foundation in 1961 as Spirol Pins Ltd. Originally based in Sunbury-on-Thames, Middlesex, the company was the first subsidiary of its US parent company, CEM Co Inc, to be established outside the US and was pivotal in the importation of the Spirol® pin into the European market.
Following continued growth, the company then moved to Feltham, Middlesex, and was renamed Spirol® Industries Ltd. A manufacturing facility was established in Crediton, Devon, following the success of the Spirol® pin. Finally, in 1976 both sales and manufacturing sites were combined within a single unit in Corby, Northamptonshire, where the company is sited today.
Since the move to Corby the company has continued to expand, adding new products to its range of Spirol pins and also a European sales and distribution office in Reims, France – servicing the European mainland. In 2005 Spirol also purchased certain assets of its major competitor in the UK, G E Bissell – a manufacturer of slotted spring pins – commonly referred to as 'Bissell pins'. With this purchase, Spirol added disc springs to its already large product range. Today, the range consists of coiled pins, slotted pins, solid pins, inserts for plastics, compression limiters, disc springs, shims and spacers.
"We are introducing new machinery this year that is capable of producing a wide range of coiled pins in standard sizes and all types of materials. Special sizes can be produced after engineering and production evaluation. The production rate will also be significantly improved, as these machines are more robust for the demands on heavy-duty pins – therefore reducing downtime and increasing RFT through the process," points out Spirol.
"We are able to provide the products our customers' need through detailed market analysis and customer surveys. SPIROL is a manufacturer of fasteners and components designed to facilitate the assembly process and meet the performance requirements of our customers. We are committed to be the supplier of choice to the international markets we serve, by providing a positive customer experience in all things that we do."
Spirol prides itself on being a solution provider, working in collaboration with its customers in developing both commercial and technical solutions with the goal of lowering costs, as well as improving performance. "We appreciate the need to be a resourceful company that addresses opportunities and problem solving with an innovative, entrepreneurial spirit – dedicated to the highest standards for product quality, service and value."
"That is why we continually strive to create more effective processes, products, and ideas. Implementing new ideas and improving services is managed by our internal engineering facility – looking at global best practices and implementing them accordingly. Through innovation, we change our business model and make changes in the existing environment to deliver better products or services that are required by our customers. We will continue to enhance our 'right first time' capabilities in-line with automated vision inspection. Supporting the markets demand on low ppm with zero being the optimum."
To enable it to continuously support customers, Spirol has an established highly skilled workforce working to extremely high standards in a demanding environment. "We are a central hub to Europe with excellent supply chains to support our wide range of customers with short lead times. The UK is and always has been close to engineering facilities and a key supplier into the automotive and aerospace industries. The challenges have always been the costs associated with manufacturing in the UK compared to lower cost European facilities. However, quality does come at a cost and it is a fine balance. In essence it is a partnership that has been forged over many years."
"We recognise that a key strength of our company is its people. We will provide an environment in which we can thrive as individuals while collectively delivering superior operating results and value to our customers. To accomplish this, we have a high performance employee climate in which employees take pride in their work, strive for excellence and are actively engaged in executing the company's mission."
Part of the company's mission is to adapt to customer and market needs. This has never been more apparent than during the current Covid-19 worldwide pandemic. "At the moment, we're in very uncertain times, with the automotive market slowing and of course Covid-19. We approached this unprecedented situation in two main ways. Firstly, we needed to protect all our workforce and their families by taking a phased approach to at risk individuals. Secondly, we have ensured we have kept everyone employed throughout the crisis so we have an ongoing business to return to. We have kept all critical processes running at reduced capacity to ensure lead times and orders are covered."
"In the short-term, we are currently focusing on medical applications and the opportunities for us in this market, but it's so important to look at other customer goods markets to develop in the future. In order to reach into new markets, we must become a more digitalised company." This digitalisation began in November 2019 when Spirol launched a new e-commerce platform in the UK and Germany to allow European customers to purchase coiled pins online, as well as download 2D and 3D drawings online.
"We are a solution-based company that works closely with our customers. We set the industry standard for product quality, service, and value, by exceeding customer expectations. Spirol will always strive for continuous improvement."