Huckbolts® – a proven alternative to welding
27 July 2020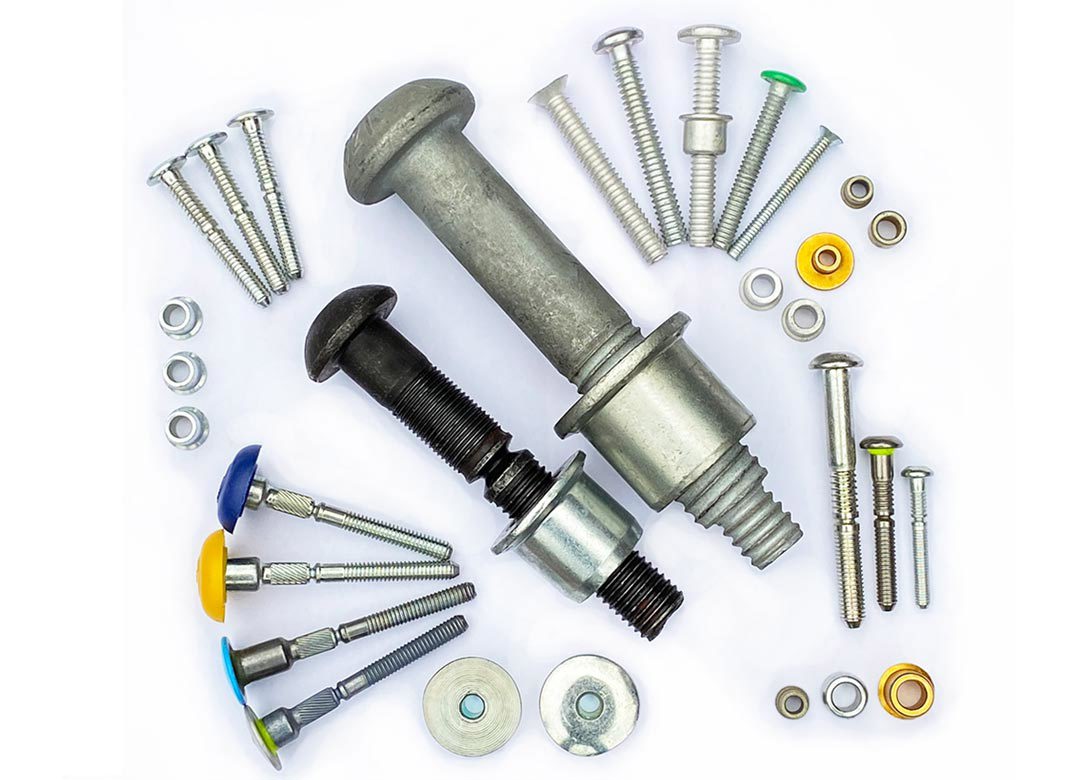 High strength, fast and easy installation, along with unmatched vibration resistance are what make HuckBolts® the smart choice for heavy equipment assembly applications, whether for agriculture, mining, commercial truck / trailers, rail or construction.
Star Fasteners has over 30 years of heritage as a supplier of high-quality Huck fasteners and continue to be heavily involved and a valued supplier to these industries. The fasteners used in these industries encounter tough, vibration intensive conditions. Dozers, excavators, backhoe loaders, multi terrain vehicles and other heavy equipment need the high strength, vibration resistant hold.
They are highly reliable for use in chassis', cabs, doors, floors, and vehicle attachments. HuckBolts® consistently provide extremely high shear and tensile strength and are proven to hold tight in extreme, high vibration environments such as mining, rail and construction.
With over 2,000 different steel alloys available, steel represents a challenge when welding due in part to its unique chemical metallurgy and physical metallurgy. In many assembly applications, Star says HuckBolts have been demonstrated to be superior to welding in terms of speed and accuracy of installation, safety, and overall productivity. Quick, easy installation means improved productivity.
"HuckBolts can also contribute to lightweighting of equipment," explains Dan Starbuck MD of Star Fasteners. "While replacing steel with aluminium is an excellent strategy for lightweighting, the problems associated with welding aluminium have often precluded its use. However, the strong clamp performance of HuckBolts provides the joining power to attach aluminium elements without welding. Because Huck fasteners offer higher clamp than conventional fasteners, fewer or smaller diameter Huck fasteners can be used, further reducing weight. And HuckBolts deliver shear and tensile strength exceeding that of conventional nut and bolt fasteners."
"Star Fasteners has recently been asked to reduce the inventory in a nut and bolt application for a commercial trailer builder. The Huck product range has huge application potential, so we knew we would be able to find a resolve. We specified in a Huck C611T. It's a steel Lockbolt that replaced six conventional fasteners with just one. The customer was happy as it reduced errors, inventory and installation time," commented Dan.
These engineered fasteners are installed using a unique direct-tension/swaged-on method, providing for a smooth, jolt-free installation. The potential for repetitive stress syndrome, often experienced with torque wrench installations, is virtually eliminated. In addition, as compared to welding, using Huck fasteners does not require highly trained installation personnel, and provides for fast, safe, and accurate assembly.
In conventional nut and bolt installations, gaps between nut and bolt threads are a source of potential loosening. The HuckBolt design practically eliminates these gaps, by featuring full metal-to-metal contact between the swaged-on collar and the pin. This unique swaged connection provides unwavering vibration resistance, even in the most vibration intensive environments.

When compared with conventional nuts and bolts, HuckBolts have a much larger cross-sectional area and larger root radius, resulting in a much stronger and more secure joint. In fact, HuckBolts have up to 30% more bolt cross-sectional area, and up to five times larger root radius than regular bolts, depending on the bolts used.
HuckBolts are one of the industry's most popular lockbolt fastening systems. It is a versatile fastener that is available in a variety of sizes, materials, finishes and head styles. It is used is in so many applications. Specialists in the supply and distribution of Huck Fasteners, Star Fasteners is proud to be the UK's largest Huck stockists. Working globally with a diverse range of end users and distributors from across a number of industries, offering technical application knowledge, customer support, and tooling sales, service and repair.
For more information about Huck fasteners and Star Fasteners unique value-added services visit Star's website.