GALLOCK® – complete safety under heavy vibrations
27 July 2020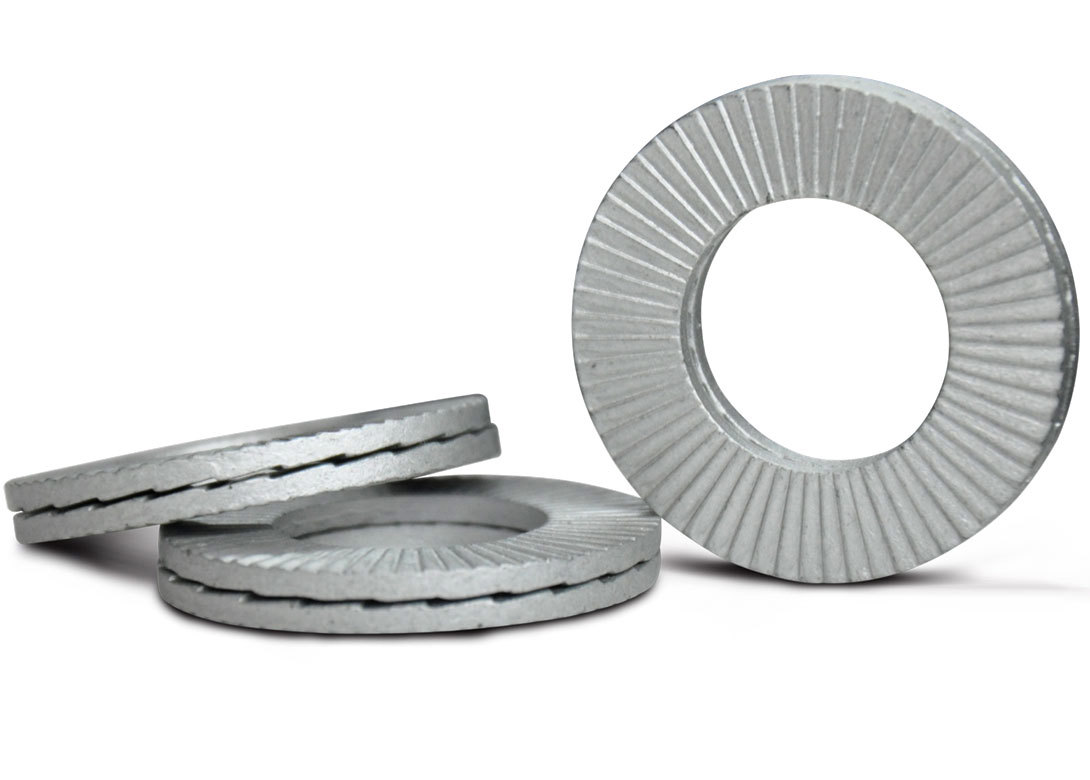 Continuing its legacy of manufacturing high precision engineering parts, India-based Gala Precision Engineering Private Ltd has now developed a wedge lock washer, GALLOCK®, which it says is ideal for safely securing bolted joints exposed to heavy vibrations and dynamic load.
Used in a variety of industries, such as energy generation, off highway, heavy vehicles, transportation, construction, as well as manufacturing and processing, the GALLOCK® washers are also successfully tested and approved for use in Indian railways. Gala is the first Indian company to get approval to supply wedge lock washers for LHB and ICF railway coaches.
GALLOCK consists of two flat washers having cam angled surfaces on one side and radial knurling over the other side. Radial knurling on the outer side of the washer locks the radial movement. The cam angle on the inner side is designed in such a way that it is greater than the bolts thread helix angle. If there is any movement along the joint, it will happen over the cam surfaces of the washer. The cam surface will then generate push out force within the washer, leading to the automatic increase of clamping force in the opposite direction and thus preventing self-loosening.
Gala also has an in-house Junker testing facility to ensure it supplies consistent high-quality products. GALLOCK washers are offered with zinc flake coating to ensure long product life cycle and yielding up to 1,000 hours of salt spray life. The company has also conducted special tests to ensure uniform coating thickness and secure adhesion of the coating on the surface.
Performance testing and validation in Germany
A number of tests were carried out at the reputed German Institute IMA Dresden. Here, GALLOCK washers were proven under the Junker test according to DIN 65151 standards. Conformity to the requirements of standard DIN 25201-4 was also confirmed.
Other tests passed by the GALLOCK washers include coefficient of friction test as per ISO 16047; the sacrificial cathodic protection test as per ISO 9227/ASTM-B117 for 72 hours; the salt spray test of zinc flake surface coating as per ASTM-B117:2016 for 720 hours; and finally the Methyl Ethyl Ketone (MEK) rub test, which showed no chipping of coating after 30 rubbing cycles.
Gala states these tests confirm that GALLOCK washers safely lock screws/bolt connections, and that the washers are on par with wedge lock manufacturers across Europe. For instance, the clamp force drop remains within acceptable limits even after 2,000 cycles and just a minimal amount of tension dissipates at the beginning of the test due to the normal settlement of the fastened joint.
Core competency and operational excellence
Gala has 25 years of rich experience in blanking and forming technology, and in-house tool design and development, as well as the latest software, which all enabled the launch of the GALLOCK washers. The company has a fully controlled and automated in-house heat treatment facility at its office near Mumbai, India. This enables uniform homogeneous microstructure, a decarburisation free surface, as well as ensuring no quenching cracks.
The company also has a branch office and warehouse in China, as well as another branch office in Germany. Gala also works closely with global universities for continuous product and process improvements and validations.
Gala products are used in a variety of markets including wind energy, hydro power, off highway vehicles, automotive, electrical, and the rail industries. More than 50% of its sales come from exports to countries including the USA, the UK, Germany, France, Italy, Finland, Norway, Spain, Poland, the Czech Republic, the Netherlands, Denmark, China, Malaysia and Singapore.