For safe and efficient working on electric and hybrid vehicles
15 May 2023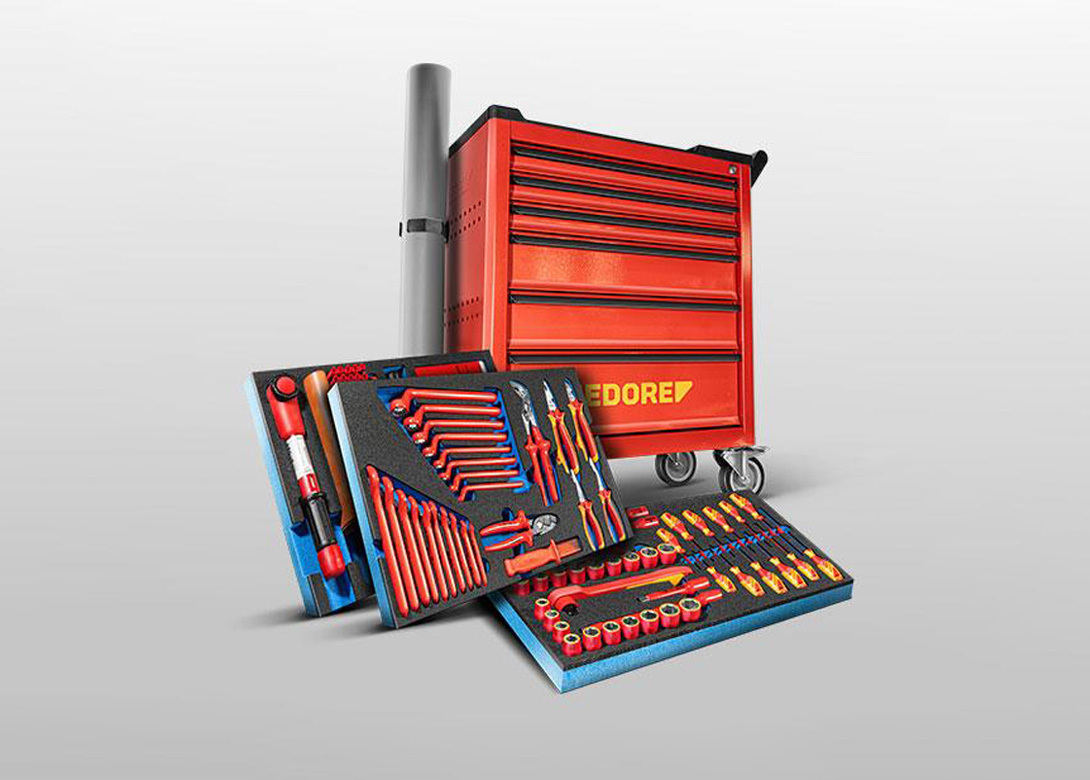 GEDORE has designed a new tool trolley with a high-voltage assortment for safe and efficient working on electric and hybrid vehicles. The tool trolley comes with 103 high-quality, insulated VDW tools and accessories for the automotive sector.
The 103-piece VDE assortment includes 3/8 inch and ½ inch socket sets, a VDE 3/8 inch torque wrench, as well as various slotted and cross-head pliers and screwdrivers. It also has a digital voltage tester for up to 1,000V, a safety lock, warning signs and many other accessories ranging from counter grommets to electrician's gloves with additional undergloves.
GEDORE's assortment is housed in foam check-tool inserts in three of the six drawers, while the remaining three larger drawers can be individually equipped with additional tools. Each of the drawers has a load capacity of 40kg, and all open easily and completely via guide rails on ball bearings. When the work is finished, they can be secured by means of a central locking system. The side walls with Euro perforation offer additional space for storing tools and accessories.
The total load capacity of the VDE tool trolley is 900kg when stationary and 650kg in mobile use. The externally mounted GEDORE high-performance chassis ensures that the trolley remains manoeuvrable and retains its directional stability even at maximum load. Repairs can also be carried out on-site on the integrated worktop.
The tools are all protective insulated to EN 60900/EC 60900 and are designed for professional securing and working on hybrid and electric vehicles, and includes a practical holder for the ISO insulation mat that is included in the set.