DEPRAG supplies test bench for leading fuel tank system manufacturer
18 May 2021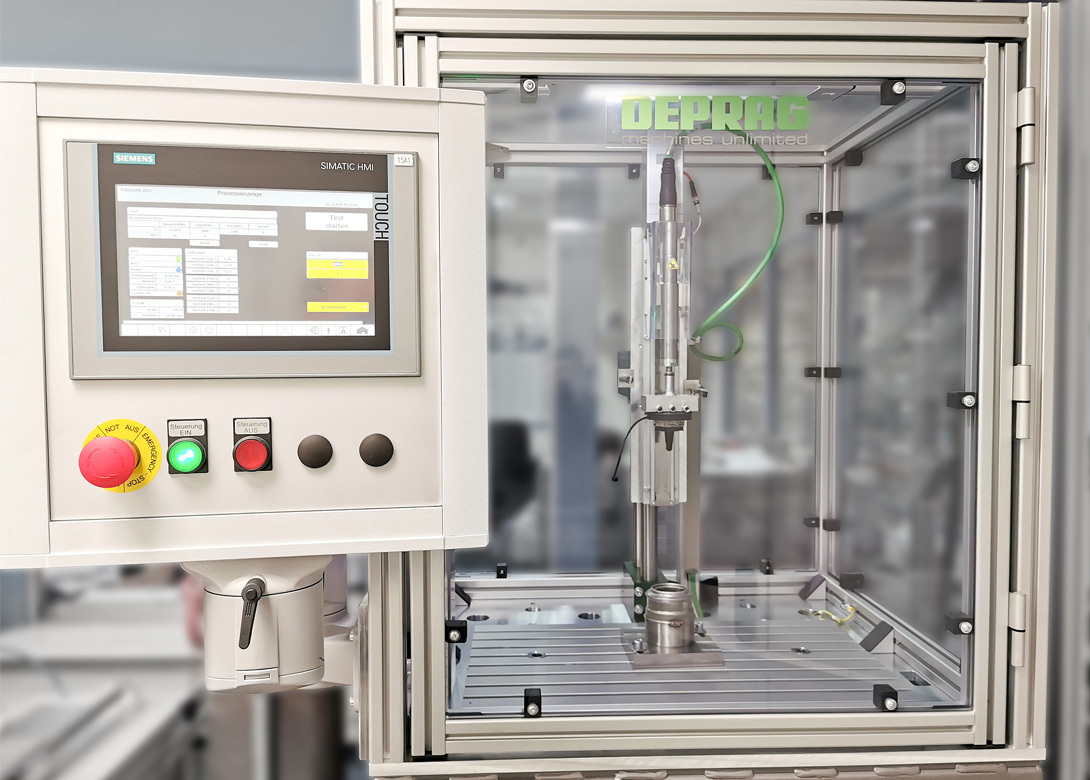 Automotive technology company Blau, subsidiary of MAGNA Energy Storage Systems GesmbH in Weiz, Austria, are relying on the DEPRAG screwdriver function module with electronic stroke (E-SFM) to put fuel caps through their paces.
In comparison to a standard screwdriving function module (SFM), on the DEPRAG E-SFM, the pneumatic feed is replaced by an electronic drive. The E-SFM features optimum qualities to react flexibly to complex screwdriving tasks, new fasteners and changing assembly requirements. With appropriate adjustments to downforce, speed and position in the screwdriving application, cycle time is reduced and unnecessarily high stress on a component can be avoided. The costs of replacement wear parts are reduced due to the precise, gentle engagement process.
"This new E-SFM combines the flexibility of an electronic screwdriving tool with the flexibility of an electronic stroke unit, resulting in an outstanding versatile screwdriving system. This opens up new possibilities by solving technically challenging tasks for our customers," explains Daniel Guttenberger, product manager for DEPRAG Screwdriving Technology.
The DEPRAG E-SFM is the ideal solution for a great number of screwdriving applications. It does not matter whether from above or below, horizontal or at a specific angle – all this is possible with the E-SFM without losing the fastener position. The integrated depth sensor means that the E-SFM is ideally suited for assemblies with screw-in depth control parameters – and for up to 65 different positions. As standard, there are three E-SFM versions available. Execution without automatic feeding is the right choice if the fastener is already prepositioned. The second version feeds the fastener via a hose and positioning sleeve to a precise position. Whereas, the vacuum version is particularly suitable for pick-and-place applications, and also any components with difficult to reach screw locations.
The DEPRAG E-SFM is also superbly suited to sensitive testing processes. On the test benches at MAGNA, the brand new E-SFM is used in combination with the popular DCAM (DEPRAG COMPACT ASSEMBLY MODULE). In the compact assembly cell, the fuel caps undergo an endurance test. The fuel caps are assembled thousands of times on a test tank neck at a defined torque, angle and speed. The torque processes are accurately evaluated to check that the fuel cap continues to function perfectly after repeated opening and closing. During the rotary movements, the screwdriver must offset height variations defined by the fuel cap and the test tank neck, to ensure that these rotations are unhindered.