Application of zero-point clamping technology
24 May 2022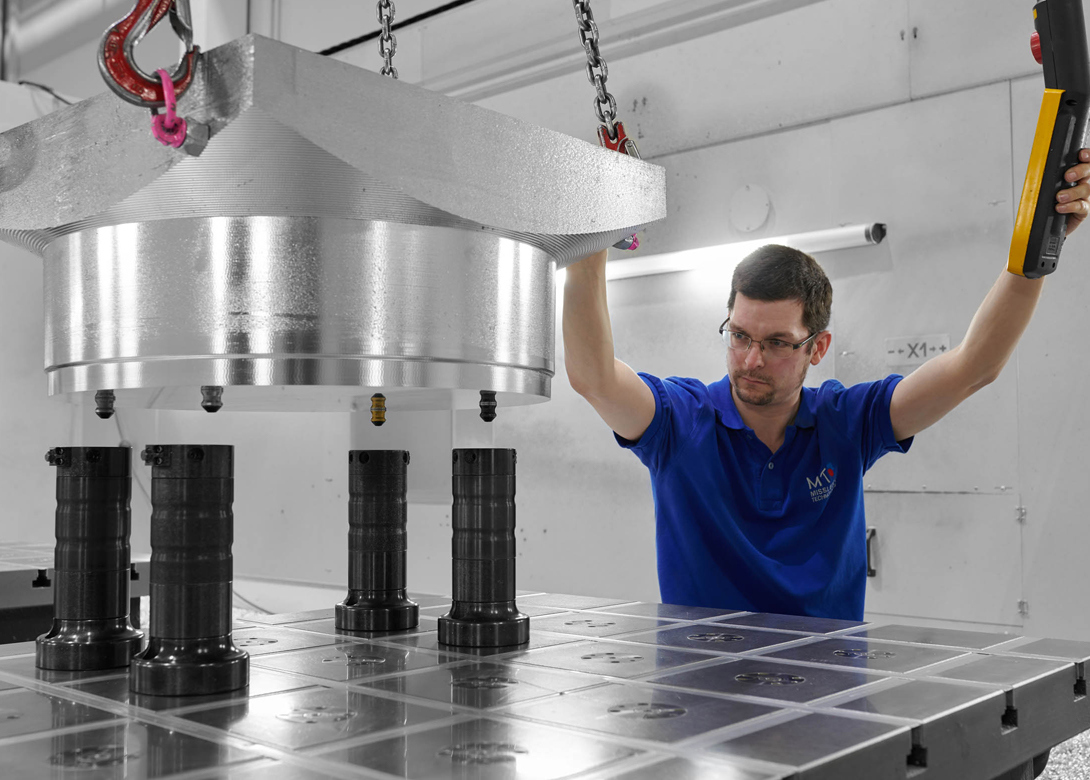 Model maker, MT Technologies manufactures entire vehicles made of aluminium as reference for numerous OEMS. These need to be clamped efficiently, which is why the company is teaming up with AMF to utilise its zero-point clamping technology.        
Thanks to the intelligent zero-point clamping technology from AMF, this clamping can be done quickly, flexibly, with high repetition accuracy and with process reliability by means of the modular principle.
"The impulse came from the Formula 1," says Mario Goth, manager of mechanical production at MT Technologies. "We saw how effectively the racing engineers clamped individual parts with AMF clamping technology and wanted to apply this to our own production operation which has now grown into a continuous zero-point clamping system on all necessary machines."
"At MT Technologies, they listened to us intently from the very start," says Erik Laubengeiger, at Andreas Maier GmbH & Co. KG (AMF). "Their readiness was able to simplify the complex clamping operations of the aluminium ingots and significantly reduce the long set-up and calibration times."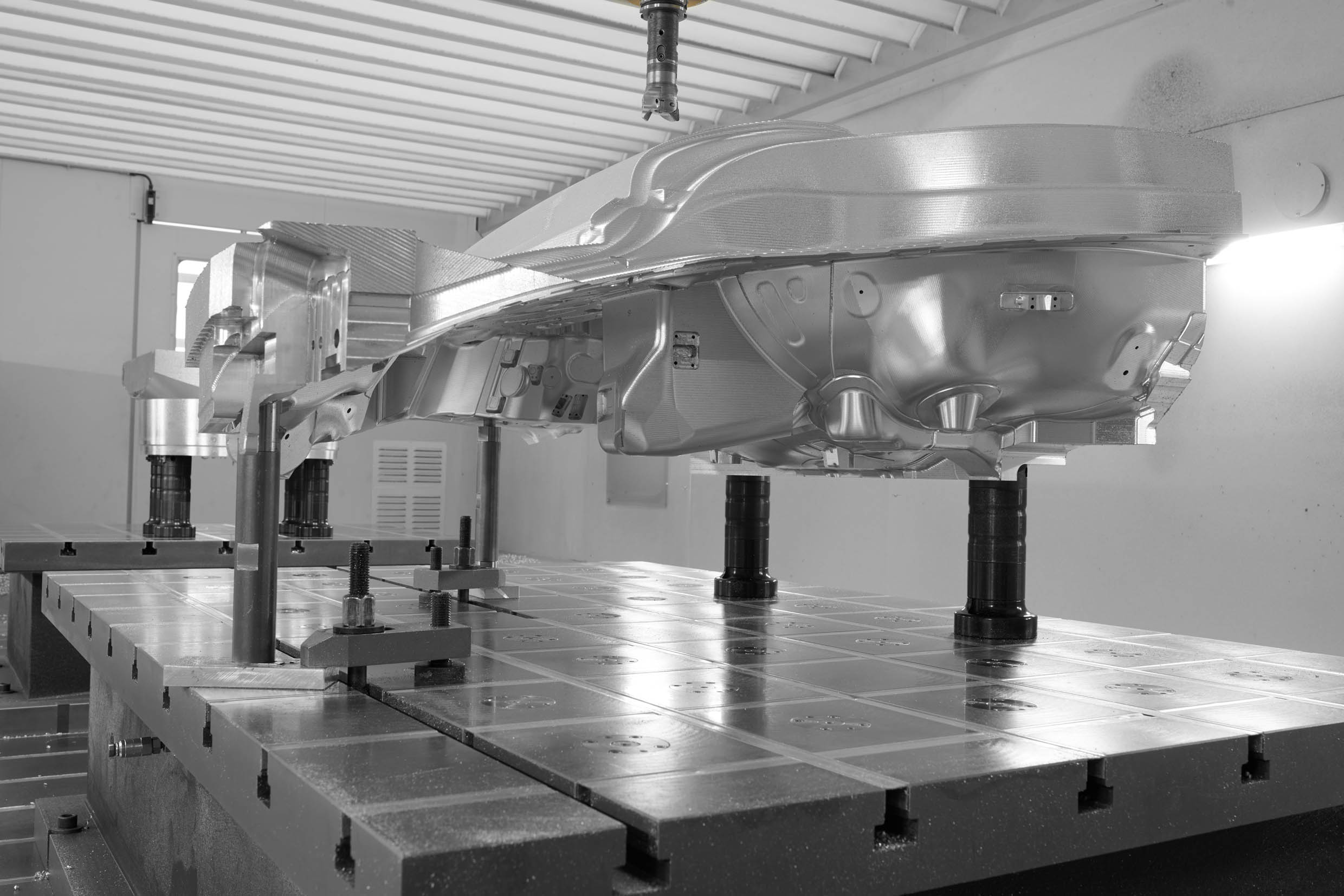 When it finished, the 1:1 scale model from MT actually looks like a real car, but is just made of aluminium. Even the doors and boot lid can be opened and it sits on aluminium rims. These models enables designers and engineers to make an initial three-dimensional image of a newly planned car model and walk around it. Attachment and cladding parts are also attached at the OEMs to verify the fits for subsequent series production. In addition, the clips in the aluminium model are already attached. The final aluminium model can later be found on the assembly line as a test and gauge model.
The raw aluminium blocks for the individual parts, such as the floor assembly, side parts, roof, boot lid and wheels must be manufactured with corresponding precision on the giant gantry milling machines and clamped precisely beforehand. Two work tables, with dimensions of 1,300 x 2,000mm and two with 1,300 x 1,000mm as well as another one, are used in the Jobs LinX machines. They are equipped with 50 or 20 K10 zero-point installation clamping modules from AMF at intervals of 200mm.
"With the defined grid pitch, each work table offers us the greatest possible flexibility in positioning the elements," assures Goth. "If a clamping point should be outside the grid or even outside the plate, that is not a big challenge. With clamping rails, multiple clamping bars or other numerous clamping elements from AMF, we can reach every point that we need for safe clamping."
An easy and logical system
The workers place modular spacer elements on top of each another on the work tables with integrated zero-point clamping modules and cross T slots until the block or the blank reaches the appropriate height so that five side machining is possible. The AMF range of connecting, construction and counterbalance elements as well as various adapters is almost inexhaustible. The upper interface to the workpiece is again a mechanical zero-point clamping module K10, which positions and clamps the M8 or M10 pull-studs screwed into the workpiece in a process-reliable manner. "The system is just as easy and logical as Lego. Everything fits together and can be positioned quickly and precisely thanks to the zero-point clamping technology," emphasises Christian Vogel at AMF.
The clamping modules in the work table are opened hydraulically at an operating pressure of 60 bar. Each one pulls in the correct pull stud with 10kN and then holds it tightly with 25kN. Since the modules are intelligently designed and carefully manufactured, they can do this with a repetition accuracy and precision of less than 0.005mm. And since they are mechanically locked by spring force and tensioned without pressure, the pressure lines are removed after the clamping operation.
Collision free 5 side machining due to direct clamping
For direct clamping, the holes necessary for the pull studs are made directly in the unmachined part or aluminium block. To ensure that subsequent processing takes place without any interfering contours and is collision free, AMF makes CAD data freely available in many common formats for all of its own products. "This is an indispensable aid beforehand," assures Vogel.
The cutting capacity is immense. This adds up to a processing time of up to 40 hours. It can happen that a boot lid is milled out of an aluminium block with an initial weight of 1.7 tonnes, which finally only weighs 90kg. All in all, aluminium blocks of various sizes, totalling around 20 tonnes, are required for a vehicle. Since several spacious halls ensure the strict separation of individual projects from one another, the model builders at MT-Technologies can produce up to ten models a year.