A dependable fastening solution
18 November 2019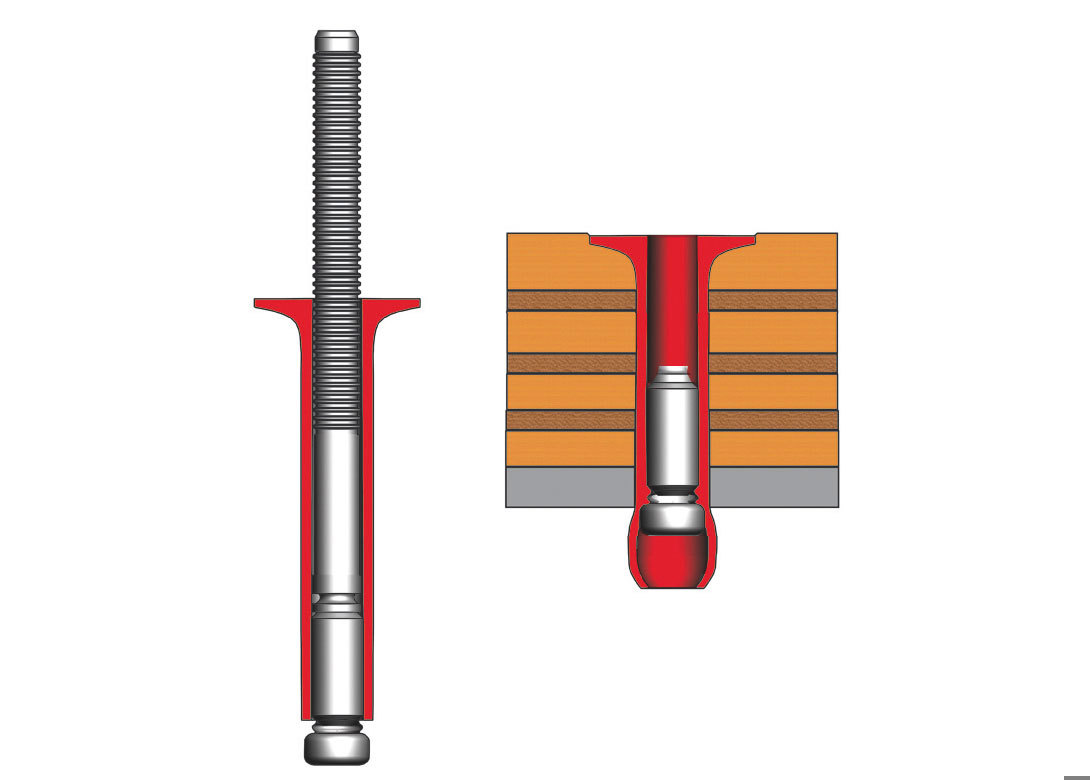 Blind structural fastener technology has come to be an essential part of many modern industrial production processes, due to its cost-effectiveness and versatility in so many applications.
That is why the Huck® FloorTight®, which Star Fasteners states is the ideal blind fastener for all wood to metal applications, has been specifically designed for use in vehicle flooring manufacturing. However, this is not its only use.
"We are seeing it used in quite innovative applications including commercial vehicle trailer internal walls – fastening ply to steel uprights," comments Dan Starbuck, managing director at Star Fasteners. "In fact, we recently helped specify the FloorTight into a large heavy-duty trailer where the load, due to its awkward size and weight, was buffeting the trailer side making the existing screw heads raise and breakaway, which then snagged and damaged its contents."
"The FloorTight fastener offers superior strength to conventional flooring screws and reduces the number of fasteners required and thereby the number of drilled holes. With various clamp strengths available, it is proving to be a popular fastening solution," explains Dan. "In plywood and plymetal vehicle floor applications, you need a fastener that's strong, vibration resistant and watertight. Just as importantly, you want a fastening system that's designed to reduce installation costs."
The presence of the mandrel accounts for a 60% – 80% increase in load-carrying ability in shear and tensile over conventional non-structural blind fasteners. "Structural blind fasteners can be differentiated from non-structural not only by their overall increased level of strength, but also by the fact their published shear values will be higher than their tensile values."
FloorTight's large grip range eliminates the guesswork as it accommodates material thickness ranging from 19.1mm to 41.3mm. The fasteners offer high clamp, high-tensile and high shear strength, which helps to eliminate the shifting and buckling of a trailer floor. Unlike ordinary nuts and bolts, the FloorTight fastener is watertight on the blind side, preventing moisture from entering through the body of the installed fastener.
"The benefits of a blind fastener are easy to see, installing Huck FloorTight fasteners means the only labour required is one person to drill the hole and install the fastener. It is a one-sided installation process and its self-countersinking feature eliminates the secondary counter boring process in plywood. Across a job it adds up to huge time savings," mentions Dan. "FloorTight uses the force of the mandrel pulling up from the blindside to form a bulbing footprint, which stops the fastener pulling through and securely clamps the materials, whereas self-threading screws only rely on the thread cut into the steel as their anchor point. The engineer can be sure each FloorTight fastener has been installed correctly every time."
A specialist in the supply and distribution of Huck® fasteners, Star Fasteners works with a diverse range of end users and distributors from across a number of industries including rail, solar, wind power, automotive, marine and the commercial vehicle market. Star Fasteners is also an accredited Huck tool service and repair department. Star's expert technical knowledge and a large tool hire fleet complements the service. An important aspect of Star Fasteners quality promise is also a well stocked tool room.
"As a well established leader in the global Huck fastener distribution network, Star Fasteners is committed to supplying customers with the highest quality and most innovative fastener solutions on the market. Systems are ISO 9001:2015 approved, and accreditation from Alcumus SafeContractor has been achieved for excellence in health and safety in the workplace."