New aerospace bypass pin kit from Halder
07 September 2023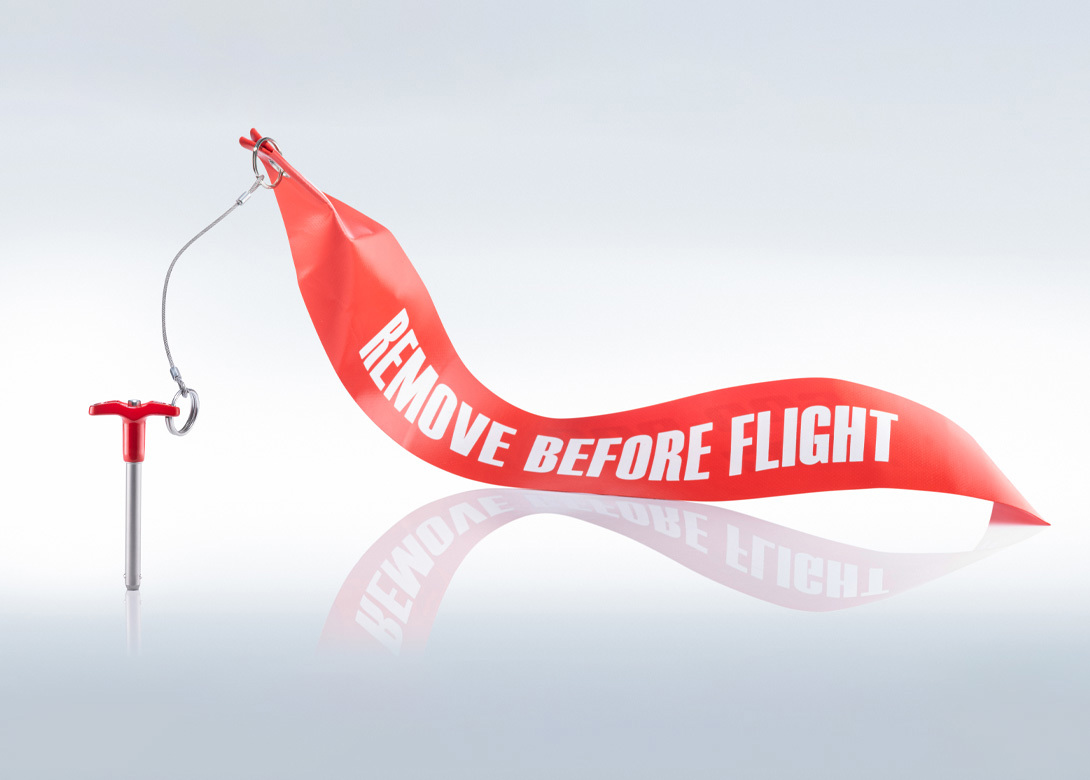 Composed of a ball lock pin, a retaining cable, and a red warning streamer, the Bypass Pin Kits made by Halder are vital pieces of ground support equipment on the runway. To ensure that the pins are not overlooked prior to take-off, the company has now dipped the pin handles in the same flaming red colour as the warning streamers.
To allow the tractors to push the aircraft onto the runway without effort, the steering pins deactivate the aircraft's own steering hydraulics. For this purpose, they are inserted into the steering axle of the aircraft. It is essential that all of these pins be removed prior to take-off to avert dire consequences. To keep the ground crew from forgetting their removal, the red warning streamers attached to the pins have lettering that reads 'Remove before flight'.
"Our Bypass Kits – and thus the warning streamers – are used in any type of weather. While all components are manufactured from high-quality and weather-resistant materials, there is always the possibility of the warning streamers becoming lost. Sadly, this also increases the risk of the pins being overlooked. This is why we have decided to boost the signal effect of the pins themselves by giving their handles a flaming red colour," Benedikt Uhl, aviation products sales at Erwin Halder KG.
The pin can be inserted into or removed from a bore hole with ease by simply pressing the button at the bottom end of the pin to unlock the balls. When the button is released, the balls will lock in place automatically. The T-handle – which Halder now pairs exclusively with their bypass pins – can be operated effortlessly even with gloves and affords the ground support crew exceptional ease of use.
"The Bypass Pin Kits are available from stock in small quantities for many aircraft models made by Airbus and Boeing. Larger quantities can be procured at short notice, and even kits for other models or types of aircraft made by different manufactures can be made available within short delivery deadlines upon request. Every pin is tailored exactly to each specific model," says Halder. 
"As we work in close cooperation with representatives of the industry, we are in a position to adapt our bypass pins to all specific requirements. An example – as it is inserted from bottom to top on the Boeing 747, the pin is at risk of slipping out. This is why the Bypass Pin Kit for the Boeing 747 is supplemented with an elastic lanyard with hook. This addition makes it possible to counter-lock the pin from the top," explains Benedikt.