A rivet specialist
23 March 2021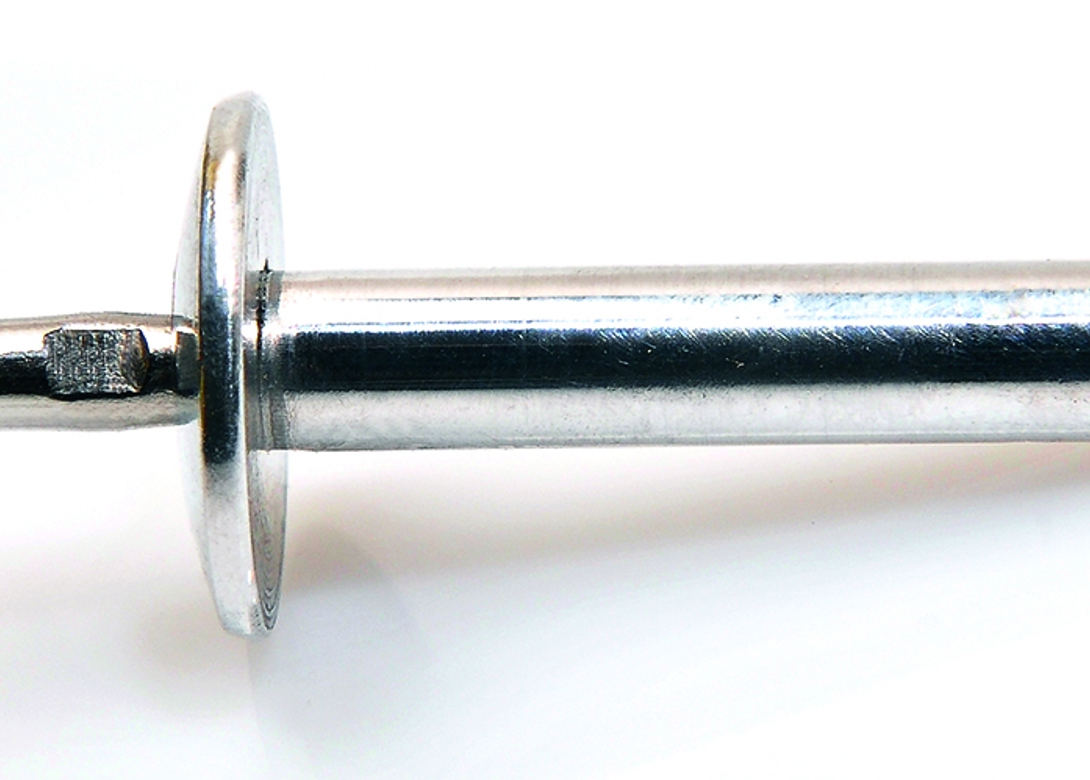 As a French manufacturer of rivets DEGOMETAL is able to offer a comprehensive range. Here, we look at this wide range that consists of blind, solid, semi-tubular and rivet nuts, as well as the necessary tools for installing rivets and rivet nuts.
A blind rivet, more commonly known as a break stem rivet, is a high performance fastening system that cannot be taken apart. It allows the assembly of two or more mechanical systems. There are many types of blind rivets including standard rivets – defined by the standard NF EN ISO 14588 – as well as customised rivets for very specific functioning, sizes and mechanical strengths.
GORIVET is DEGOMETAL's standard rivet, available in a variety of materials including aluminium, steel, stainless steel, copper and bronze. The features of the GORIVET can be changed to meet specific customer requirements such as special breaking point, special length, falling out head or a special head diameter.
Also available is the GOSTAR peel rivet, specifically designed to fasten soft or thin materials such as plastic, wood, resin or thin metal sheets. The rivet body splits into four legs and the mandrel head is ejected. DEGOMETAL can also supply a 'T' version where the mandrel head is retained after installation to obtain excellent shear strength.
Recommended for soft materials, GOLIGHT is a triform rivet made from aluminium alloy with a large contact area on its blind part. This rivet splits in three parts to provide a large secondary bearing surface on its blind part; offers excellent multi-grip capacity with a wide range of material thicknesses; as well as guarantees a retained mandrel head, perfect fastening, and good resistance to vibrations. This rivet is also available in a GOLIGHT 2 version, which offers relative water resistance and good resistance to vibrations.
Another rivet from DEGOMETAL is its multi-grip rivet GOMULTI. The GOMULTI has a very wide grip range along with some special fastening characteristics. During setting the rivet body expands to fill the hole to crimp the parts securely. This rivet is also aesthetically pleasing, forming a nice sphere with maximum thickness and a double sphere with thinner assembly. GOMULTI also helps to reduce inventories and prevent mistakes because it does not require a precise drilling diameter. Since the mandrel head is retained it also offers relative water resistance and good resistance to vibrations.
GOSTOP is a leak-proof rivet with a sealed end completely encapsulating the mandrel head inside the body. Fully leak proof the rivet can withstand pressure up to 30 bars. Available in different materials GOSTOP can be used to assemble very hard materials such as steel and stainless steel, as well as very soft materials such as plastic and glass.
DEGOMETAL's expanded rivet line offers fast and strong clamping through the simple hammering of the mandrel head. For instance, GODRIVE rivets can be used with through or pocket holes and can be fixed into any kind of material such as wood, plastic, brick, concrete or cladding. Its functioning also allows it to be used with cellular concrete without drilling.
In terms of structural rivets, the GOSTRUCTURE rivet is a breakstem system blind rivet with a mandrel locked into the body. It provides a high shear and tensile strength and is vibration resistant. The HIGHBOLT rivet has a multi-grip capability with high shear and tensile strength and a good vibration resistance. It gives good sealing and a visible locking. It requires a special nose to ensure a double locking stem after setting. Completing the range of structural rivets, the HIGHLOCK rivet also has a high shear and tensile strength and a good vibration resistance, as well as a good stem locking thanks to a knurled mandrel. This HIGHLOCK rivet is ideal for thin sheet materials.
Also in DEGOMETAL's range of rivets is the GOMASSE knurled rivet. This rivet is specifically designed to provide an electrical conductivity between the assembled components. When installed, the conical notches lift the paint or plating finish on the metal surface. The rivet fastens tightly to prevent unscrewing and rotation.
Finally, the GOVIS grooved rivet completes the range. The body of the GOVIS rivet is fully grooved and during setting these reverse grooves allow it to hook on the interior surfaces of the assembled parts. This makes this rivet ideal for closed-end assembly with pocket holes.
DEGOMETAL highlights that using any one of these rivets carries numerous advantages. These include the ease of their assembly, the fact they are strong, light and durable, as well as their cost-effectiveness. Rivets also carry the benefit of making it possible to join several types of materials – all of various thicknesses.
The company also points out that the only disadvantage to each rivet is that they are impossible to disassemble. A rivet like a screw requires pre-drilling but the rivet is a more solid solution and cannot be dismantled – the only solution to remove it is to drill the rivet. Blind rivet installation also requires a special tool, which can be manual, hydro-pneumatic or electrical depending on the type of rivet and application.