Achieving big solar O&M savings by focusing on the smallest part
11 September 2019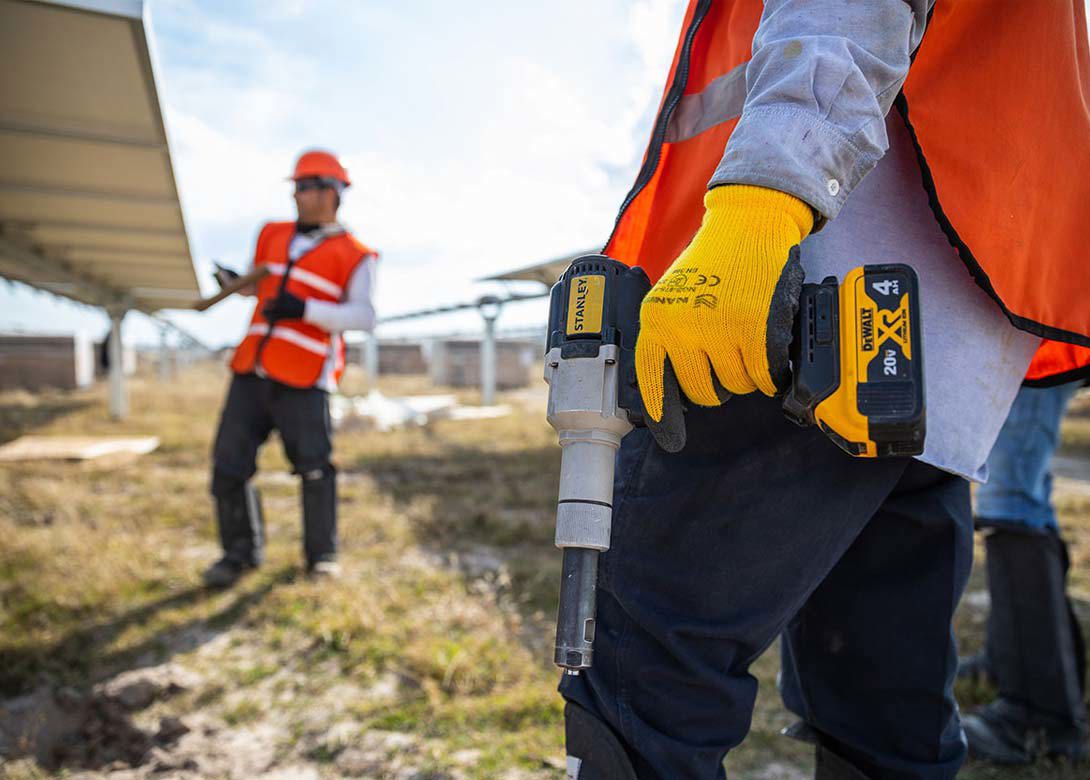 Fasteners are a key but often overlooked aspect of racking system installation and maintenance. NEXTracker, one of STANLEY® Engineered Fastening's premier customers, designs, manufactures, builds, and services the world's most advanced single-axis solar tracker systems for small to utility-scale power plants around the world. As the cost of panels drop, improving fastener efficiencies have proven to be an unexpected opportunity to save time, money and labor on the installation and maintenance of their solar plants.
NEXTracker has performed considerable cost evaluations of the tracker portion of operations and maintenance (O&M) budgets on sites small and large. O&M costs represent the annual expenditures required to operate and maintain a solar CSP plant over its lifetime of 30 years. In their analyses, they've found that conventional linked-row trackers typically use 85% more fasteners than are used on their NX Horizon™ self-powered trackers. That's because the majority of these fasteners are permanent and "swaged" or fastened, requiring little or no maintenance.
Maintaining the system hardware of a panel's mounting structure can be a tedious and costly process. Dispatching crews to check the torque on screws or lubricate joints are activities that can add thousands of hours to an annual O&M budget, but in a centralized single-axis tracker (SAT) it must be done since failure of a single component can impact system performance dramatically.
"In order to deliver the best value and highest performance to our customers, we invest in new technologies that will reduce installation cost and improve long term durability and reliability," states NEXTracker CEO Dan Shugar. "We are always looking for ways to reduce our environmental impact by eliminating waste and improving our operating efficiency."
System hardware that does not require torquing, but instead relies on the tension between components will reduce the need for manual checks. Torquing, the twisting force required to spin a nut up a bolt, is by nature inexact because of the many factors that can affect friction—from surface texture to debris, rust and humidity. By contrast, "tension" involves the use of battery-powered or hydraulic tools to stretch screws and swage to fasten bolts to a structure. ln fact, the swaging of a lockbolt is five times stronger than its nut-and·bolt counterpart fastening system. Regular nuts and bolts have a gap which can cause loosening by vibration.
NEXTracker uses highly durable, permanent fasteners, developed in part with STANLEY Engineered Fastening, that do not loosen over time, thereby eliminating the need for periodic torque checking. No oils or lubricants are required in the maintenance of the system, as all motors and gears are sealed. Additionally, NEXTracker relies on installation tools like the PB2500N NeoBolt® cordless lockbolt tool to provide enhanced mobility in the field without the constraints of cords and air-compressors, improves accessibility to narrower spaces and maximizes output and reduces operator fatigue thanks to its lightweight, ergonomic design.
The cordless installation tool from Stanley Assembly Technologies has delivered huge improvements in the speed and efficiency with which we install our solar trackers. Instead of carrying a heavy generator and compressor around a large jobsite and spending hours maintaining and refilling this equipment — our teams have the freedom of a battery powered tool," explains NEXTracker CEO Dan Shugar.
Another way NEXTracker reduces time and labor costs on the maintenance of NEXTracker solar systems is because the sturdier fasteners and hydraulic installation tools they use help minimize damage during hurricanes and other extreme weather events. According to GCube, a leading renewable energy insurance provider, weather is the #1 source of insurance claims. In fact, issues related to fastener and equipment performance are further exacerbated by extreme weather risk, with events such as wildfires, hurricanes and tornadoes now occurring out of season and rising to 15% of all claims in 2018.
Fastener installation and maintenance may not be the most expensive component of the solar tracking system. But NEXTracker knows that improving fastener efficiencies by tapping into proven and emerging fastening technologies can lead to big O&M savings and enhanced protection against extreme weather risk.